Based on the lunar calendar, the Chinese New Year is a traditional holiday celebrated over a period of two weeks, which generally begins in late January to February. This year, the Chinese New Year will fall on Friday, Feb. 16 and will be celebrated until Friday, March 2. China's longest holiday, will conclude with the Lantern Festival.
Similar to other celebrations of harvest and spring all over the world, the Chinese New Year, also referred to as the Spring Festival, carries a number of significant traditions.The gist of it is you clean your home, spend time in it, reunite with family and loved ones, watch firecrackers and if you are lucky, take part in a dragon parade.
The start of the new year also means the start of a new zodiac sign according to Chinese belief. Similar to astrology as we know it, the Chinese zodiac also consists of 12 signs, each which are symbolized by an animal, which reign for the entire year until the next new year.
This means that each sign only reigns once every 12 years and this year we leave behind the "Year of the Rooster" to give way to the Year of the Dog.
While the year you were born dictates your zodiac sign, the characteristics of the animal zodiacs also bring premonitions for what to expect in the year to come. While the Year of the Rooster was considered to bring impulsiveness and disharmony, the Year of the Dog is expected to bring prosperity, especially to those who work hard, communicate well and like dogs, are loyal.
In Turkey, there will be a number of events in which you can celebrate this special time with others and enjoy some of the culinary specialties from China.
The following is a list of events happening in Turkey for Chinese New Year:
Ankara HiltonSA hosts Chinese Culinary Week
In Ankara, the HiltonSA, located in Kavaklıdere, will be hosting an exclusive Chinese culinary festival of sorts in which nine master chefs from China will be preparing a daily feast between the dates of Feb. 7 to Feb. 11 in honor of the upcoming Chinese New Year. These special authentic Chinese meals will take place at the Greenhouse Restaurant.
Starting Wednesday, Feb. 7 and running until Saturday, Feb. 10, there will be a gourmet Chinese dinner served each night with a number of dining options. Guests can choose from a variety of menus starting at TL 140 ($37) or TL 260 for two or simply select dishes from an a la carte menu. The event series concludes with a Chinese Brunch, which will take place on Sunday, Feb. 11 for TL 89 per person. Reservations are advised for this exclusive and limited dining series.
Shangri-La's Shang Palace serves special New Year feast
In Istanbul, the formidably grand Shang Palace located inside the Shangri-La Bosphorus Hotel in Beşiktaş is the definitive destination in Istanbul for feasting on fancy for Chinese New Year. From the dates Feb. 16 to Feb. 23, Shang Palace will be serving a very special menu in honor of this traditional Chinese celebration.
The menu prepared by Executive Chinese Chef Lu Cheng will consist of Cantonese and Sichuan specialties including a sashimi plate, a mushroom escargot soup, garlic jumbo shrimp, Sichuan style fried beef, a mushroom and ginger bass, chicken-stuffed tofu, steamed wontons, fried pudding and ice cream in shredded pastry. Don't forget to partake in a cup of tea at the end of the meal as Shang Palace is famed for their elaborate tea ceremony that is well worth experiencing. Reservations are recommended.
Pop-Up Dinners Istanbul celebrates Year of the Dog
Pop-Up Dinners Istanbul will be hosting two evenings devoted to the Chinese New Year on Saturday, Feb. 17 and then on the following Saturday, Feb. 24. Organized by a Singaporean-Dutch expat and former restaurateur from her home in Cihangir, Pop-Up Dinners hosts themed nights that are regularly frequented by an expat crowd.The Chinese New Year dinners will be family style with dishes popping up from the kitchen as they are prepared. On the menu will be spring rolls, beef in barbecue sauce pows, Chicken wings in hot chili sauce, smoked chicken with Szechuan style noodles, egg fried rice, beef with mushrooms and celery, fish in ginger and black beans, bok choy in oyster sauce, Kung Poe Prawns with peppers, Chinese cabbage with spicy garlic, dried barbecue beef and to conclude Toffee Apples. Check out the Facebook page for more info or to reserve your spot.
Expat Spotlight takes on Gastronomy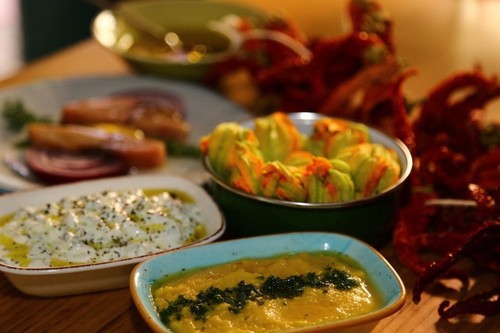 On Wednesday, Feb. 21, Yabangee will be joining forces with ATÖLYE to host the 10th Expat Spotlight, which will focus in on "Gastronomy." Expat Spotlight is an innovative monthly talk series in which half a dozen or so expats residing in Turkey take the stage to share moving stories, reflect on personal experiences and participate in a resourceful dialogue. Every month, the talk series is centered on a different focus showcasing the freshest, most inspiring contributions being made by Istanbul's diverse international community to the city's cultural, sporting, humanitarian, and business spheres.
Organized by Yabangee, a website geared toward informing the city's foreign residents of occasions as well as doling out advice, which also hosts a number of entertaining event series and ATÖLYE, a multidisciplinary creative innovation platform located in bomontiada.
A wonderful opportunity to learn about other expats' experiences and to get the chance to meet and mingle with other fellow foreigners in town, the next Expat Spotlight will take place on Wednesday, Feb. 21 from 7 p.m. to 8:00 p.m.
The event is free and there is no need to RSVP to attend.