Today, Feb. 13 just so happens to be Shrove Tuesday, a Christian holiday also known around the world by its French name Mardi Gras or Fat Tuesday. It marks the final day of feasting prior to the start of Lent, which begins tomorrow on Ash Wednesday.
The name refers to the tradition where any remaining rich food is used up before the Lent fast. Pancakes have always been considered a great way to use up extra ingredients and over time, the day has become devoted to eating them. In some parts of the U.S. and the U.K., there are even pancake competitions in which competitors have to run while flipping a pancake on a skillet.
It just so happens that some Turks also appear to have taken a liking to this particular breakfast item, with more and more restaurants serving it up Turkish breakfast style with all the traditional fixings or incorporating pancakes into all sorts of savory concoctions. Though you may be hard-pressed to find maple syrup in most Turkish establishments, it is not really missed as these particular venues have taken pancakes to a whole new level going way beyond what we already know and love. The following are the top 10 places to have pancakes in Istanbul: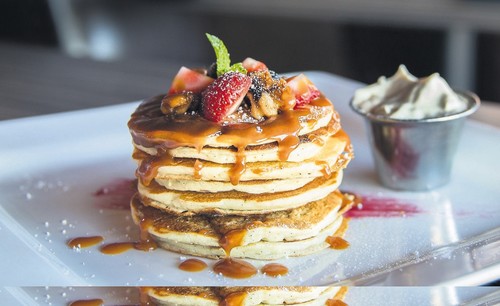 The Crepe Escape was one of the first locations to "Turkify" pancakes by serving them both Turkish breakfast style as well as in a number of savory concoctions. There is a pancake club sandwich, pancakes with smoked eggplant and goat cheese, and even pancakes served with smoked salmon, cream cheese and avocado to name just a few options. There is also a long list of sweet pancake plates, such as "The Camper" with chocolate and toasted marshmallows, or pancakes with caramel and peanut butter, chocolate chip pancakes and even Oreo pancakes. You may not find maple syrup in the venue but in its place, you get some seriously creative combinations. Their crepes are also out of this world, such as their Dorrito-flavored crepe served as a taco shell with all the fixings.
Following the same theme, they also have a quinoa gluten-free crepe burrito. In fact, they offer just as many savory crepe variations as sweet. They also have brioche French bread on their menu and make mini Dutch pancakes called poffertjes, as well as serve up slices of the coveted crepe cake - you know the one in which layers of crepes are covered with a sweet filling. Open from 9 a.m. to midnight and located on Caddebostan just off of Bağdat Caddesi, The Crepe Escape is also one of the most comfortable pancake houses in the city with its colorful cushioned seats warmly inviting you to enjoy their take on this specialty food.
Munchies Crepe & Pancake may have very well been the pioneers of serving up pancakes in Turkish breakfasts, with waiting lines a common occurrence on weekends. Alas, they have since relocated to a bigger and better space in the heart of Moda. Though you may not get maple syrup, an array of tiny bowls filled with jams, Nutella, nut butters and fruit on a platter also laden with savory items, such as cheeses and cold cuts easily make up for it.
Kavanoz Pancakes & Biscuits is a newer pancake house that, along with offering spiced up pancake dishes, also specializes in classic American biscuits. Located on one of the quieter streets in Moda right behind the Doubletree Hotel with ample indoor seating around classic wood tables, the menu offers classic Turkish breakfasts served with pancakes and/or biscuits, as well as a full menu of pancake plates. For a savory option, they do a pancake sandwich oozing with cheddar, mozzarella and salami, and among their sweet selection, which does include an option with maple syrup and ice cream, they also make brownie pancakes, Oreo pancakes and a shish kebab of mini pancakes doused in Nutella and white chocolate.
Maple Barrel serves up pancakes, crepes and coffee and is located in Kalamış with comfortable seating both indoor and outdoor on wooden picnic tables. In addition to offering Turkish breakfasts with pancakes, they also have a wide variety of unique savory options, such as pancake burgers, hotdogs and pizza. They have a number of decadent sweet pancake plates, including a chocolate fondue served with mini pancakes, a variety of crepes on the menu as well as milkshakes. They also deliver.
Good Guys Waffle & Pancake House may be a slightly smaller venue but what it lacks in size, it makes up for in soul. Set in Yeldeğirmeni, the walls are laden with graffiti, which the up-and-coming neighborhood in Kadıköy itself is also famed for. In addition to the nearly obligatory pancake Turkish breakfast, they also serve a number of creative pancake dishes, including their Nutella-stuffed pancake. For savory options, their pan poğaça consists of two kinds of pancakes, one made with cheese and parsley and the other with olives, sundried tomatoes and basil or a pancake toast with ham and cheddar cheese are great options. They also specialize in "poff" pancakes, which are 12 little pancake balls covered in sweet toppings. They deliver and are open in the evenings.
Crepan is a cute cafe located in Arnavutköy that also delivers with comfortable indoor seating, including a long booth with soft cushions. They not only serve pancakes and crepes but also specialize in bazlama toast. You can have pancakes doused in maple syrup, Speculoos or even dulce de leche at this establishment that stays open until 10 p.m.
Crepe Box Cafe is located in Beşiktaş with comfortable yellow lounge chairs indoors and a few tables out. They do a pancake Turkish breakfast as well as serve pancakes and crepes to order in batches of five and 10.
The following are three cafes famous for their breakfasts and stand out for serving exceptional yet classic versions of this popular comfort food. Happily Ever After is a happening restaurant in Bebek that serves plain, chocolate and banana-walnut pancakes with maple syrup. Aşşk Kahve, which is possibly the city's most popular breakfast spot, located right on the Bosporus in Kuruçeşme with a branch in Nişantaşı, also serves classic pancakes with either maple syrup or organic agave syrup. Last but certainly not least is Mums Cafe in Karaköy, which serves up the thickest stacks in town.