Starting yesterday and continuing for four days, millions will flock to the beloved Aegean town of Alaçatı for the ninth annual Alaçatı Herb Festival. Held April 5 to April 8, this wonderful event is an excellent time to visit this popular vacation destination and to savor amazing flavors focusing on edible greens. Signaling the start of tourist season, Alaçatı will come to life this weekend and the experience should not be missed.
With its cobblestone streets, stone houses renovated into boutique hotels, gourmet restaurants, lively nightlife and the best beaches for windsurfing in Turkey, Alaçatı encompasses many of the wonderful characteristics of Turkey. However, what this region is especially known for is its wide variety of edible greens and herbs, which are celebrated annually during the Alaçatı Herb Festival. Kicking off its ninth year yesterday, the Alaçatı Herb Festival has become immensely popular and is expected to host upward of 1 million visitors from all over Turkey and the world.
First established in 2010 with the aim of reviving cultural values and preserving them for future generations, the Alaçatı Herb Festival highlights specific herbs, with this year's being wild asparagus and black bryony. While you may be imaging the thick stalks of asparagus we all know and love, in Turkey and the Aegean region especially, wild asparagus grows in thin stalks; hence the Turkish name kuşkonmaz, which translates to "a bird couldn't perch on it." Black bryony is called sarmaşık in Turkish or colloquially as acı filiz, which translates to "bitter shoots" in reference to its biting flavor.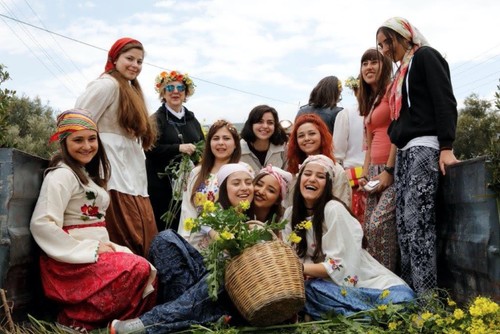 Women in traditional clothes enjoy the AlaçatI Herb Festival.
In addition to the festival's numerous street stands offering a wide variety of herb-based dishes, there are also seminars and video screenings on the herbs' beneficial properties, workshops on how to collect them and cooking classes on how to prepare them. The fun gets rolling today with a mid-day parade, and the festival will conclude with herb gathering and cooking competitions.
The program for the ninth Alaçatı Herb Festival is as follows:
Friday, April 6: The famous Alaçatı parade in which hundreds of people walk through the twisting and turning charming cobblestone streets of Alaçatı kicks off the day at 1 p.m.At 3 p.m. there will be a talk on this year's herbs of honor by Dr. Ayfer Tan and Saadet Tuğrul Ay at İmren Han Hotel and then at 4 p.m., an organic olive oil tasting at Köstem Hotel.At 4:30 p.m., Aydın Demir, the esteemed chef who reengineered Turkey's presidential kitchen and menu, will be joined by Asude Akınlı, owner of Asude Ada in Bozcaada, to prepare dishes featuring wild asparagus and black bryony.
Saturday, April 7: The day starts off with a talk on asparagus by Aslı Aksoy, the founder of Elibelinde Tarim, at Köstem Hotel followed by a workshop for cooking asparagus salad and sucuk sauteed with black bryony by Dilek Yetkiner at Insula Hotel at 1 p.m.
Dr. Daniela Moura de Oliviera Beltrame will be giving a talk on nutritious wild plants from Brazil at İmren Han Hotel at 2:30 p.m. A talk and video will follow at 3:30 p.m. focusing on Anatolia's cultural relationship with plants by Dr. Galip Akaydin at İmren Han Hotel.
At 4:30 p.m., guest chefs Tevfik Alparslan from Topaz and cooking show host and owner of Lokanta Armut Burak Sırmaçekici will prepare dishes based on the honored herbs in Alaçatı Çarşı Square.
On Saturday evening, a concert by Turkish pop artist Gökçe will be held at Alaçatı Amphitheater at 8 p.m.
Sunday, April 8: At noon the festival's famous herb gathering and cooking competitions will take place in which contestants will try to collect the widest variety of edible greens and then prepare delicious dishes with them. The contest will be followed by an awards ceremony at 2 p.m. at Alaçatı Amphitheater.