April and May promise a number of intriguing food-related events, many of which have been organized by members of the city's expat community, for the perfect excuse to get out and mingle with Istanbul's foodies.
April 14: Pop-Up Dinners Istanbul takes on the world
Pop-Up Dinners Istanbul is a periodical dining experience with carefully crafted menus from all over the world created by Singaporean Dutch expat and former restaurateur Kay Redrup and held in her home in Cihangir. Regularly frequented by expat foodies, these cozy, fun and friendly events fill up fast, so sign up through Facebook if you want to secure a spot at one of the three tantalizing feasts coming up.
On Saturday, April 14, Pop-Up Dinners Istanbul will hold "Thailand-Persia Meets Siam Pop-Up," which will celebrate how other cultures have influenced Thai cuisine. The menu includes corn fritters, spicy cabbage and lemongrass chicken as well as tom yum soup. The main course will be a beef Massaman curry with turmeric ice cream and deep-fried bananas for dessert.
In May, Pop-Up Dinners Istanbul will be celebrating the royal wedding on Saturday, May 19 with "The Royal Wedding Pop-Up" with dishes inspired by the highly anticipated wedding of Britain's Prince Harry and actress Meghan Markle. Then, on Saturday, May 26, Pop-Up Dinners Istanbul goes Italian for a "La Bella Vita" dinner.
April 15: Tasting day at the Women-to-Women Refugee Kitchen
he Women to Women Refugee Kitchen, in Turkish "Kadın Kadına Mülteci Mutfağı," which operates under the umbrella of the Okmeydanı Social Aid and Solidarity Association (OKDER), provides a space for local female residents, and especially Syrian refugees, to prepare food, such as preserves, as a means of income. On Sunday, April 15, there will be a special "Tasting Day" from 1 p.m. to 3:30 p.m. in their kitchen in Okmeydanı and will have Turkish and Syrian foods as well as desserts and jams. Check out the organization's Facebook event page to register for the event.
April 15: Tokyo in Istanbul's dinner, origami and kimonos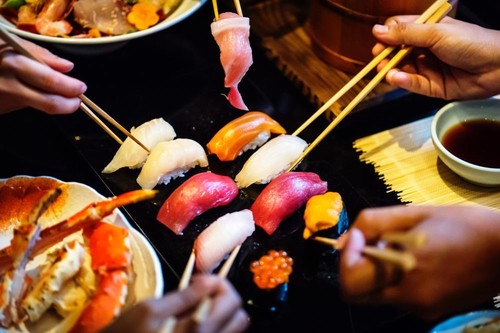 On Sunday, April 15, Lampa Design Hotel in Şişli will be the venue for "Tokyo in Istanbul," a Japanese dinner night with an origami workshop from 5:30 p.m. to 8:30 p.m. Organized by two expat ladies, an Iranian foodie and a Japanese chef, the duo has created a unique dining experience featuring a full menu of Japanese dishes, fun origami and a special kimono photo shoot. The meal will include noodle salads, bagna cauda, beef wraps, hot and sour soup, crispy dumplings and a lot of sushi. Dessert will be strawberry mochi and fish-shaped pancakes as well as all the Japanese green tea your heart desires. The origami workshop will take place between 5:30 p.m. and 6:30 p.m. followed by dinner. The photo shoot will transpire at 8 p.m. For more details check out Tokyo in Istanbul's Facebook event page.
April 18: Turkish cooking class at Circolo Roma
Italian cultural center Circolo Roma will be holding a Turkish cooking class on Wednesday, April 18 from 10:30 a.m. to 1 p.m. Taught by Armanda Campaner, participants will learn to prepare "börek," "türlü," "tarama" and apple dessert. Circolo Roma hosts a wide variety of interesting workshops and events, such as this Saturday's Ebru art class and the upcoming weekend trips to İznik and Bursa scheduled for May 5-6. To attend any of these events write to info@circoloroma.com to register.
April 22: Thailand Songkran Festival in Istanbul
From 11 a.m. to 8 p.m. on Sunday, April 22 Mövenpick Hotel in Levent will host "Thailand Songkran Festival in Istanbul." Entrance is free to this event that will have a wide variety of Thai foods, including exotic fruit, music, traditional dances and costumes to celebrate the Thai New Year, which happens to be today, April 13.
April 22: Meze Festival at Feriye
Dubbed the "new generation meze festival," the revered Feriye Palace in Ortaköy will be celebrating Turkish mezes with chefs and gastronomy experts from all over the country. The "Yeniden Meze Festival" will take place from 2 p.m. to 10:30 p.m. on Sunday, April 22 at this spectacular venue that hugs the Bosporus and will have workshops, seminars and a huge variety of mezes for what will definitely be an unforgettable sensory experience. Tickets are TL 110 ($26), and entrance is only for guests 18 and over.
April 29: 101 Istanbul Flavors Festival
On Sunday, April 29 Time Out Istanbul will be holding their famous 101 Istanbul Flavors Festival (101 Istanbul Lezzeti) at the historical Esma Sultan Yalısı in Ortaköy from 12 p.m. to 12 a.m. At TL 220, tickets, which are available on Biletix, may cost a pretty penny, but grant you the chance to indulge in Istanbul's haute cuisine with over 100 participating venues as well as talks, workshops, surprise events and an after-party. Attendees must be over the age of 18.
May 6: Konoha Sushi Fest and cosplay
The popular Japanese restaurant Konoha in Acıbadem will be holding a Sushi Festival on May 6 from 12 p.m. to 5 p.m. that will have unlimited sushi, eating competitions, gifts, music and cosplay. Turkey has a fast-growing cosplay community that will be donning costumes to consume sushi and if you get your game and costume together, you can be one of them.