Going into its fourth year, from April 28 to 30, for three full days, the Urla Artichoke Festival transforms this Aegean town in İzmir into a culinary, educational and visionary wonderland with its cobblestone streets lined with stalls presenting tempting dishes centered around this global thistle, workshops, panels and cooking courses held during the day and musical and dance performances that pop-up throughout.Urla is a quaint town located in İzmir province tucked in between the city center and Alaçatı.
Fast on the rise as a popular holiday destination, this Aegean town has it all: The traditional culture blends in with the slowly incurring "boutique" hotel and restaurant influx. The city center has an "Art Street" devoted to local artisans, delicious restaurants and pretty shops. Surrounding neighborhoods of Urla straddle the shores of the peninsula and villages are scattered in the forested hills overlooking the Aegean. Its nature has led to the culinary tradition being centered on wild greens and other plants such as the coveted "sakız enginarı," a type of artichoke indigenous to the İzmir region.
The region's culinary legacy with this divine flower vegetable is now celebrated annually with the Urla Artichoke Festival (Urla Enginar Festivali in Turkish) in which thousands come out from all over Turkey and the world to enjoy three days of merriment centered around cuisine and farm-to-table production in this beautiful town.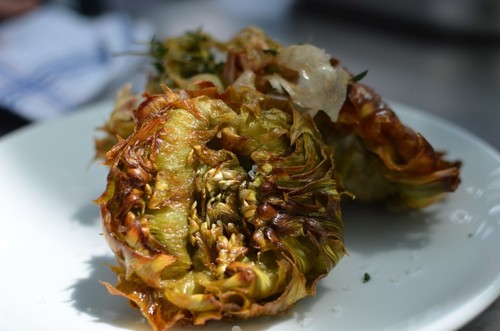 Held every year in April, in an effort to connect artichoke producers directly with consumers, this year's festival will be taking place over the weekend of April 28 to 30, in which for three days, the entire town transforms into an artichoke-lovers paradise with tastings, cooking classes, workshops and seminars galore all centered around this glorious globe. There will be local cooks and international chefs discussing and describing how to best consume this thistle as well as historians, authors, doctors and even food bloggers on panels to discuss the artichoke's cultural and historical significance. Furthermore, all of the events are free and open to the public to attend.
The program for this year's artichoke festival is as follows:
The event kicks off on Saturday, April 28 with an Opening Ceremony that will take place from 10:30 a.m. to 1 p.m. The first workshop of the festival is entitled Journey of Artichoke and commences at 2:30 p.m. At 4 p.m. there will be a workshop on the local "sakız" artichoke and its presence in Urla's cuisine, followed by a workshop at 5:30 p.m. exploring artichokes from the perspective of Turkish culinary culture which will have the author of the food blog Yeni Hayatın Tadı as one of the moderators.
On Sunday, Apr. 29, the day starts off at 10 a.m. with another workshop on artichokes in Urla's cuisine, but this time there will also be a cooking course on how to incorporate artichokes into making cheese and how to prepare a more traditional Turkish dish of artichokes with rice. At 11:30 a.m., there will be a workshop on Artichoke from the Perspective of Worldwide Cuisine Cultures, which will feature chefs from Tunisia, Morocco and Algeria in a panel that will have the author of the blog and YouTube channel GuruKafa, joined by a food stylist as moderators.
At 1 p.m. on Sunday, one of Turkey's most well-known health care and Ayurveda experts Dr. Ender Saraç will be a guest on a panel to discuss Artichoke Flavored Touches. At 2:30 p.m., there will be a second session on Artichokes from the Perspective of Worldwide Cuisine Culture, which will have visiting chefs from Italy, France and Lebanon.
Then, things really heat up on Sunday with a very special panel that will take place from 4 p.m. to 8 p.m. with esteemed Turkish historian İlber Ortaylı, archaeologist Hayat Erkanal and historical writer Yilmaz Karakoyunlu.
The final day of the festival, which will be Monday, Apr. 30, will continue with a cooking workshop at 10 a.m. with chefs from the Doubletree Hilton and other İzmir-based chefs such from the restaurants Nochas and Loco. At 11:30 a.m. there will be another session on Artichoke from the Perspective of Turkish Cuisine Culture, which will have popular İzmir chef Ahmet Güzelyağdöken as a presenter.
Some insider tips for discovering Urla
Located a half an hour drive from İzmir's city center and Alaçatı, Urla is a great day trip or overnight stay destination. Getting around in town is relatively easy, however, keep in mind that similar to Alaçatı, the center of Urla is a few kilometers' distance from the sea. The seaside neighborhood referred to as İskele is a popular destination for accommodation and enjoying a meal or drink overlooking the sea.
Should you drive further, you end up in Çeşmealtı, where there is windsurfing and luxurious homes, such as the colossal residence rumored to have been purchased by Angelina Jolie and Brad Pitt back in the day, and Gülbahçe is another calmer neighborhood situated on the sea. Discovering Urla's villages is also an adventure such as Uzunkoyu village, which just happens to harbor what is rumored to be the world's largest olive oil museum entitled the Köstem Zeytinyağı Müzesi.Should you want to take a break from the homage to artichoke and dine on comfort classics such as burgers and pizzas, Urla just happens to host two of the best restaurants in this genre in İzmir. Ohannes Burger and Pizza Lokale are a league above the rest and a great spot to take a respite from the crowds that will be embarking on the town next weekend. Fırın Vourla is a great place to enjoy breakfast and baked pastries and bread.