This month, Istanbul and Ankara will have a number of specially curated concept festivals that promote doing and feeling good, while celebrating the wonderful health benefits of spring.
HoliFest comes to Turkey big time
Inspired by Holi, the Indian festival of color, the HoliFest Istanbul '18 will be held in the city's Kilyos on May 12. Holi, one of India's biggest holidays, was celebrated on March 1 this year. Through HoliFest, the event has also spread in Turkey. Traditionally people smear and spray each other with colors as the holiday is commemorated in a carnival-like fashion with participants turning into a rainbow spectrum of colors.
This festival celebrated in over 50 countries in the world, has also taken on a new turn In Turkey as it becomes a fun and entertaining day of festivities, activities, live music performances and lots of colors. It was first held as a concept festival in 2016 with thousands of attendees and has since grown to include different cities in Turkey.
Organized by Istanbul Student Life, this year's HoliFest is going to take place in four different cities in Turkey. The HoliFest party spree began last weekend in Izmir and in Çanakkale on May 1. On May 6, HoliFest goes to Ankara, before coming to Istanbul on May 12.
There will be different musical and dance performances as well as a wide variety of workshops centered on the Indian culture, including henna, yoga and dance.There will also be a stand with a wide variety of Indian foods and gifts, clothes and accessories. The celebration is going to be a full-day event with doors opening early. Colored powder will be thrown in the air above the crowd every hour, with DJs performing late into the night.
HoliFest Ankara kicks off Sunday, May 6 and will be held at the Armada Shopping and Business Center from noon until midnight. There is a long line-up of musical performances, including Yener Çevik, known for his unique style of arabesque rap, blues and rock and roll band Sahta Rakı and French DJ Willy William.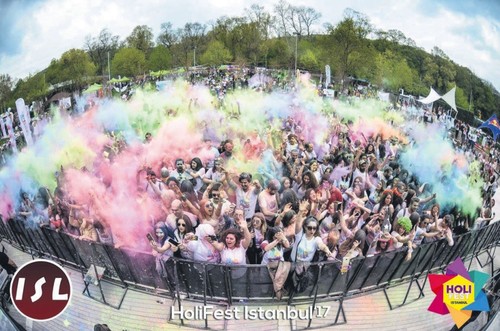 There will be different musical and dance performances as well as a wide variety of workshops centered on the Indian culture, including henna, yoga and dance.
Entrance to the festival will cost TL 60 ($14) and tickets are available on Biletino. There is also a special Meet & Greet option available in which for the cost of TL 250, guests can watch performances from backstage and have the opportunity to meet Willy William and other performers.
The following weekend on Saturday, May 12, HoliFest Istanbul will take place at Milyon Kilyos Beach, better known as Babylon Beach. The most popular of the HoliFest Turkey series, HoliFest Istanbul takes place in a venue where the sea meets the forest making for the perfect respite in nature to celebrate spring. Performances will include Turkey's 2012 Eurovision contender pop star Can Bonomo and dance and electronic musician İlkay Şencan as well as many others. Tickets are TL 67.50 and available on Biletix.Elsewhere, Beauty Fest takes place at Uniq Istanbul this weekend from Friday, May 4 through to Sunday, May 6. It will have live music concerts and DJ performances as well as a number of seminars by makeup specialists, beauty and style consultants held on the subject of "beauty."
There will also be "Beauty Talks" by a number of well-known personalities, contests and stands selling the latest in cosmetics and other beauty products. The event takes place from 10 a.m. to 10 p.m. daily and tickets for a single day costs TL 47 while a full three-day pass will cost TL 117. Tickets are available on Mobilet.
Diyet Fest also takes place this weekend on May 5 and May 6 at Forestanbul. Focusing on healthy living, Diyet Fest will have musical performances by pop stars Edis and Ozan Çolakoğlu, seminars with well-known dietitians, tastings, demonstrations, workshops, and adventure courses set up and even stand-up comedy. Doors open at 11 a.m. and entrance costs TL 36 for the day and TL 66 to attend both.
"İyi Yaşam Festivali" is a "good lifestyle" festival sponsored by Migros that will take place over the weekend of May 12 and May 13 at Küçükçiftlik Park.
The beloved Turkish rock and pop legends MFÖ and popular pop star Gökhan Türkmen will be performing Saturday, while Sunday will feature concerts by Eurovision Song Contest winner Sertab Erener and expat rocker Allen Hulsey.
In addition, well-known health and nutrition experts such as Dr. Osman Müftüoğlu, Dr. Ender Saraç, Dilara Koçak, Dr. Ayşegül Çoruhlu, Aret Vartanyan and Metin Hara will hold talks, while famous model, windsurfer and mother Çağla Şikel will be part of a special Mother's Day program.
Tickets for Saturday are TL 56.50 and a two-day pass is TL 85.