The holy month of Ramadan is upon us and throughout the Muslim world as the devout take part in the largest collective fast in history. Marking the month on the Islamic calendar in which the Quran was first revealed to Prophet Muhammad, fasting from dawn to dusk is one of the main pillars of Islam. This special time is also one in which the devout perform daily prayers as well as make an annual charitable donation known as "zakat."
This year, the fast began on Tuesday, May 15 and continues until the evening of June 14. Devout Muslims refrain from eating food, drinking water and other vices throughout the daylight hours and then partake in the "iftar" meal, held after sunset to break the fast and "sahur," a meal before sunrise and start of the day-long fast. This dedication will then be rewarded with the beloved "Şeker Bayramı," Eid al-Fitr, in the greater Muslim world. Şeker Bayramı, which translates to "Sugar Holiday," is a three-day holiday, which will take place from Thursday, June 14 to Sunday, June 17, to celebrate the previous month of self sacrifice by taking a holiday and enjoying the finer things in life.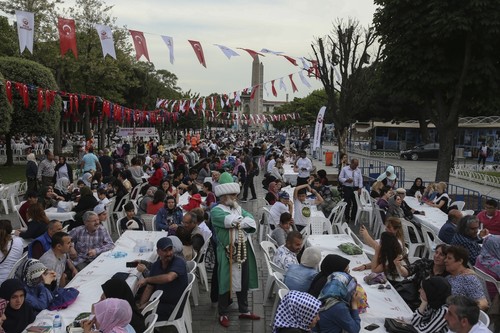 Mass gathering for the first iftar of this year's Ramadan in Sultanahmet.
If you are in Turkey during this very special time and less familiar with this tradition then what you need to know most of all is that this is a time in which people try to spend time with their families, help others less fortunate and of course fast. With this year's dates falling in the summer months, this month-long fast will be a more trying time than most. Keep this fact in mind in the public sphere, and whether or not you are fasting, just try to be a little bit more accommodating, understanding and patient; in other words, be kind and when possible, give helping others a try.
The most exciting part of the day during the month of Ramadan is undoubtedly iftar, the meal to break the fast held after sunset. In many areas in Turkey, this may be denoted by shooting off a cannon; if this is the case, do not be alarmed. Likewise, local drummers will wander the streets banging their instruments as loud as they can in the early hours of the morning for the sole intention of waking local residents so they can take part in sahur, the final meal before the daylight fast.Traditionally, families tend to take part in iftar together and then go out for a leisurely stroll to enjoy the night. Many municipalities throughout the country host events during the month, such as Tasavvuf musical performances, epic storytelling, poetry recitals and theatrical performances such as Hacivat–Karagöz puppetry with stands set up selling traditional iftar treats such as helva and sherbets as well as handcrafts and gifts.
While, it has been a long-standing tradition for people to flock to Sultanhamet Square and enjoy the night air and festivities in the city's most historic neighborhood, this year in Istanbul, the Metropolitan Municipality will host three other month-long celebrations to safely enjoy Ramadan festivities.
For those on the Asian side, the Maltepe Seaside, Europe's largest lifestyle, sports and entertainment center at 1.2 million square meters, will host month-long activities, and on the European side, the Yenikapı Seaside, another mega outdoor complex that has a 1 million person capacity, will also host events for Ramadan. Additionally, on the European side, for the first time ever, there will be month-long events taking place in Beylikdüzü Square. Each location has a Mosque nearby where people can take part in the Tarawih prayer.
Istanbul&I hostsIftar & Community project
In the spirit of Ramadan, Istanbul&I, an international youth social impact organization, will continue their popular Iftar & Community project this holy month of Ramadan.
Every Friday and Saturday starting on May 25 and continuing until the end of Ramadan, Istanbul&I will hold their third annual Iftar & Community project in which they host iftar dinners for the families and communities of Tarlabaşı, Kasımpaşa and the overall Beyoğlu area. Taking place in Kasımpaşa Sururi Park from 7 p.m. to 9 p.m., anyone and everyone regardless of nationality or religion are welcome to volunteer or donate to help this program that provides food to disadvantaged and displaced families, especially children.
To take part, contact Istanbul&I, an organization that has upward of 300 volunteers from over 50 countries and regularly hosts events such as weekly speaking clubs held in Turkish, English, French and Arabic as well as an informative seminar series, which tackles a variety of topics spanning cultural understanding to self-improvement.
Expat Spotlight on Social Innovation
Yabangee, the website run by and geared to foreigners in Istanbul, continues their Expat Spotlight talk series this month with a focus on "Social Innovation," which is apt during this month in which helping others is a major component. This talk series, held at ATÖLYE in Bomontiada, is a monthly series showcasing the freshest, most inspiring contributions by Istanbul's diverse international community to the city's cultural, sporting and humanitarian and business spheres. Open to all, with free entrance and no RSVP required, this event series takes place in English and provides an opportunity for expats to share moving stories, reflect on personal experiences and participate in a resourceful dialogue.
The Expat Spotlight on "Social Innovation" will take place on Tuesday, May 29 at 7:30 p.m., with doors opening at 7 p.m. The Master of Ceremonies for the evening will be Jessica Sim of Circuit Istanbul, while the speakers will be the founder of Istanbul&I Teymour Ashkan, Alexandra Clare and Marcello Bonatto from Re:Coded, Niels van der Linden from Patica and Susan Long, who is involved in making communities in the humanitarian aid sector.