Centered on the slogan, "You can change your life in a day," Global Wellness Day is an event dedicated to clean living. It is an opportunity for leaders in wellness, whose focus is on improving life quality, to share their knowledge and raise awareness of their pursuits on a single platform free and open to all that are interested in adopting new, healthier habits. This special day introduces people to dozens of healthy practices, including yoga, Pilates and zumba, as well as all sorts of therapeutic methods; while also hosting inspirational talks by some of Turkey's leading personal developmental and motivational speakers.
The key purpose of this special day is that people get the chance to try out healthy lifestyle practices to decide whether or not the activities may be something they would like to further pursue, while also getting the opportunity to watch some of Turkey's greatest wellness experts in action. For expats especially, this opportunity is invaluable. In a one day, you can be introduced to a wide variety of healthy living practices in Turkey and get firsthand experience with the experts who specialize in them.
First held in 2012 at the Richmond Nua Spa in Sapanca, Global Wellness Day is the vision of Turkey's very own Belgin Aksoy Berkin; a visionary in the tourism and hotel sector who was recognized as both the "Leading Woman in Wellness" and the "Most Influential Spa Leader" the year the event went global. She also doubles as the vice president of the Turkish Heart Foundation. As the founder and initiator of Global Wellness Day, her mission is to allow people to pause and think about recognizing the value of their lives, even if it is just one day a year. The practices introduced at Global Wellness Day aim to eradicate the stresses of everyday city life and bad habits while allowing people to make peace with themselves. But most of all, this event is intended to raise awareness about living well and to increase motivation for people to embark on healthy journeys for not just one day, but for years to come.
This year, Global Wellness Day, which takes place on Saturday, June 9, will officially be celebrated in 100 countries and at 5,000 different locations worldwide.
Try out yoga, Pilates, zumba, get expert advice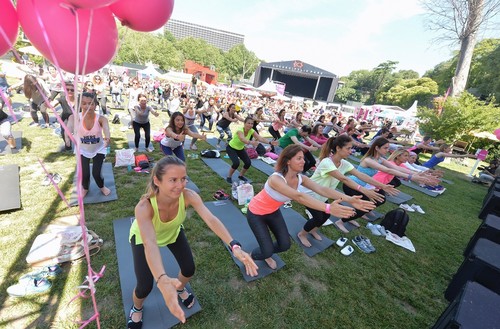 Global Wellness Day 2018 will be taking place in Turkey at Istanbul's Küçükçiftlik Park on Saturday, June 9 from 10 a.m. to 6 p.m. There will be simultaneous workshops and talks held in Turkish throughout the day on physical, mental and spiritual health as well as a variety of activities for children. Entrance to the event and attendance for the workshops is free and open to all.
There will be two separate workshop areas set up with simultaneous courses and seminars taking place. The full day starts off at 10 a.m. with a yoga session led by Gem Akman; followed at 10:45 a.m. with Pilates led by Murat Berkin; at 11:30 a.m. nutritionist Dilara Koçak and vascular surgeon professor Dr. Murat Aksoy will discuss "The Road to Good Living" at 12:15 p.m.; detox specialist and healthy living consultant and motivational speaker Gül Kaynak will be giving a talk about when to detox; at 1 p.m. Eser Mutlu will lead a session on laugh therapy; phytotherapist and acupuncturist Dr. Ümit Aktaş will give a talk on living without medicine at 1:45 p.m; at 2:30p.m. motivational speakers Aret Vartanyan will be asking the question "Where are you going?," followed by Metin Hara, who will give a talk at 3:30 p.m. titled "Kindness will win"; At 4:15 p.m., personal trainer Ayşegül Demirsöy will be giving a Zumba class; at 5 p.m. there will be a musical performance by Kord Vocal Group, a pop-rock group formed by doctors, including Murat Aksoy.
The program for the second workshop area, which will have simultaneous classes and talks throughout the day, is as follows: The day starts off with a talk by Birim Mor on "Good Living in the Guidance of Environmental Awareness" at 10 a.m. followed at 10:45 p.m. by reconstructive and plastic surgeon Dr. Serdar Eren answering the question, "What is the Purpose of Unhealthy Beauty?"; then at 11:30 a.m., astrologist Sare Palaska will give a talk on "Career Planning for Children"; at 12:15 a.m. Allen Carr Turkey founder Emre Üstünuçar will be discussing "The Trap That is Cigarettes and the Way Out"; at 1 p.m. motherıng coach Ahu Tükel will be divulging "Seven 'Healthy Living' Habits for Children"; and at 1:45 p.m., Gem Akman will share information on the "Ayurvedic Lifestyle." To close, at 2:30 p.m. Sırma Belin will be demonstrating voice mediation with Tibetan singing bowls.
Meanwhile, other highlights include Ironman champion İpek Onaran leading a running event for kids. The Breath Coaching Federation will be doing breathing analysis for participants, and Sare Palaska will have a children's career planning consulting stand set up. Also from 10 a.m. to 5 p.m., there will be entertaining and educational activities held for children, including zumba and dance classes and games, such as basketball.
Perhaps one of the most exciting features of the Global Wellness Day program is the simultaneous book signing events that will be taking place. A number of Turkey's most popular healthy-living experts will be signing their books for fans throughout the day.
Dietitian Dilara Koçak, the author of a number of diet and recipe books as well as a popular diet journaling series, will be signing books from 12:30 p.m. to 1:15 p.m. Then there will be surgical specialist professor Dr. Murat Aksoy, host of the talk-show "Doktorum" and author of the book "Doktorum Yanımda" (My Doctor is With Me), at 1:30 p.m.
Dr. Ümit Aktaş, the author of a number of books on herbal cures, living without medicine and natural methods for dealing with diabetes and weight loss, will be signing books at 2:15 p.m. The founder of "Yaşam Atölyesi" (Living Workshop), motivational speaker and writer, Aret Vartanyan, who has nearly 20 books to his name, will be hosting a signing at 3:30 p.m., while Metin Hara, the popular personal development specialist, who you may recall as Adriana Lima's love interest, will be gracing the stage with his presence at 4:30 p.m. to sign his six books, including this year's release "The Scientific Study of Wellness" and his "Invasion of Love" series.