With over 30 million gamers in the country, making it one of the largest game markets in the world, it should come of no surprise that Turkish game designers have created some of the most entertaining mobile games out there. Whether it is about playing football, driving cars or battling for the Turkish front, the following games are a great way to test your skills in language, navigation, history and more.
Recontact Istanbul: Eyes of Sky
The world's first cinematographic mobile video game, Recontact Istanbul: Eyes of Sky is one of the most popular mobile games developed in Turkey. Selected as the best app at last year's Los Angeles New Media film festival, this game has been played by over 60 million people thus far. Dubbed the first interactive mobile cinema, the game is a captivating murder mystery starring actor Fikret Kuşkan with crime-writer Ahmet Ümit serving as scenario consultant. The game consists of real-life video footage of which you have to complete tasks such as finding suspects on city surveillance cameras and determining whether the suspect is lying in order to acquire points for your "sense" in solving crime. Recontact Istanbul: Eyes of Sky is a great way to practice your Turkish while watching footage of people and locations in Istanbul.
Online Head Ball
In an entire league of its own, Online Head Ball, in Turkish "Kafa Topu," is one of the most entertaining, exciting and easy football games out there. Now played in 88 countries, this fast-paced game is completely addictive as you battle it out by kicking a football into your opponent's goal post in quick games against random players using just five commands. You can customize your character, which consists of a head and feet to shoot the ball and give them special powers such as freezing your opponent or sending out dozens of balls into the field.
Dolmuş Driver
If not for the narration alone, Dolmuş Driver is one of the most hysterical and fast-paced racing games out there. After selecting your character as the chauffeur of a Turkish Dolmuş, which is Turkey's famous minibus system, which picks up and drops off passengers for a fare paid, done at most times when the vehicle is in motion. The characteristic and other customary sayings and exclamations make up the fun narrative that is essential while playing this car-racing game. As the driver, you must navigate through Istanbul traffic, while safely picking up and dropping off passengers and evading obstacles such as security checkpoints. The three maps in the game take you to Taksim, via Beşiktaş, Bakırköy and Kadıköy and the mission is to pick up the most passengers and mark the best time. In addition to being addictive fun, this game is a great way to familiarize yourself with the Turkish terminology for this popular hop-on and hop-off mode of transportation in Turkey.
Battles of the Ottoman Empire
Battles of the Ottoman Empire, in Turkish, Osmanlı Savaşları, is a 3D strategy and online MMO (massively multiplayer online) game, which takes you back in time to the Ottoman Empire. In this real-time strategy game, the player is tasked with building and customizing an elite military force and base, in order to defend and deploy historical military units such as janissaries, miners and cannoneers to defeat the enemy.
Nusrat
Nusrat is a historical game released by Turkey's Ministry of Youth and Sports that places you on the heroic Nusrat mining ship defeating your enemies or laying out mines to strategize their defeat. A fun opportunity to battle the Allied Troops in the historical Gallipoli Campaign, with maps laid out of the Dardanelles peninsula, where this famous World War I battle took place.
Resimli Kelime Bulmaca
Mobile games can be a great way to practice your language skills and the Turkish game Resimli Kelime Bulmaca (Word Find with Pictures) easily falls into that category. In this word game, you are tasked with finding the word that is represented by four different images on the screen. You are given a variety of letters to choose from and the number of spots to fit them in, facilitating finding the word with ease.
Şerokoş
Turkey's cartoon star "Bad Cat Şerafettin" also has a fun and fast-paced running game called Şerokoş in which you traverse Turkish rooftops as a cat. Simple to play as you direct the cat to run and jump by touching the screen, while the intricate graphics also make for a relaxing ride.
Need for Şahin
​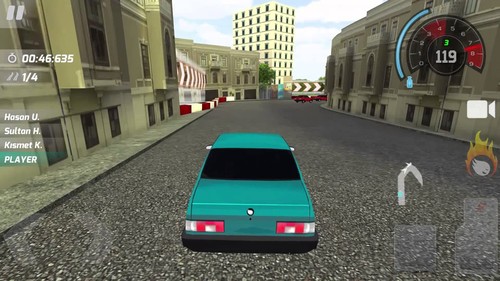 Drift or race in the driving game Need for Şahin, which lets you deck out Turkey's beloved Tofaş brand Şahin and Kartal cars on a map taking you through Beşiktaş and Dolmabahçe.
Critical Shot
Battle it out locations in Turkey in this Turkish-made first-person shooter game, Critical Shot. In this game, in which you select from an arsenal of weapons, you face-off with other players online in classic deathmatch or team modes.
Çanakkale Geçilmez and Çanakkale Hava Saldırısı
In "Çanakkale Geçilmez" (Çanakkale Cannot be Passed), you shoot down enemies and their ships in the Gallipoli Peninsula in this warfare game with maps of epic battlegrounds where Turkey's famous World War I Battle of Gallipoli took place. Made by the same Turkish producers, Çanakkale Hava Saldırısı (Çanakkale Air Strike) is a similar game in which you shoot down enemy planes and answer historical questions.