To the delight of Irish holidaymakers, a new flight service was launched last week by Ryanair between Dublin and Dalaman. With Turkey already a popular destination for Irish tourists, it was about time that a direct flight was offered to Dalaman airport, located on the southwestern coast of Turkey and servicing the popular holiday resorts of Fethiye, Marmaris and Ölüdeniz.
While bustling Marmaris, relaxing Fethiye and stunning Ölüdeniz all have a lot to offer, there are a number of other lesser-known destinations near Dalaman worth discovering. Set along rivers and neighboring lakes, these three unique holiday destinations offer a different side of Turkey in which boats overtake cars, the protection of animals has prevented development and some of the best sea and summer sports take center stage.
Discover Dalyan
Just 25 kilometers west of Dalaman airport, Dalyan is a laid back fishing and farming village that stretches along the Dalyan River and boasts breathtaking ancient sites denoting its rich history. An increasingly popular residential spot for permanent expats, Dalyan's spectacular geography has remained untouched by modern development. You see, Dalyan not only features its namesake river, but it also neighbors the famous Iztuzu Beach, also known as Turtle Beach, which is a protected area, as a main breeding ground of loggerhead turtles. The town is also charmingly interspersed with ruins from the ancient city of Kaunus, which flourished in the ninth century B.C.
The draw of Dalyan, which also hosts a significant number of year-round expats, is undoubtedly its spectacular river setting. Unlike a typical summer resort town, Dalyan has remained characteristically more traditional and Turkish. Life is mainly centered on the Dalyan River, from which you can easily view the ancient Lycian-style tombs built into the cliffs overlooking the town and river. While the sea may not be the focus of the town, boat rides are a regular part of the experience as they are the best and in many cases, the only form of transportation for reaching the beach, ancient sites and neighboring Lake Köyceğiz, one of the largest coastal lakes in Turkey that boasts natural thermal and mud baths.There are a number of accommodation options available; however, if you want to be right on the river, then Beyaz Gül is a basic but pleasant way to start discovering the town. Casa Nova, also situated along the river, is the most popular dining venue for international fare. The newest addition, however, is Spice Garden, which offers delicious Indian food and is certainly a rare treat for foreign visitors. Dalyan Iz is a popular cafe and gallery stop for expats and a great place to people watch as you enjoy excellent international snacks, pastries and cakes.
Amazing Akyaka
Head 70 kilometers, about an hour, west of Dalaman Airport and you will come across Akyaka, the region's new shining star for summer destinations. The city boasts a young, active crowd, who come for kitesurfing and for the stunning architecture that resembles Swiss chalets. Akyaka is bordered by the Azmak River, which drains directly into the sea, making for another sensational setting. The area offers a number of pleasant excursions, such as to the tip of the Kadın Azmağı, where you can observe the wide variety of wildlife that inhabits the river's shores. The vibe is more boutique than village, and the architecture mostly consists of timber homes built in an Ottoman-style distinct to the region.
The great thing about Akyaka, though, is there is a constant breeze that lends itself well to wind and water sports. Over the past decade, Akyaka has easily become Turkey's kitesurfing capital and to complement this, extreme sport lovers can also enjoy the relaxed yet entertaining ambiance of the town's nightlife. No. 22 Riders Inn features live music performances, such as expat blues-rocker Allen Hulsey and Jabbar, which are held regularly. No. 22 Riders Inn is also on the beach and offers kitesurfing lessons and other sports activities as well as CrossFit and yoga classes. For the best meal in town, head to West, which is right on the Azmak River and has great Turkish and international fare.
Göcek: A bay paradise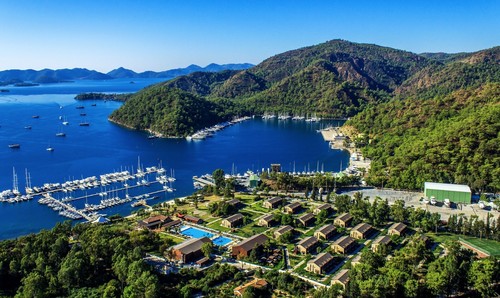 Göcek is known for being one of the most beautiful and thus upscale stops on any of the famous Blue Cruise tours. The focus here is on accommodating boat tourism as there are six marinas in the area as well as a regatta. Admittedly, the beach in Göcek itself is small, but the tradition in this town is to board a boat and head to the coves of the spectacular Twelve Islands.
Admittedly, Göcek is best visited by boat as accommodation tends to be less available and more expensive; however, if you do end up spending the night, rest assured you will be doing so with the upper echelons of Turkish society who predominantly spend their summers on boats. There is also the West Cafe & Bistro here that offers the best bang for your buck with its satisfying meals and engaging environment.