Sometimes in the summer you just want to immerse yourself in nature, feel one with the trees, sea and sun and be a world away from the hustle and bustle of city life and popular summer resorts. However, you may not want to lose some of the basic comforts of summer accommodation just to be able to camp out. Well the newest concept in travel is that of "glamping," in other words "glamorous camping" it is something that has been around in Turkey for a while now, it just hadn't been given a name.Now that "glamping" is a thing, it is on full-throttle in Turkey, which has perfected the art with more and more cute, chic and comfortable options making it their mission to facilitate guests "roughing it outdoors." But let's be straight, none of these camping venues are actually outdoors, instead they offer creatively cozy accommodation options to have a fun and relaxing retreat holiday in nature.
Huzur Valley in Göcek
Perhaps the first-ever glamping proprietors in Turkey were two British expats who brought us Huzur Valley, aka Huzur Vadisi, which is nestled in the hills of Göcek, situated halfway between Dalaman Airport and Fethiye. Not only do they offer accommodation in charming little yurts, the Turkish traditional nomadic tents, with communal facilities, but they also are one of most popular yoga retreat spots in the world. There are many different accommodation options, however most guests come to partake in their famous yoga retreats and thus price is determined accordingly. There is an infinity pool, a private hamam a spectacular yoga platform and delicious food. In fact, there is "The Huzur Vadisi Cookbook: Recipes from a Turkish kitchen" to attest to that. It is so well-known around the world that Huzur Valley has also been written about in The Telegraph, the Guardian, The Daily Mail, Tatler and Cornucopia.
Kocabahçe in Bozburun
Kocabahçe Glamping is a serene upscale camping spot located in a pristine bay in Marmaris' sailing heaven of Bozburun. To give you a sense of its remoteness from the hustle and bustle of other vacation destinations, Kocabahçe Glamping is only accessible by boat, a service the establishment offers as part of accommodation, which is in wooden chalet-like bungalows or individually-styled glamping tents for a hefty cost of anywhere between TL 400 ($82) and TL 650 for full board, which includes breakfast and dinner buffets. There is a less expensive option of camping out in your own tent for TL 150. The campsite looks like a wonderland of color, with trees, flowers and beds laid out among them in the garden and on the beach. Children under the age of 12 are only allowed two weeks of the year, which already took place in July, and in the next month they will be hosting a series of three different four-day yoga camps in the upcoming month.
Mona Camp in Seferihisar
​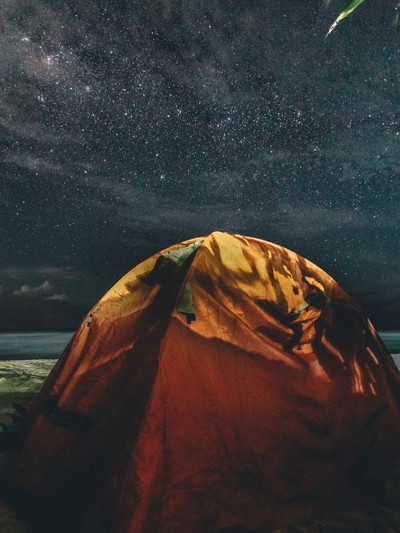 Mona Camp aka Mona Glamping Caravan Suites has four nicely decorated nostalgic caravans allowing you to camp out indoors with your own bathroom facilities. A more reasonable option at less than TL 200 for two, however breakfast comes at an extra charge of just TL 15. The proprietors will also provide a barbecue set and a case of wood for an additional fee and there are also bicycles on site available to rent. The camp is just a stone's throw from Sığacık and Akkum Beach.
Campo Portakal in Çıralı
Located on the Lycian Way just next to Olimpos, known for the Chimera mountain top with the perpetual flame and for a beach that doubles as the breeding grounds for loggerhead turtles, Campo Portakal in Çıralı is a treat for those wanting to relax while being immersed in nature. Opened by Dutch proprietors, Campo Portakal, which is set in an orange grove, has a number of large and thematic tents such as their Safari and Bedouin tents. The larger tents have two bedrooms, a fully furnished kitchen and bathroom as well as a large terrace and air conditioning. All of the furniture, which could easily be described as rustic chic, have all been brought in from the Netherlands. Prices range from TL 280 to TL 650 for two depending on which tent you choose but all have their own bathrooms and kitchen areas and have been handcrafted for the ultimate glamping comfort.
Avalon Steppes in Kayaköy
Famed for their luxury yurt accommodation, Avalon Steppes is set among spectacular views of the sea and the Taurus Mountains in Fethiye's most popular "ghost town" known as Kayaköy. This deserted village, which hovers over the more popular seaside holiday destination of Ölüdeniz has been given new life in recent years and is well worth visiting as a place to retreat in nature. Avalon Steppes has four decked out yurts that are all en suite with air conditioning that surround a sparkling pool. Pastel colors and fairy lights bring beautiful touches to the grounds that have comfortable chill out spots and boutique dining tables equipped with mismatched antique seating. The proprietors are an expat-Turkish couple so the food at their onsite restaurant Avalon is the best of both worlds, Turkish with a British touch. The cost for double accommodation starts at around TL 400.
Secret Lake Chalets in Bucak
With pristine and beautifully modern decorated white wooden bungalows overlooking the Karacaören Lake in Burdur, Secret Lake Chalets or Saklı Göl Evleri in Bucak is in a league of its own. Offering full comforts equal to the most chic hotel room you can imagine, coupled by the spectacular and relaxing views of the lake, make these bungalows the best deal ever. There are a total of seven glamping tent homes, three of which have hot tubs and all with private bathrooms and five special concept wooden lake homes, with accommodation available including breakfast or half board for a cost of approximately TL 200 per person.