Bodrum's new hip place, Gümüşlük, is now a must-see when traveling through the Aegean coast of Turkey. The heart of Gümüşlük is its seaside, where following a slope down from the main street you walk among stalls of handmade artwork, many of which are tended by the artists themselves. This town is well-known for its artistic and bohemian locals, and the venues all reflect this. Gümüşlük is much more relaxed than other towns on the peninsula, with the focus more on the artistic side rather than being luxurious. In Gümüşlük, you could say is rustic chic.
Once you reach the sea, you face the magnificent Rabbit Island, which, if it weren't blocked off at present, could conceivably be accessed by trekking on the rocks in the shallow water that leads to the island - reminiscent in a sense of the wedding spot in the film "Mamma Mia." Instead, you can check out the remnants of ancient fortifications from the area's thousands of years of history resting in the sea.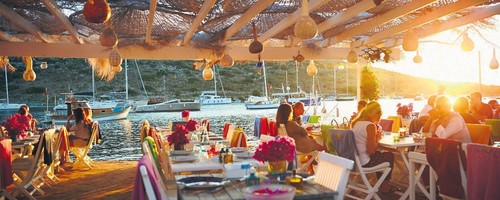 Mimoza is one of the most loved restaurants in Gümüşlük.
Lending to the romantic atmosphere is a spectacular trend of decorating the shoreline. Since this eclectic and bohemian town hugs the sea, Gümüşlük's proprietors have placed remnants of trees painted white and adorned with colorful, twinkle light filled gourd lamps. Legend has it, this trend was first started by the area's most famous restaurant Mimoza, which is located on the far right of the shore. A fish restaurant at its finest, Mimoza is in a league of its own as a wonderland of white tables and spectacularly carved gourd lamps. Beware, it is easily one of the priciest restaurants on the peninsula, which you might not surmise due to its relaxed environment. Nonetheless, it is a once-in-a-lifetime experience of mingling with the elite on their holiday experience. The cove also hosts many impressive boats with their owners casually dining onboard, a sight that adds to the unique vibe of Gümüşlük's nightlife.
If you don't want to bust your budget, squeezed in a row of fish restaurants is a cozy little hamburger joint called Little Burger by the Sea that arguably serves the best burgers on the Bodrum peninsula and also has falafel options on the menu for vegetarians.
As for Gümüşlük nightlife, over the past few years this area has become one of the most enjoyable and convenient spots to watch prominent Turkish musicians perform live. Club Gümüşlük has long been the area's most popular nightlife venue, but now they also host live musical performances. Turkey's past Eurovision contender Can Bonomo and vocalist Leman Sam performed there last month and next week, Cem Adrian, famous for his multi-chord vocal abilities, will take the stage.
Venues such as Off Gümüşlük have also changed the game, serving as a beach club and restaurant by day with live musical performances at night. Nükhet Duru, Birsen Tezer and reggae group Sattas are just some of the bands that have performed thus far. Batı Bar, located just behind the rows of fish restaurants, has also hosted live concerts such as the now ever-so-popular Evrencan Gündüz, who was a staple performer for the venue last summer. Hayat and Açık Mutfak are two other venues located just one road up from the shore that host interesting events and have great food.The most impressive venue to listen to live music in Gümüşlük, however, has got to be Eklisia, an ancient church-turned cafe that hosts musical performances both inside the church and outside under the stars and overlooking the sea. Meanwhile, Mars Bar, located at the entrance of Gümüşlük must also be mentioned as one of the top expat hangouts. The fish restaurant next to it, Balıkhane, is also a local favorite. Gümüşlük has not one, but two municipal tea gardens smack dab in the center of town, overlooking the sea, which makes for a pleasant way to rest and people watch and enjoy the environment without breaking your budget. One is also attached to Bodrum Dondurmacısı, a local ice cream producer with a wide range of tempting flavors and hard-to-find western classics, such as chocolate mint. You can also pick up a box of the area's famous lokma, which are like syrupy doughnut holes and are truly a Turkish delight.
While Gümüşlük is also famed for having one of the most beautiful sunsets on the peninsula, its beach is admittedly small, often crowded and covered with loungers. Due to proximity, you will most likely become friends with your lounging neighbors and since most of the people in Gümüşlük are quite eclectic and intellectual, it will most likely make for a grand time. There is also a windsurfing, kayak and sailing center called Myndos Sailing, where you can rent kayaks and even a Hobie Cat catamaran.
Myndos is of course the former name for Gümüşlük, an ancient Caria settlement whose remnants are still scattered across the city's hills and in the nearby sea. The annual classical music festival takes place in one of its quarries. The best spot to while away the day and watch over the peninsula is Limon, a restaurant and cafe that was a pioneer in bringing rustic chic to Gümüşlük. Considered the top spot to watch the sunset, Limon, which is set on platforms on the hill overlooking Rabbit Island, has wonderful Turkish fusion food and serves as an open-air museum of sorts for sculptures.
As for where to stay, Club Zemda is one of the nicest, tucked on the south side of the beach. Next to it, Sysyphos offers a more hostel feel and the more central Otel Gümüşlük is also a popular spot for accommodation.