Born in Ankara to Turkish and English-Irish parents, Melissa Lara Clissold's childhood was spent all over the world. Due to her father's position in the foreign office, Clissold grew up in places like Lagos, Nigeria and Warsaw, Poland before returning to Ankara to attend high school at the start of the millennium. Later, after finishing her master's degree at SOAS University of London, Clissold moved back to Turkey in 2013. In addition to being a consultant for The Duke of Edinburgh's International Award-Turkey, the Turkey branch of the world's leading youth development program, Clissold is also the vocalist and plays guitar for the group Zeytin. She was also among the pioneers of Jam Sessions Turkey, which provides the opportunity for musicians to perform and improvise together at regular events.
Clissold's reggae group, Zeytin, has gained significant popularity and will be touring in a number of holiday destinations throughout the end of August. I had the opportunity to catch up with Clissold before she hit the road to find out more about Zeytin and Jam Sessions Turkey.
Zeytin, which means "olive" in Turkish, is a progressive reggae-rock band with an oriental twist that was founded in 2014, Clissold said. "The band consists of myself and Alper Çakıroğlu on bass, Emre Yusufi on keyboard, Güçlü Başarır on drums, Ozan Erhan Keskin on clairnet, tenor saxaphone and flute, and Yunus Kart on vocals and guitar. Metin Özçakır was our first drummer and still sometimes joins us for concerts." Their debut album "Merhaba Ben İnsan" (Hello, I'm Human) was released last year and consists of mainly Turkish-language originals, a number of which were written by Clissold.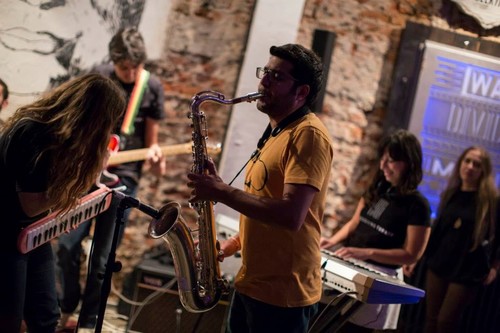 A saxophonist playing his tunes on stage during one of Jam Sessions Turkey's events.
A popular band to watch perform live, Zeytin were the recipients of the 20th Roxy Music Awards in 2016 and their song "Sabır" (Patience), which was written by Clissold, was released for the soundtrack of Ferzan Özpetek's "Istanbul Kırmızısı" (Rosso Istanbul), in which they also played a small role as street musicians. Clissold also said her band took part in the Goulash Disko-Seasplash festival in Croatia.
They will be touring southern Turkey from Aug. 19 to 27 during the upcoming Qurban Bayram (or Eid al-Adha in Arabic), with shows scheduled at some of the coolest venues in town.
On Sunday, Aug. 19, they will be in Datça, performing at Coop Live. On Monday, Aug. 20, Zeytin will be in Akyaka for a concert at No. 22 Riders' Inn. On Tuesday, Aug. 21, they head to Bodrum to play at Buluntu in Yalıkavak and on Wednesday Aug. 22, they will be at El Tukano Windsurf Center in Akyarlar. Then on Friday and Saturday, Zeytin will be in Izmir's Sığacık performing at Kırmızı Yelken for two nights in a row.
To listen to their album and find out more Zeytin and their upcoming shows, check out www.zeytinmusic.com.
Clissold is also one of the founders of Jam Sessions Turkey; an organization that aims to bring together musicians and music lovers and use the positive power of music for social change. Together with Yunus Kart and Deniz Özeren, Jam Sessions Turkey began in 2015.
Jam Sessions Turkey holds jam session events in which musicians are welcome to take the stage to improvise with others. Jam Sessions Turkey holds regular events at the Kolektif House Levent called Kolektif Jammin' - these events have become a popular meeting point for musicians in Istanbul.
The next Kolektif Jammin night will be held this Wednesday, Aug. 15 from 7 p.m. to 10 p.m. at Kolektif House's Levent location. Entrance is free, and snacks will be provided by CRAFT KTCHN for what is also a great opportunity to check out Kolektif House, an innovative, social and efficient cooperative event space with locations in Levent, Maslak and Şişhane.
Asking Clissold, who also plays acoustic and electric guitar as well as the keyboard, what these jam sessions are like, she said, "There is generally a good turnover of musicians throughout the night, and those who are watching usually end up with a shaker of some sort in their hand at some point."
I also asked what sort of genres of music were played at these events, and Clissold said: "As it's all mostly improvised, this changes every time. There is the occasional exception of musicians knowing the same song and choosing to play it. But there have also been very experimental moments, as well as rock 'n' roll and blues vibes, and even reggae," she said adding: "There is a bit of everything. We've had didgeridoos, electric saz's, aqua drums, violins, etc. at our jams. It all depends on who comes and what they bring. We provide the basics, such as a drum kit, bass, guitars, keyboards and percussion and a sound system."
I asked Clissold to give a general description of what sort of musicians took part in these jam sessions events, to which she answered: "There are musicians from all ages and every walk of life. Some have bands. There are also amateurs and improvisation enthusiasts who come along to experiment, and those who have never really taken part but choose to do so at our events. We create a nonjudgmental space where everyone just lets go musically, and people just enjoy sharing a moment of sincerity."
Jam Sessions Turkey not only organizes jam sessions, but also aims to share jam sessions that are being organized across the country. They regularly organize drum circles and rhythm workshops as well as events for special days such as "World Music Day" - for which they with Musicians Without Borders and Fete De La Musique (World Music Day) have also organized a reggae day with local DJs and bands with all profits donated to Musicians Without Borders. Check out Jam Sessions Turkey's Facebook page to find out more about upcoming jam session events.