September is certainly the most popular month to settle into a new town. With the academic year beginning this month and as summer comes to a close, it makes sense that this is a time when many newcomers will be arriving and settling in Istanbul. Fortunately, there are a number of excellent events in which to get your proverbial feet wet by discovering some of the hippest, favored venues in town while mingling with Istanbul's expat community.
Sept. 8: Istanbul Rooftop Festival 2018
Over the past three years, the Istanbul Rooftop Festival has become an autumn classic, offering the perfect opportunity to discover a number of new venues in the most happening neighborhoods of Istanbul, while listening to local and international music artists perform and mingling in the city's social scene. This Saturday, Sept. 8, the fourth Istanbul Rooftop Festival will take place in 14 different venues starting in the afternoon and lasting well into the night with more than 40 local and international musical performances.
One festival ticket gets you access to all of the designated terraced venues for the night, which includes over a dozen locations, such as 360 Istanbul, Anton Peran, Backyard, Birdy Pera, Georges Hotel, Klein Garten, Mentha, Monkey Bar, Nest, Ravouna 1906, Spago, Sub Karakoy and Flamme. The music lined up is heavy on the electronic and dance music genre but also has a number of live musical outfits such as Islandman and Kalabrese as well as popular DJs such as Yakuza and Timboletti and international acts such as Swiss DJ duo Round Table Knights and German duo Jad & The.
The cost for this ticket, which gets you into multiple locations and shows, is 110 TL (approximately $17) and available on Mobilet. The venues are located in Karaköy, Galata, Asmali Mescit, Beyoğlu, Harbiye and Etiler. Keep in mind that due to the popularity of this event there are instances where certain venues have reached maximum capacity and are unable to accommodate additional people. Therefore, there will be a "Crowd Control On-the-go" feature available on istanbulrooftopfestival.com where you can check whether a venue has reached capacity before you trek out there.
Sept. 13: InterNations Expat Event
On Thursday, Sept. 13, the Istanbul leg of InterNations, the world's largest professional networking organization for expats, will host an exclusive event at Mikla Rooftop located in The Marmara Pera on Meşrutiyet Street in Beyoğlu. This networking event will take place between 6:30 p.m. and 11:30 p.m. on a terrace bar with stunning views. The music volume will be low so that people can talk, and the dress code is smart casual. InterNations events are members-only for the most part; however, expats with foreign IDs are allowed to attend as guests. The entrance fee depends on your membership status but ranges between TL 20 for exclusive members and TL 60 for those not signed up for the event.
Sept. 9 Masquerade Ball; Yabangee events
Yabangee is a volunteer-based English-language resource and community platform for foreigners residing in Turkey that runs a website with reviews, advice, events listings, while also hosting a number of entertaining event series themselves. Trivia nights, world music nights and even an Expat Spotlight talk series, where expats share their experiences working in a wide variety of sectors are just some of the great events they organize for foreigners in Istanbul. In addition to hosting a "Masquerade Ball: A Night of Mystery" this Sunday night Sept. 9, Beat Terrace, which has become a frequent venue for Yabangee events and is conveniently located on Beyoğlu's Yeşilçam Street, is also the venue for Yabangee's regular music-themed nights that are fun get-togethers for the expat crowd. Entrance is free to this weekend's costume party, which begins at 10:30 p.m.
Sept. 20: 'Welcome to Istanbul: A Party for New Arrivals'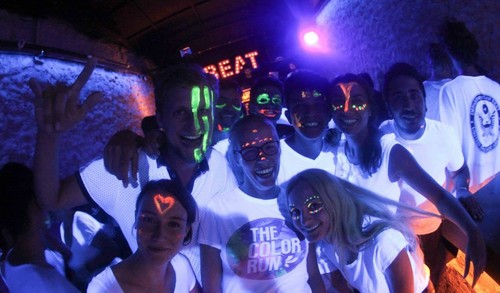 Partygoers from one of last year's party, organized by Yabangee.
On Thursday, Sept. 20, Yabangee will host a "Welcome to Istanbul: A Party for New Arrivals" at Beat Terrace, specifically intending to welcome those new to the city. With this month being the start of the academic year and the end of summer, it is a time when many new foreigners join the ranks of expats in Turkey whether to study, teach or pursue other passions after the summer's end. As always, entrance is free and the event begins at 10:30 p.m.
Sept. 16: Free Orientation Tour: Istanbul City Rally
Yabangee has kindly thought of all the newcomers expected to arrive to Istanbul in this autumn month and on Sunday, Sept. 16 will be organizing a "Free Orientation Tour: Istanbul City Rally." Not to be confused with the automotive rally, which will be taking place in Marmaris next week; this is a rally around Istanbul's historical sites that centers on the "Old City" of Sultanahmet. This tour is free of charge and is intended to orient newcomers to some of Istanbul's most spectacular locations while also offering a refresher of sites for those who may be more familiar. The tour will take place from 9 a.m. to 5 p.m., and details will be revealed on Yabangee's Facebook page as to where to meet up.
Sept. 23: 'Free Orientation Tour: The Princes' Islands'
The following weekend on Sunday Sept. 23, Yabangee will organize a tour of Istanbul's beloved Princes' Islands. Newcomers as well as those familiar with the islands are welcome to discover and introduce this area and island cluster accessed by ferryboat from the mainland in Istanbul. The tour will take place from 9 a.m. to 5 p.m., and details about where to meet up will be provided on the Yabangee Facebook page.