On Saturday, Sept. 15 many environmentally aware individuals will be celebrating World Clean Up Day, a day devoted to cleaning litter with events that bring people together. There are several organizations in Turkey, as well as some spearheaded by expats, that hold clean up events and this Saturday, they will be in full force gathering and clearing rubbish to help the planet.
Tidy Turkey, or Türkiye'yi Temizle, is an active group started by Australian expat Lucy Tooze on last year's World Clean Up Day that meets up to pick up trash and then documents the events on an entertaining blog on their website turkiyeyitemizle.wordpress.com. To commemorate the start of the organization as well as to clear as much rubbish as possible, Tooze and her crew will be holding an event on Büyükada for World Clean Up Day 2018.
The largest clean up event yet hosted by Tidy Turkey, there will be clean up dive teams, including the Everblue Dive Club and others from Izmir, Saroz, Çeşme and Çanakkale, on site to assist in cleaning the sea in the morning hours. After, the land team will take over and collect rubbish on dry land around the island as well as, of course, "making friends and working towards a cleaner planet," says Tooze.
As Büyükada is the largest of the Princes' Islands and there is a lot of space to cover, Tidy Turkey will be meeting at the Büyükada Anadolu Külübü at 11:30 a.m. and will be dividing into teams that will spread out over the island. Tooze has asked that participants to don a green or blue shirt to stand out as part of the cleanup crew.For this event, Tooze has teamed up with Eylem Karakaya, a 40-year-old environmental engineer hailing from Istanbul. "I got involved with the clean-up campaign because I am so sad about how our environment is degraded by humans, at times the worst animal in the world. This situation has become critical and so we all need to do something to protect our futures and the futures of coming generations," Eylem said.
She added that the goal of these events is not solely to pick up trash but is also intended to raise awareness of pollution problems. "We need to solve our littering problem at the source, which means changing attitudes and behaviors concerning nature," which she said "is possible if we all band together."
Tidy Turkey has influenced many members to organize events on their own and a number of such events will be taking place this Saturday. Not only do these events make participants feel good for doing good, but it gets people out there, many times in nature and mingling with other environmentally cautious people, which can be a wonderful gateway to meeting new people, especially for foreigners.
Speaking to some of the members of Tidy Turkey, we had the opportunity to ask how they found themselves joining these events. For example, Alan Davies, who has lived in Istanbul for the past five years now with his Turkish wife, hails from the U.K. and teaches English at Kadir Has University.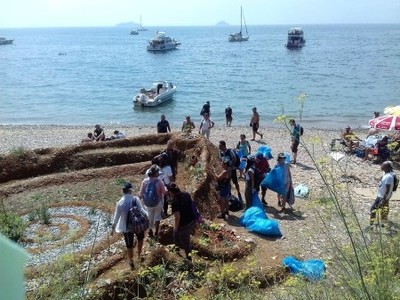 "I got involved with the cleanup campaign because I really love this country. I often go to the Princess Islands' to walk or swim, but there is so much rubbish around. That is why I am involved with this group, to make a difference and to raise awareness of the problem," he explained adding, "during our last cleanup day on Burgazada, so many local people were happy to see us and joined in picking rubbish."Sepinood Najian is a 46-year-old single mom with a beautiful 12-year-old daughter. Hailing from Tehran, Iran, she considers herself a "child of the earth." She has spent the past four years in Istanbul working as a writer and editor for Farsi. "Trees, water and soil is of manifest importance to all life. Here in Istanbul, I have all of these things, but I can't bear the pollution and trash slowly killing them," she shared, adding that this is not just a problem pertaining to Istanbul. "We are all children of the planet," she said, adding that these efforts can begin anywhere.
Khaled Alali, a Syrian English teacher who has been living in Istanbul for the past three years working for a company, said, "Raising awareness was the main reason why I got involved with the cleanup campaign and because I love beautiful Turkey."
A number of members of Tidy Turkey have gone on to organize clean up events themselves in various areas, to which Lucy says is "extremely rewarding that they have been initiated by individuals who have attended Tidy Turkey events in the past and seen how easy it is to create an event in their area for themselves."
List of events for World Clean up Day in Turkey
Tidy Turkey takes on Büyükada: Participants will meet at Büyükada Anadolu Külübü at 11:30 a.m. for the full-day event of clearing litter in the sea and on land.
Let's Do It!: One of the largest organizations in Turkey and all over the world, which hosts clean up events for World Clean Up Day and throughout the year, is Let's Do It!. Celebrating their 10th anniversary, Let's Do It! will be hosting cleanup day events in 150 different countries with participation expected to include millions of volunteers. Turkey's branch, "Let's Do it Türkiye," will also be organizing cleanups on Saturday in over 30 towns and neighborhoods throughout the country. Check out their Facebook page to find out more about where they will be on the day.
Bursa Mudanya Clean Up Event: In Bursa, Allen Gross will be leading a cleanup in Mudanya listed on Facebook as the "Bursa Mudanya Clean Up Event." Participants will be meeting at 10:30 a.m. on Saturday at the dolphin statue next to the Budo Ferry. While gloves and garbage bags will be provided, participants are asked to where a blue T-shirt or something similar in order to be recognized as part of the cleanup group.
Let's Fix up Fener: There will be a cleanup event on Saturday, Sept. 15 focused on the Fener and Balat neighborhoods of Istanbul. Organized by Angela Margaret, this will be a four-hour cleanup starting at 10:30 a.m. with a possible break for lunch. Check out the Facebook page for more details on where to meet up.
Crash the Trash: It is a cleanup event along Caddebostan's shore that will take place from 6 p.m. to 9 p.m. on Saturday, Sept. 15 with the meet up spot being in front of the Migros there.
World Clean Up Day Maçka Park: It is a cleanup being organized by Aylin Akın that will take place from 5 p.m. to 6:30 p.m. at this beloved park located in the center of Istanbul. The meeting point will be the entrance gate to the park located in Nişantaşı.