Whether it is a book club, writing classes or activities that focus on literature, the expat community and literary locals are offering a number of interesting events in October, making for great opportunities to mingle with fellow booklovers.
Istanbul&I's new book club
Istanbul&I is a volunteer community of young people devoted to youth empowerment, social impact and helping disadvantaged and displaced communities with approximately 300 volunteers from over 50 different countries. The organization regularly hosts events and activities as well as weekly speaking clubs held in Turkish, English, Spanish, French and Arabic, as well as informative talks, from their center in Karaköy. Recently, they also began holding an English-language book club on Sundays from 2 p.m. to 4 p.m. Last week, they discussed Khalil Gibran's "The Prophet" and past books have included "The Little Prince" and "Jonathan Livingston Seagull." Istanbul&I will also be holding an orientation event for anyone interested in joining some of their great volunteer programs on Saturday, Oct. 6 from 7 p.m. to 9 p.m.
InterNations' Kadıköy Book Club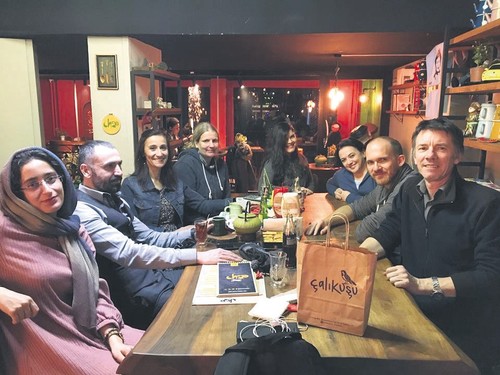 InterNations, the world's largest professional expat networking organization, also organizes regular meet ups as well as a number of special-interest clubs for members throughout Istanbul. The Kadıköy Book Club, one of the organization's clubs, was started by Aleyd De Pillecyn, Irene Verdiesen and Alan Davies over two years ago. They and other InterNations members get together once a month in a restaurant or cafe in Kadıköy to discuss a book in English. The books can be either fiction or nonfiction and are chosen by holding a vote among the participants.
This month's selection was a book of short stories called "The Elephant Vanished" by Haruki Murakami, and nine people met at a cafe in Kadıköy to discuss it. Speaking with Davies, he told me members at the meeting were from countries as widespread as Belgium, Columbia and Iran as well as of course, Turkey and said: "The discussion was great and covered the short stories themselves and other books by Murakami. We aim to keep the meetings enjoyable and fun." The Kadıköy Book Club's reading selection for their next meeting, to be held on Oct. 2, will be "Sea Prayer" by Khaled Hossenini, better-known for having penned "The Kite Runner."
Akademi Jurnal is a literature and art workshop organization and space based in Beyoğlu that holds a Sunday "Books and Breakfast" book club in Turkish in which participants discuss a preselected book while enjoying a prepared breakfast. With a team of established authors, a scriptwriter and theater actress on board, Akademi Jurnal organizes a wide variety of workshops on writing novels, crime thrillers, screenplays and caricatures as well as leads a number of workshop series that involve touring iconic locations in Istanbul and discussing and writing about them.
Special screening of "The Legend of Yaşar Kemal"
On Sunday, Sept. 30, there will be a very special showing of "The Legend of Yaşar Kemal," a full-length documentary released last year about one of Turkey's greatest novelists. Organized by Spoken Word Istanbul and the Bosphorus Review of Books, this film screening will take place on Sunday, Sept. 30 from 6 p.m. to 9 p.m. at the Cine Majestic in Beyoğlu. A co-founder of the Bosphorus Review of Books, Luke Frostick, will be holding a Q&A session with the film's production crew following the showing. Tickets will be available at the door and cost TL 13 ($2) and include popcorn.
The two organizations hosting this event, namely Spoken Word Istanbul and the Bosphorus Review of Books, just so happen to serve as optimal arenas for expats or anyone in or involved with Istanbul to showcase their own literary prowess. Spoken Word Istanbul is a weekly multicultural English-language open mic series, where anyone can take the stage for six minutes to showcase their talents to an audience. In addition to telling stories, giving readings or reciting poetry, this can also include performing music, improv or stand up. This stage has become a space where many expats have curated their talents and has spearheaded other events such as English-language stand-up nights and improv shows. The inspiration it has provided the expat community in Istanbul has even been written about in The Atlantic.
The Bosphorus Review of Books is Turkey's first English-language online literary magazine and has contributors from all over the world. Started by Luke Frostick and Thomas Parker, two expats from the U.K. and the U.S., respectively, who reside in Istanbul, the first edition of the Bosphorus Review of Books came out in January of last year.
This online literary periodical comes out twice a month and contains artwork, poetry, short fiction stories, creative nonfiction and interviews involving Istanbul by authors from all over the world who have either lived here or have had some sort of connection with the city. They also take submissions if you want the opportunity to have your own literary work published.