Well-known chefs from the culinary world will be discussing "creativity" at the IV International Gastromasa Gastronomy Conference, which will be taking place at the Wyndam Grand Istanbul Levent on Saturday, Nov. 17. Throughout the day, nearly a dozen well-known chefs from all over the world, known for implementing innovative ideas in cuisine will be sharing their tricks of the trade and creative techniques.
Held for the fourth time, the Gastromasa conference aims to build a bridge between Turkish and world cuisine and in addition to hosting leading figures from the gastronomy world, there will also be a spotlight on the local cuisine from Turkey's culinary gems of Adana and Mersin.
The full day program will consist of world-famous chefs giving demonstrations of innovative techniques and presenting dishes from their own restaurants.
World-renowned chefs share their skills in Istanbul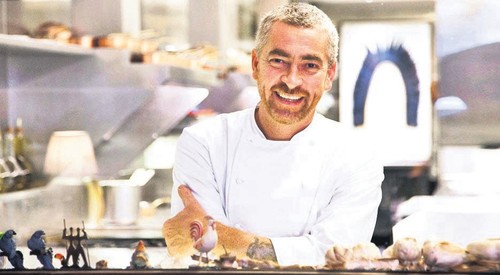 Alex Atala
The impressive list of guest speakers at this event includes the two-Michelin starred Alex Atala, whom according to the guide, is also considered the best chef in Brazil. D.O.M., one of his four restaurants in Sao Paolo, holds the fourth spot in the World's Best Restaurants list and is famed for utilizing ingredients he sources from the Amazon. Atala is trying to share his knowledge of local and indigenous ingredients at his Ata Institute.
Michelin-starred chef Davide Oldani will be presenting his haute Italian cuisine and signature blending of savory and sweet made famous by his restaurant D'O near Milano, while chef Vladimir Mukhin will be showcasing his nouveau take on Russian cuisine at his restaurant in Moscow, White Rabbit. Not only is his the first Russian restaurant to make the World's Best 50 list three years in a row, but Mukhin was also featured in Netflix's "Chef's Table" documentary series.
Spanish Michelin-star chef Oriol Castro will also be sharing his avant-garde take on Spanish cuisine dished up at his second joint venture Disfrutar in Barcelona, which has been named the best new restaurant in Europe and made 18th place in the World's Best 50 list.
Known as "The Chef of the Sea," Angel Leon is a three-Michelin star chef from Andalusia whose restaurant Aponiente solely dishes up a unique range of products from the sea. Also in the ranks of best chefs in Spain is Quique Dacosta, whose self-named restaurant earned him three Michelin stars in 2012. He is known for his avant-garde cuisine and for only using locally sourced ingredients.
Spanish chef Dani Garcia, who also happens to have two Michelin stars as well as multiple restaurants in Marbella and Madrid, is also one of the biggest names to come out of Andalusia and is known for his avant-garde molecular cuisine. While Paco Morales is yet another Spanish Michelin star chef that will be showcasing his recalling of the Arab influence on Andalusian cuisine at his Noor Restaurant in Cordoba.
Hailing from Scotland, chef Isaac McHale is also on The World's 50 Best list for 2018 at number 33. His London restaurants are Luca and The Clove Club, with the latter, a former supper club, garnering a Michelin star last year while also being selected as the best restaurant in London by the Sunday Times. Last but certainly not least among this group of visiting esteemed chefs is legendary French chef Christian Le Squer, who may go down in history as the first chef to receive three Michelin star awards in 12 consecutive years for Pavillon Ledoyen.
In 2017, Slovenian chef Ana Ros was named the world's best female chef by the "World's 50 Best Restaurants" guide. Her restaurant Hisa Franko in the Soca Valley creates unusual twists on traditional flavors and highlights local ingredients. Joris Bijdendijk is the chef at the acclaimed RIJKS Restaurant, housed in Amsterdam's Rijksmuseum. Awarded Pastry Chef of the Year by Gault & Millau in 2013, René Frank is also the owner of Coda Dessert Dining Bar in Berlin, which has introduced a new style of fine dining dessert cuisine. While the conference kicked off with a tour of Gaziantep for the visiting chefs over the past two days, the IV International Gastromasa Gastronomy Conference will begin in Istanbul at 10:30 a.m. on Saturday, Nov. 17. Presentations will be held throughout the day followed by a dinner at Pandeli Restaurant and an after party at TOI. Tickets are available on Biletix and cost TL 150 ($28) for students and TL 250 for general admission.
Get ready for Sirha Istanbul: the city's biggest gastronomy fair
Sirha Istanbul will also be taking place this month in what is the biggest fair for professionals in the food sector. Hosted at the Istanbul Congress Center in Harbiye from Nov. 29 to Dec. 1, this fair will have seminars geared toward the food industry, an entire area devoted to producing ice cream and most excitingly, the Omnivore World Tour, the greatest showcase of local and international chefs in Istanbul.
The Omnivore World Tour is a global food festival held in gastronomically significant cities throughout the world, including Istanbul. At this event series, referred to as a "culinary creativity festival," 20 master classes in new trends and techniques will be held by leading local and international chefs over the course of three days.
The Istanbul-based chefs that will be giving workshops include Aykut Doğanok and Aylin Yazıcıoğlu from Nicole, Kaan Sarıkaya and Derin Arıbaş from Basta Street Food, Fatma Yıldırım from Mittag, Serra Beklen and Maksut Akşar from Neolokal, Ismet Saz from TOI and Petra Roasting's Cenk Debensason and Kaan Bergsan. Visiting chefs who will be presenting include Mustafa Özgüler from Orkide in Gaziantep, John Winter Russel from Candide in Montreal and Ivan Shishkin from of Delicatessen in Kiev. Umut Karakuş, who has been introducing Turkish food to Londoners with his restaurant Yaz, will be there as will Diego Rossi of the popular Milan Trattoria Trippa. Also presenting will be last but not least Henri Guittet, who makes ice cream with unique flavor fusions at his Glazed in Paris.