The month of December is full of events geared toward the English-speaking community living in Istanbul. As we say farewell to 2019 and anxiously await the new year, it is important we close the year out with laughter and good vibes.
Here is a selection of events that might help you enjoy the last days of 2018 with friends:
Atelier's Christmas Market
Over the weekend of Dec. 15 and 16, the historic Crimean Church in Galata hosts a very special Atelier's Christmas Market. This holiday bazaar will have a carefully curated selection of rugs, textiles and handcrafts from a number of artisanal producers, including members of the expat community, such as Hazine Rugs, Selam Carpet & Home, Marche Istanbul and Nananko Knits. The market will be open from 10 a.m. on Saturday and 11:30 a.m. on Sunday and will close at 6:30 p.m.
Yabangee Trivia Night #16
Yabangee, which is a website and community for English-speaking foreigners in Turkey that holds a number of event series, returns with the 16th edition of their Trivia Night: A Quiz Night for Everyone on Monday, Dec. 17 this time taking place at the new Arsen Lüpen in Beşiktaş. This English-language quiz series is a great opportunity to enjoy good food and company, while testing your knowledge with fun trivia questions. Teams are six people maximum, and those coming alone can be teamed up with others, and the top three teams win prizes. The entry fee is TL 20 ($3.72), and the quiz will start at 8 p.m.
Syriasly 2.0: Comedy Night
Spearheaded by Othman Nahhas, aka Ozzy, a Syrian-born stand-up comedian, Syriasly is one of Istanbul's newer English-language stand-up comedy nights featuring Othman as well as four well-known comedians from the stand-up scene in Istanbul. The "Syriasly 2.0: Now with a Turkish Passport" English stand-up comedy night, will take place on Tuesday, Dec. 18 from 8 p.m. to 10:30 p.m. at Boğaziçi University's Demir Demirgil Theater.
Joining Ozzy, who will be celebrating his new Turkish citizenship and contrasting his life in Turkey versus Syria, will be Aslı Akbay, a seasoned veteran when it comes to stand-up and the founder of Istanbul's first English-language stand-up open mike nights Take Me Up The Bosphorus. Half English-half Turkish, Aslı Akbay is also a regular member of the female ensemble Çok da Fifi Hatunlar. Alpay Erdem is another well-known figure in the Turkish stand-up scene who will be gracing the stage in English. Hailing from Bolu, Taha Ercoskun is a Boğaziçi University student that also organizes English language stand-up shows at venues such as BKM Mutfak. Gökçe Küçük and Emir Efli are newer to the scene, but their performances thus far have already made them popular figures to watch perform. Tickets are TL 15 for students and TL 20 for general admission and are available via the Facebook event page. Keep in mind that due to the school's security measures all non-students must have their names previously registered to enter campus.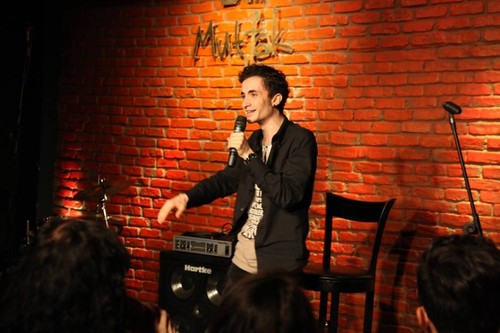 Syrian-born stand-up comedian Othman Nahhas will take the stage on Dec. 18 at Boğaziçi University's Demir Demirgil Theater. The photo was taken during one of his previous shows at BKM Mutfak.
Expat Spotlight #17: Culture
Every month, Yabangee organizes a special talk series in English in which expats showcase their contributions in Turkey in a variety of spheres, which takes place at ATÖLYE, which is located in the historic Bomonti Factory in Şişli. This month's edition will focus on the topic of Culture. This event is a great opportunity to listen to personal stories and experiences of fellow expats. This month for example, there will be participants from Austria and Denmark among others. Entrance is free, doors open at 7 p.m., and the talk series takes place from 7:30 p.m. to 10 p.m. on Dec. 19.
Christmas at Hogwarts
On Wednesday, Dec. 19, Arsen Lüpen in Taksim will host a special evening devoted to Harry Potter and Christmas. Organized by Atölye Noktası in honor of the release of the newest film by J.K. Rowling, "Fantastic Beasts: The Crimes of Grindelwald," Harry Potter fans will gather at Arsen Lüpen to be divided into four teams, which will compete by completing various individual and team theme-related tasks for prizes. The event starts at 7:30 p.m., and entry begins at TL 45, with higher ticket prices including professional photographs and exclusive game accessories.
Stand-Up: Türkçe Bilmiyorum!
Istanbul&I is a volunteer community devoted to youth empowerment and assisting the disadvantaged that regularly hosts speaking clubs in four different languages as well as cultural seminars such as this month's Intro to Pakistan and Intro to Korea, which place on Dec. 15 and 29, respectively. While most events are held in their center in Karaköy, this month Istanbul&I has organized a very special English language Stand-Up Comedy Show entitled "Türkçe Bilmiyorum!" that will take place on Friday, Dec. 21 at Damdayiz in Beyoğlu's beloved Asmalımescit. A fun opportunity to hear foreigners share their experiences of living in Turkey, the show takes place from 8 p.m. to 10 p.m.