For years now, the Doc Martins Surgery for Expats in Turkey Facebook group has been the quintessential "go to" place for foreigners and expats in Turkey to ask questions and seek advice. Whether your question is about how to apply for a residency or work permit or how to purchase a house or a car, expats in Turkey can pretty much guarantee that Doc Martin's Surgery for Expats in Turkey will have the answer or will at least guide you to where to find it.
Over the years, I have been told, and suggested to others, that the Doc Martin's Surgery for Expats in Turkey Facebook group is the perfect site for finding answers to any bureaucratic or legal questions about residing in Turkey. Just some of the questions I have asked and found questions from involved long-term residency permits, how to sell my foreign plate car and how to obtain a driver's license. The reason I go to Doc Martin to seek answers is because he thoroughly does the research for you. Over the years, he has been editing and compiling every answer ever given and then updating them and adding facts according to how directives change. Luckily for us expats, last year, "Doc Martin" placed all of these files on a blog of sorts, so everyone can access them, which you can find at docmartinssurgeryforexpatsinturkeyblog.wordpress.com/
Now all anyone who has a bureaucratic question has to do is check out the blog page, find their topic file and check all of the latest information that has been compiled in it. There are also helpful walk-through videos to assist applicants with each type of permit as well as over 25 different files on topics ranging from health care, driving, renting or purchasing property, opening a bank account and getting married in Turkey.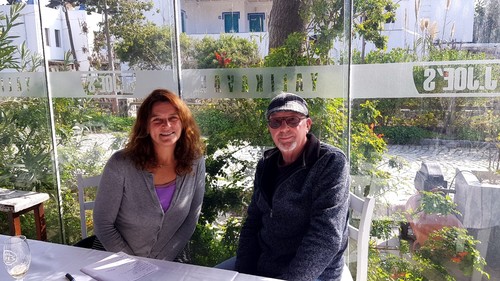 Leyla Yvonne Ergil with Martin Redman.
Who is this mysterious Doc Martin you ask? Well, I managed to track him down in Bodrum, where he has been residing for the past 10 years. Martin Redman, aka Doc Martin, is a retiree from northern England who has made helping people and finding and sharing the right information his way of life.
I asked Redman what drove him to become the "go to guy" for foreigners seeking answers, and he said that like the character played by Martin Clunes in the U.K. TV show "Doc Martin," he is also a busy bee and a self-admitted workaholic. Having retired early, Redman said he wanted to have something to do when he moved here and in going through all of the processes himself and with friends he helped, he began to meet the officials in the Bodrum office, who now contact him directly when there are any updates or changes to regulations involving foreign residents; thus, he started the Facebook group. What drives him, he said, is being able to "glean info from the correct sights, which the general expat may not even know existed and wouldn't know where to look for the info."
Since then and operating differently than regular Facebook groups for expats, Redman has been painstakingly gathering all the correct info on topics related to foreigners in Turkey and establishing files for people to efficiently search for answers. For visitors to the Facebook group, of which there are over 13,000 members, it may not seem like there is a lot of traffic, but that is because all the questions posted go to the administration for approval and rather than entertaining long discussions on topics where information that is not accurate can also be dispersed, Redman will direct those who have questions to finding the right information through private messages. While these files were originally found in the Facebook page, Redman has since made the process more user-friendly by compiling all of the files on the blog page for Doc Martin's Surgery for Expats, which works as an excellent resource for anyone considering living in Turkey.
"The thing about Facebook groups is that comments go down the page and get lost and if you don't see it immediately, you'll never find it again," said Redman, explaining that as someone who has always been obsessed with obtaining "the correct information," he created the blog page so that everyone, whether they are members of the group or not, can access the files for free and then every time something changes visitors to the page can have a way to keep up to date.
For Redman, this also gives him a chance to keep up with the statistics of the site, which he shared as having around 200 hits daily in the winter and 400 in summer, with an average of 10,000 to 15,000 visitors a month. As for what is the topic most foreigners asked questions about, Redman said that 99.9 percent of the inquiries concern residency permits.