Started up by Turkish business executive Dr. Yalçın Ayaslı, who is also the founder of the Turkish Cultural Foundation, the Turkish Coalition of America and the Culinary Arts Center and Cultural Heritage Preservation and Natural Dyes Laboratory in Istanbul, Nar Gourmet, the name of which refers to "natural and regional" products from Anatolia, has made it their mission to protect, preserve and promote the vast regional culinary treasures this country has to offer, tracking the best possible local ingredients country-wide to produce international award-winning olive oil and jams as well as a wide selection of unique and authentic naturally-sourced products.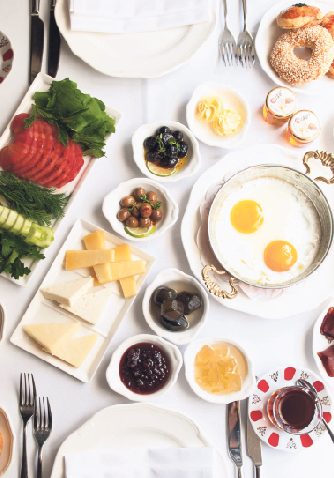 This past year, as has pretty much been the case since its founding, Nar Gourmet has become Turkey's highest award-winning olive oil producers both domestically and abroad, with their Antalya olive variations taking the gold at the 2014 New York International Olive Oil Competition (NYIOOC), winning the Excellence Award at the 2014 Copenhagen International Olive Oil Competition and the gold at the Monocultivar 2015 Olive Oil Expo in Milan. Nar Gourmet also produces award-winning jams and marmalades and took home the "Outstanding Product Award" from ITQI (International Taste and Quality Institute). This is also the fifth year, Nar Gourmet has made the prestigious Flos Olei list, a guide to the world's top extra virgin olive oil.While Nar Gourmet's olive oil selection, which includes a wide variety of aromatic options such as garlic, red and green pepper, bergamot, lemon, mandarin, rosemary, basil and even green tea, they also have an extensive selection of jams and marmalades, with flavors you'd be hard pressed to find anywhere else, such as kumquat, bergamot, plum, pear, peach and even pumpkin. They also offer a selection of vinegars, molasses and honeys and traditional Turkish Delight, as well as other handmade gift items and the opportunity to create your very own gift basket.
Nar Gourmet has an informative and easily accessible website and blog, where their products are offered online as well as two shops, one in the fancy İstinye Park Shopping Center and the other a shop, café and restaurant combo spread out on different levels of the Armaggan center in Cağaloğlu. In addition, Nar has 600 sales locations nationwide and also exports to the United States, with 50 points of sale in New York alone and an office on Broadway and in Hong Kong as they also export to China, Canada, Japan, and Germany.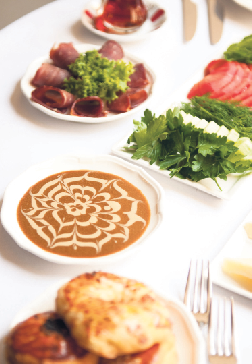 Nar Gourmet, a company intent on maintaining traditional methods in procuring, producing and packaging regional products from Anatolia, has spearheaded a number of unique projects to promote Turkey's indigenous cultural treasure including the "WE'R" project, launched under the slogan "We are from Turkey," which offers beautifully packaged products unique to the country on Turkish Airlines flights.
Perhaps Nar Gourmet's most significant initiative of late, is the "Anatolian Olive Oil Project," an effort to document and procure the most diverse and regional based olive variations as well as to produce the freshest possible cold-pressed extra virgin olive oil on site in a mobile olive oil factory in destinations throughout Turkey.
As part of their efforts to bring these Anatolian gems to the forefront, last year they were supplied a very special Mobile Olive Oil Production Truck featuring a one-of-a-kind mobile olive oil press machine brought in from Italy equipped with on-site Italian specialists, which travelled to destinations such as Mardin, Hatay, Manisa, Mersin, Antalya and Ayvalık, where they were able to document 88 different olive oil varieties.
This travelling olive oil factory, which ensures the freshest possible product as olives are put through the mobile press within just a couple hours of their picking, will continue to wander the country in search of prime olives this year to bring the freshest of ingredients to your table or their table for that matter as Nar Gourmet is also the source of the fresh and abundant menu on offer at the highly esteemed Nar Restaurant in Nuruosmaniye.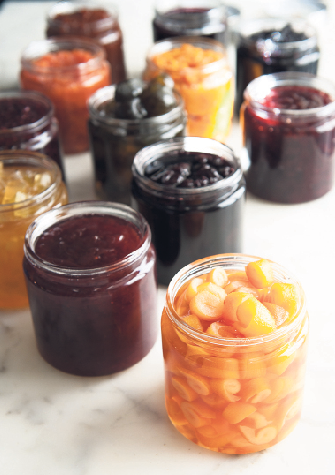 The Nar Gourmet flagship store and restaurant set up in the luxury Armaggan center in the heart of Sultanahmet, is actually so much more. Although you can purchase products here, the Nar Restaurant, located on the fifth floor gives you a chance to taste these prime ingredients in action in a series of interesting and intricate carefully researched Ottoman and regional dishes. This Ramadan, Nar will be offering a delectable iftar (fast-breaking) dinner in their spacious restaurant outfitted with modern Turkish accoutrements and leafy terraces. Breakfast at Nar is out of this world with a vast selection of unique cheeses and egg dishes accompanied by fresh baked biscuits and breads in their brick oven. Open from 8:30 a.m. to 11:00 p.m. every day except Sunday. For any local, expat or visitor, this is the perfect spot to take their pick of a vast spread of palatial and regional dishes on open buffets of cold and hot appetizers, meat dishes, salads and desserts that are beautifully spread out to patron's delights.
Run by famous chef Vedat Başaran, the genius behind Feriye and the Çırağan Palace's Tuğra, the menu, which changes seasonally or even daily based on the fresh and locally sourced ingredients available is a painstakingly prepared etude of recipes and dishes from palatial and regional cuisine prepared using the finest locally sourced ingredients. Last year, Nar Restaurant became the first Turkish restaurant to be included in Food & Wine's list of 100 restaurants worth a pilgrimage for.
In par with Nar Gourmet's efforts to promote Turkey's culinary legacy in house and abroad, they have joined forces with the Turkish Cultural Foundation to host the Yemek Sanatları Merkezi (Culinary Arts Center), located on the fourth floor of the same building, this special space boasts an active program of seminars and conferences geared towards researching and promoting historical Ottoman and Turkish cuisine using ecological and top-quality ingredients. Look out for their newest series, which will include culinary delights from Chios Island and Armenian cuisine.
The same building also houses Nar Kahve, a relaxing yet innovative space on the second floor that displays a four-story vertical botanical garden. Enjoy the finest quality Turkish coffee and freshly baked sweet and savory pastries in this refreshing café that quite literally transports you to another world as the hustle and bustle of Sultanahmet and the neighboring Grand Bazaar, Nuruosmaniye Mosque and Cağaloğlu Hamam all beckon from nearby.
Nar Gourmet also has a shop in the İstinye Park Shopping Center Market Place, which is also an excellent stop to see all the delicious and beautifully packaged wares on offer. To check out Nar Gourmet's products online and peek at their picturesque blog equipped with rare and uncovered mouthwatering recipes check out tr.nargourmet.com and for the English language version go to us.nargourmet.com.