Geocaching is a recreational activity in which participants use a global positioning system (GPS) to track down caches, which are usually a waterproof box or canister, in secret destinations all over the world. Not only do globetrotting geocachers come to Turkey to seek out some of the most exhilarating caches there are, but Turkey also has a growing geocaching community that gets together monthly to mingle and introduce and discuss the game. This Tuesday, Aug. 4 will be one such gathering of Turkey's regular geocachers, who will be on hand to answer any questions any new-comers might have about the game.
I had the opportunity to speak with Özgehan Omağ, a 38-year-old engineer, and instrumentalist in Turkey's geocaching community who organizes monthly meet ups and is also the administrator of two of Turkey's most active geocaching Facebook group and page, Geocaching Türkiye Oyuncuları and Geocaching Türkiye Official, respectively.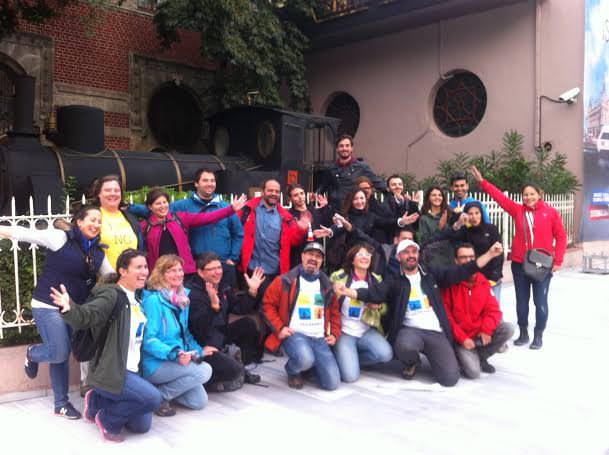 Members of Turkey's most active geocaching Facebook group and page, Geocaching Türkiye Official.

Omağ first heard about geocaching in Canada, where he stayed for a spell with his Canadian wife. Upon his return to Turkey, he made it his mission to spread the word about geocaching to as many people as possible here. I asked Omağ to tell me a little bit about the game, which he refers to as a sort of "technological treasure hunt." "All you need to play is to have some sort of GPS device, which could even be your cell phone", Omağ explained, adding: "The start of the game goes back to the year 2,000 when GPS use went public and the first box, or cache, was hidden. Since then, 15 years have passed and now there are at present 2.6 million official caches waiting to be discovered."
The first rule that players need to learn, Omağ told me, is that the whole aim of the game is in finding the box, and leaving it there to be discovered by the next treasure hunter. "If you find the box, it doesn't mean you own it", Omağ said, adding that this can be a misconception, whereas the whole point of the game is in the challenge of finding the cache yourself, or at most with your family or a friend. The whole point is the journey to the cache, and once you find it, you simply jot down your name in the logbook and take and replace the trinkets left inside as gifts for others to find.
I asked Omağ when geocaching first came to Turkey to which he said the first cache box was hidden by a foreigner in Turkey in 2002. I also asked how many people were active geocachers in the country to which he tells me there are 200 active players, but in terms of how many people have played at one time, that would be over 1,000. However, he pointed out that due to the fact that there are a lot of foreign tourists who play the game in Turkey, which makes participation that much higher. "In fact, there are actually a higher number of foreign geocachers active in Turkey than there are of those playing here," he said.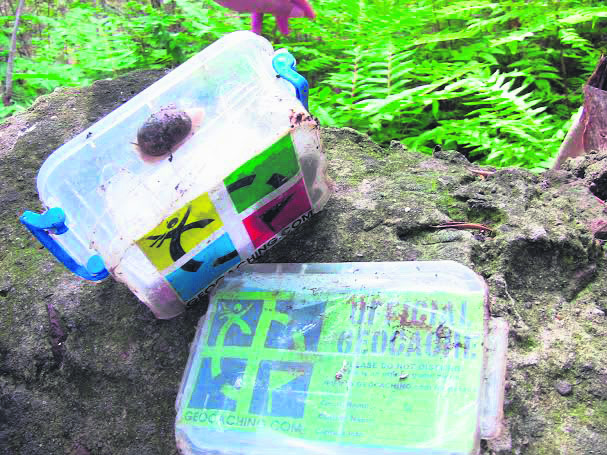 Once you find the cache, you simply jot down your name in the logbook and take and replace the trinkets left inside as gifts for others to find.

However, through Omağ's efforts to promote this newer global game, which began with the second millennium yet has roots in orienteering and letterboxing, Turkey's geocaching community continues to grow, and in addition to the active community in Istanbul there are players in Ankara and İzmir that are also sharing its principles with those who are intrigued. At present, there are at least 250 hidden caches in Istanbul alone, all of which are posted on the geocaching.com website, which has been translated into 18 different languages, the Turkish version was done by Omağ's team, which has also translated the Android application.
In celebration of the game's 15th anniversary a special five-cache mission was established, which is just an example of one of the many different variations of the game in play. In Istanbul, there is also a "Mysterious" cache in which the player has to solve a number of puzzles in 10 different points of interest to find the cache in a maze set up throughout intriguing tourist spots in Sultanahmet. In other words, this particular route transports the player into a sort of "Da Vince Code" world set throughout Istanbul's historic district.
Turkey's geocaching community also tries to meet up annually to hold a Cache in Trash Out (CITO) event, which is an ongoing environmental initiative by the worldwide geocaching community in which fellow geocachers meet at a specific destination to clear litter or establish paths or any other similar endeavor beneficial for the environment. "These events are held frequently throughout the world and the whole purpose is to ensure we keep our game area, which happens to be the world, clean," Omağ explained. In addition to monthly meet ups, there are also geocaching training walks held on weekends between Üsküdar and Kuzguncuk where people can learn about geocaching in action. Turkey's geocaching community will be hosting their monthly Git-Bul meet up this Tuesday, Aug. 4 at Balon Cafe in Kadıköy from 7:30 p.m. to 10:30 p.m. The meetings are a good way to meet and mingle with other geocachers and if you are new to it then this is a great opportunity to get in the game by asking more experienced players any questions. International players also tend to join these gatherings when in town. "A variety of people from all different branches show interest in the game so these meetings are an opportunity to meet all sorts of people who through geocaching get the chance to socialize. But no one is obliged to attend these meetings; people come and go as they want to, and anyone interested can also set up their own geocaching-related event.
For info on future meet ups, scavenger hunts and adventures, check out the Geocaching Türkiye Oyuncuları and Geocaching Türkiye Official Facebook pages and omactivities.com, Omağ's very own website and blog where he describes geocaching in detail and shares info on other hide-and-seek and physical puzzle-solving games.