This Sunday is Valentine's Day; the universal day devoted to love, and Istanbul is certainly one of the most romantic cities in the world in which to celebrate it. With a variety of creative and innovative ways this weekend, ranging from brunches to music, cooking classes to plays, express your love or open your heart to a new one and make this Valentine's a very special day.
Begin the day with breakfast and music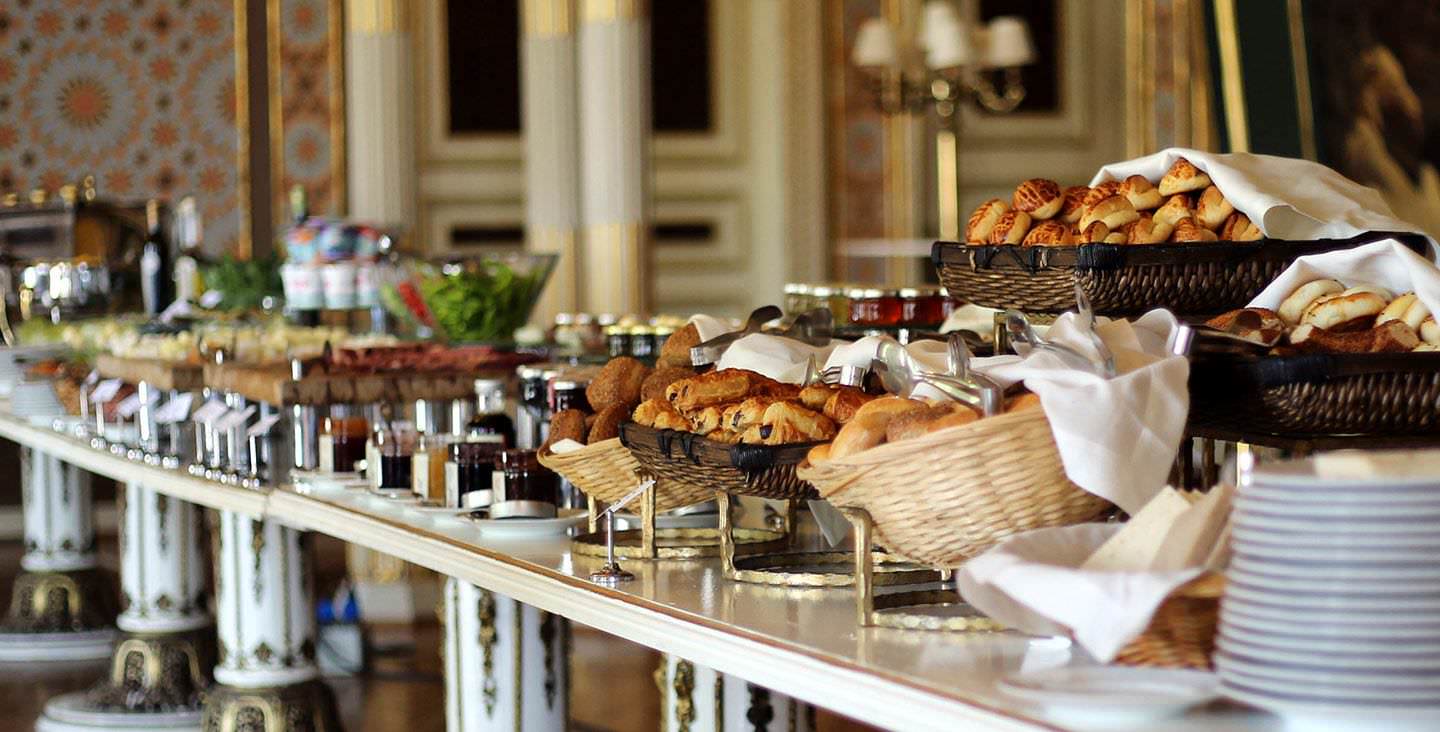 Begin Valentine's Day at the historical Sait Halim Paşa Mansion in Yeniköy for an open buffet breakfast.

Start the day right, and right by the Bosporus, in the historical Sait Halim Paşa Mansion in Yeniköy for an open buffet breakfast and live jazz performance by Yeşim Pekiner. Tickets are TL 150 ($51), and it is recommended to call ahead to secure your table.
The Istanbul Sunday Breakfast Concert Series held at the Cemal Reşit Rey Concert Hall in Harbiye hosts Cengiz Özkan, a maestro of makam on the bağlama, for a 2 p.m. performance with tickets ranging from TL 28.50 to TL 53.50.
Luzia, the Istanbul branch Director in Arnavutköy of the café-bar of the same name in Berlin opened by a Turkish director, will be hosting Misipipi Rocks Love Food. This brunch, starting at 2 p.m. until midnight, will lead into music and dancing with Suma Beach's resident DJs Merve Baykal and Görkem Barçın. Tickets are TL 40 for brunch and the DJ set.
Mercado, a new tapas restaurant in Kadıköy will be hosting a Valentine's Day and Animal-Lovers meet-up that will start at 10 a.m. This breakfast event for pet lovers could lead to a play "date" at Yoğurtçu Parkı, located just around the corner.
Performances to ring in the night
Cem Adrian, the multi-range vocalist known for having vocal chords three times the size of an average person, will be gracing the stage at Beyrut Performance in Kartal for a guaranteed-to-be-romantic concert that starts at 10 p.m. with tickets starting at TL 56.
Love and Music with Emir Yeşil, the former front man of the Dolapdere Big Band - gone solo, is an evening of music and a delicious menu at The North Shield in Tuzla. The evening starts at 8 p.m. the meal includes veal Carpaccio, mozzarella-stuffed risotto balls and Café de Paris sauce steak, a berry parfait and two drinks. The event starts at 8 p.m. and tickets are TL 144.
A night of Acapella will be had at Eataly's Bar Terazzo with Martina Pavone and her Istanbul International A Capella Choir on hand for a very special performance starting at 9 p.m. Tickets are TL 150 As the Bach Days continued, 'Bach Before and After' will be performed by Hortus Musicus, Europe's oldest baroque band, at the Naval Museum in Beşiktaş. The performance starts at 7 p.m. and tickets cost TL 89 and TL 49 for students.
The Turkish version of the second-longest running musical off-Broadway "I Love You, Now Change" will be on at the Zorlu Performance Arts Center at 6 p.m. and tickets cost TL 40 and TL 20 for students.
The stomach is the way to anyone's heart
Mutfak Sanatları Akademisi in Maslak will be teaching a very special Valentine's Day Breakfast Class held from 10 a.m. to 2 p.m., teaching delights such as red velvet pancakes, croquet monsieur, heart-shaped sucuk and eggs and a special Valentine's Day smoothie. Tickets cost TL 160 and there will also be charcuterie to snack on the sidelines Held at Wow Istanbul Yeşilköy, Soffa Mufak Atolyesi is hosting a special cooking workshop for a Valentine's Day meal that includes wine-cooked mussels, strawberry spinach salad, bonfile roti potatoes and caramelized onions, a brownie in a chocolate cage and hot chocolate two drinks as well as two drinks all for the price of TL 150 and it starts at 4 p.m.
Chef's Table Mutfak Akademisi in Maslak will also be teaching a special Valentine's Day menu including ginger pumpkin soup, shrimp shish, veal and truffle mashed potatoes followed by a chocolate parfait. Tickets cost TL 320.
Eataly Mutfak Atölyesi, will be holding a fresh pasta course from 1 p.m.-4 p.m. on Feb. 14 where participants will learn to make fresh pasta, lasagna and cannelloni and how to pair it with and prepare the sauces: Bechamel, Bolognese and Pomodoro. The course costs TL 120.
On Sunday from 7 p.m. to 10 p.m., Eataly will also be hosting a very special Valentine's Day workshop to prepare and dine on a specially prepared menu which includes Carpaccio, bass, tagliolini with gamberone,shrimp with veggie noodles and two types of mousse. Tickets are TL 180.
Kahve Dunyasi will be holding a Valentine's Day special chocolate workshop from their branch at the Kozzy AVM in Kozyatağı Mah From 2 p.m. to 4:30 p.m. with complimentary coffee, tickets cost TL 90.
Off the beaten path...
Masterpiece is an event where people learn to paint classic art tableaus accompanied to inspiring music. Turn into a painter during this three-hour event held from 1 p.m.to 4 p.m. or 5:30 p.m. to 10:30 p.m. on Sunday, Feb. 14 in Beyoğlu's Asmalimescit neighborhood and you end up with a painting to gift to your lovers or friends. The workshop costs TL 75, there is no need for any experience and they provide all of the materials. They actually offer these courses practically every day of the week and also have sculpture workshops.
The Art of Banksy, an exhibition of the political activist and graffiti artist's work, and the biggest exhibition to date, will be open daily from 10 a.m. to 8 p.m. Tickets cost TL 40 and TL 32 for students.
Why not check out the Whirling Dervishes or Semazen, who embrace all humanity with love, at a very special Sema ceremony held at the Galata Mevlevihanesi Museum at 5 p.m. Tickets are TL 70, A Festival of Love!
The eight annual Love360 Festival resumes during the romantic month of February and has a variety of exhibitions and events, including the festival's Love Party held under the theme "Love is Istanbul" (Aşk İstanbul'dur!). Probably the biggest party in town to celebrate this holiday of lovebirds and it will be held on the eve of, Saturday, Feb. 13 at Tamirane in Uniq Istanbul from 10 p.m. to 2 a.m. with DJs Heja Bozyel and Aslı Köse spinning house with vocals accompanied by dance performances. The Love360 Festival will also have a number of ongoing exhibitions at locations such as the Capacity and Palladium shopping centers, Pera Palace Jumeirah and make sure to visit the Lover's Bizarre at Uniq Istanbul for a unique gift.
For gifts
The Karaköy Souq, which we used to wait for to roll around on Sunday's is now everyday affair, which means you pick up unique designs any day of the week. To browse creative and thoughtful gifts such as accessories, clothing and decoration items from the comfort of your couch, check out Hipicon.com, which delivers. To order a personally designed perfume for your Valentine, check out lidyana.com and to plant a tree in your loved one's name check out, cekuldukkan.com.
An Honorary mention


Although this event follows the 'holiday of love', it certainly is about love, understanding and compassion. So spread the love with SPI this Valentine's Day and volunteer or donate to help out the unfortunate Syrian refugees at this pensive time.
On Friday, Feb 19 at 6:30 p.m. Small Projects Istanbul will be hosting a fundraiser at Cafe Lumiere in Çukurcuma to support their work with the Syrian refugee community, which includes the Olive Tree Community Center and scholarships for Syrian students. The suggested donation is TL 40 and there will be drinks, snacks and crafts on display made by women in the Olive Tree Craft Collective.