Making the permanent move to Assos two years ago, Kerem, a Spanish-Turk, and Zalina, who hails from Kazakhstan, realized their dream of bringing a new understanding to the boutique hotel concept to the heart of Assos, which in a word, is making you feel right at home, with their aptly named three-room hotel "3 Oda."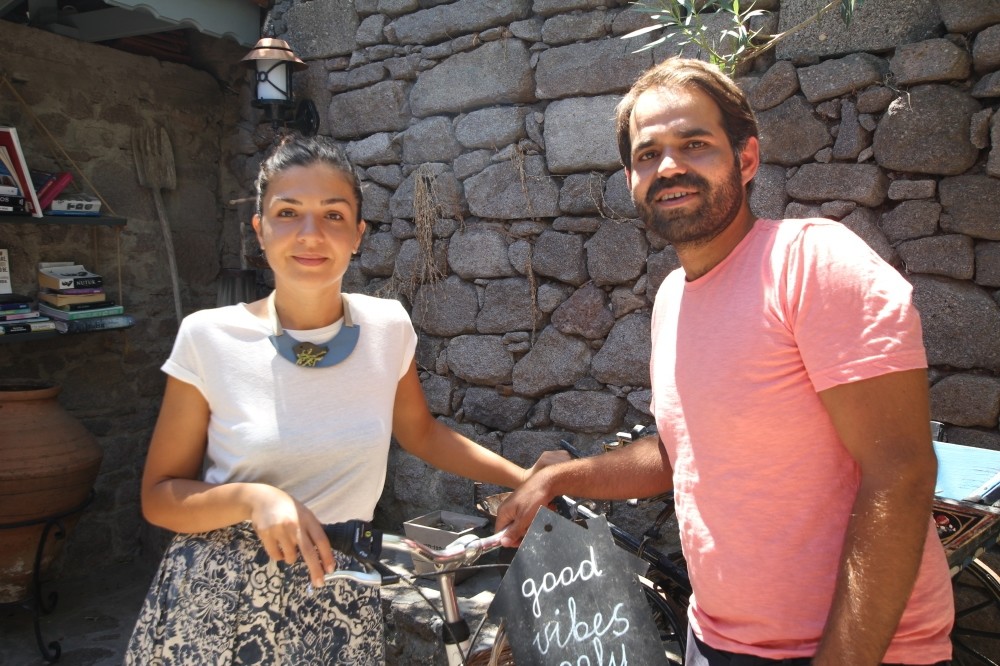 Zalina (L) and Kerem Perianez-Gonzales
Perhaps they are able to do this best as both have had many homes themselves. This beautiful couple, both dynamic, magnetic, intelligent and barely in their 30s, first met in Spain, where Zalina, who is from Kazakhstan, was a student. Kerem, whose father is Spanish, just happened to be residing in Cordoba himself at the time. Since then they moved to Istanbul and while travelling set their sights on Assos, the ancient town overlooking the Aegean that is one of Turkey's lesser-known but deeply loved holiday spots.After finding the ideal stone building with three perfect-sized rooms overlooking an open horizon of the valley of Assos and Biber Creek, Zalina and Kerem Perianez-Gonzales took on the months-long renovation process to end up with the ideal three-room boutique hotel, equipped with all the accoutrements one would want. Each room is decorated with impressive oil paintings by a renowned local artist and most of the decor and trinkets are antiques directly from Spain or other countries from Zalina and Kerem's travels. The closets are made from antique wooden doors and the bathrooms are impeccable.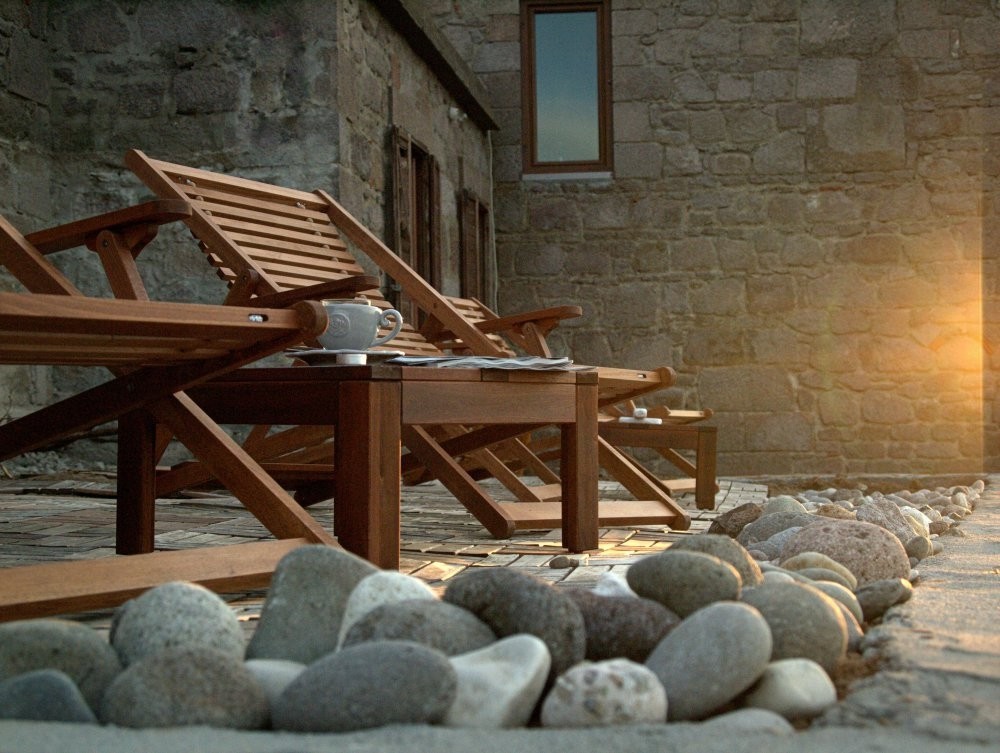 However, what you will not find a television or even a newspaper there. For Zalina and Kerem, this is a lifestyle they are trying to impart to give their guests the experience of truly getting away from it all. "Within these stone walls and with this view, we could be anywhere, in Spain, France or Tuscany," Kerem said, and therefore they want their guests to be transported to a different experience of Turkey on their holiday. But in fact what they have done in a sense is opened up their own lifestyle to others, and guests have responded greatly. It is not for nothing, theirs has been one of if not the highest ranking hotels on Booking.com for both Assos and the Aegean region over the past two summers since it has been operating. When I ask them why they think their rating is so high, they simply say there are loads of reasons, such as "the location, decor and view, but mostly it is probably because we are just ourselves and many times end up making life-long friends from the guests that visit."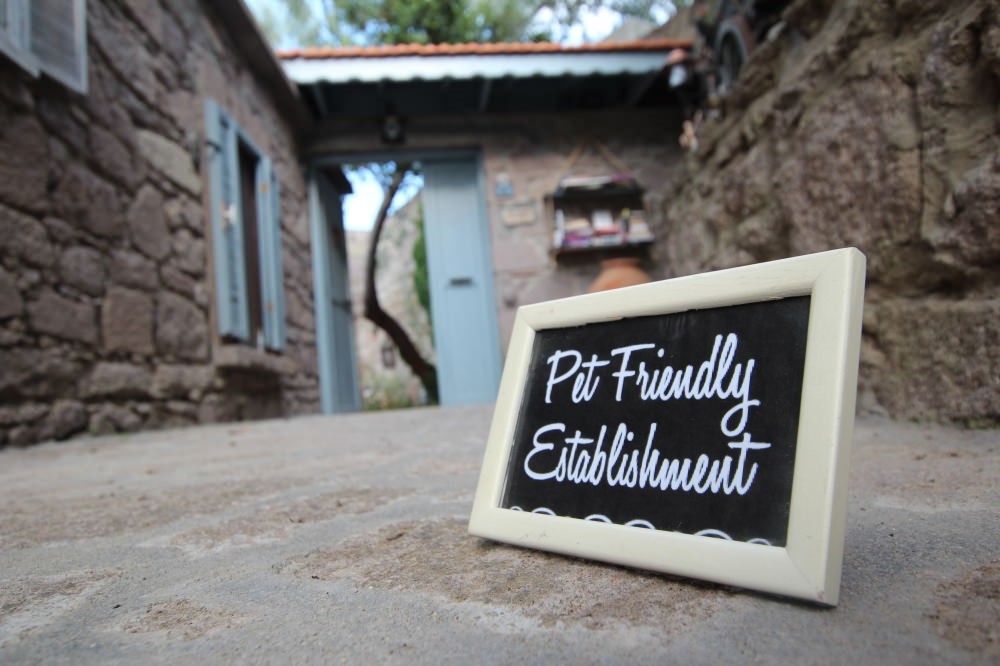 When I first paid a visit to the hotel to welcome Zalina and Kerem to the neighborhood as the new kids on the block, we walked into the stone courtyard and I realized we had stepped into a whole new dimension. On the terrace a fire was lit in a clay cauldron brought back from their travels. Each of the guests that filled Zalina and Kerem's three rooms were fluent in English and other languages and came from all over the world. The languages spoken flowed in and out amongst all of us, with Zalina and Kerem together speaking five languages alone. I kept asking where everyone had met, as I couldn't seem to comprehend that the friendship forged had simply been over the duration of the guests' stay. As I continued to visit Zalina and Kerem, both becoming valued friends of mine, I noticed that guests getting comfortable there and bonding with the owners was not just a coincidence. For some reason, 3 Oda draws in some of the most interesting, intelligent, creative and like-minded individuals from all over the world. Every night, Kerem lights a fire and everyone comes together for good conversation into the night. And these guests just get it, by making there feel like a home, Zalina and Kerem give the dream life experience to their guests, each of which I would bet go through the thought process themselves of weighing what a great life this young and dynamic duo have created for themselves.
Like many an expat, they place high importance on serving the finest coffee from beans from Spain and Brazil that are freshly ground on the premises. However, it is their mouthwatering breakfast that is truly a pleasant surprise. First of all, to ensure guests ultimate comfort, there is no set time or breakfast. Secondly, in addition to the traditional Turkish breakfast of locally sourced fresh and natural products, Zalina and Kerem add a personal touch from their own cultures of heritage, which include fruit filled blinis, pancakes with lor cheese, gözleme with sundried tomatoes and basil and even waffles.But it is not just their breakfast that has them ranked as the top hotel in Assos with a 9.9 rating on booking.com alone. Meanwhile, they also surf the top spot out of the upwards of 4,500 hotels on Booking.com in the Aegean region. I believe it is truly a combination of their personalized style in everything they do coupled with the beautiful boutique hotel they have created with three stylishly decorated and comfortable rooms overlooking the open horizon of the valley. There is also a lovely living and dining room area equipped with a fireplace, which will light up in winter, when they will also open their doors. Although they do not accept children, they emphasize that they are a pet-friendly establishment, meaning patrons can stay with their own household pets, a decision they made after attempting to travel around Turkey with their own cat.
For Zalina and Kerem, Assos has now become a home, which they are sharing with the privileged and lucky guests that get to experience it with them. For Kerem, it was a natural transition having grown up in Istanbul before moving to his father's homeland of Spain. For Zalina, she says Turkey offers familiarity, as there are so many inherent similarities to her own culture. As for becoming a Turkish bride, I asked how her mother felt having her daughter so far away, to which she said she has been traveling for so long, that settling down in Turkey was welcomed by her family and at least, brings her closer to her far-away home.