From the beautifully designed stalls of produce to the mounds of mark off clothes and daily household gadgets, Turkey's local markets have it all and present a wonderful hands-on way to literally delve deeper into Turkish culture. These markets, like elsewhere in the world, are a feast for all the senses, with vivid colors, wafting scents of freshly baked pastries and breads and the shouts of the stall minders marketing their goods in the funniest and often loudest way possible. Everyone is welcome to taste and try out the goods they have to offer, which customers then hand pick. Many markets may seem daunting to the newbie and there are a number of items you may have never seen before.
The following is a guide to the ins and outs of Turkey's farmers' markets and the best regions in Turkey from where the fruits and veggies are sourced:
Fruits: Turkish fruit is undeniably delicious, but there are some special standouts in the summer months. I bet you did not know Turkey is actually the largest producer of cherries in the world. Just do not make the mistake of picking sour cherries instead of the sweet ones otherwise you may have a sour surprise. "Vişne" are the sour cherry variety used for Turkey's beloved cherry juice as well as for jams and in savory dishes. "Kiraz" is the word for sweet cherries of which Napoleon cherries are the most coveted variety and most resembles the Bing cherry from the U.S, while a wide varieties of cherries, including golden, hail from Akşehir, Konya.
Amasya Apple
Turkey, and more specifically its eastern Anatolian province of Malatya, is far and away the world's largest apricot producer. The most favored and expensive variety is called Şekerpare. It is soft and sweet and absolutely delicious.
Meanwhile, Anamur bananas are a local variety well worth seeking out and the apples that come from Amasya are widely considered the most delicious. The best peaches come from Bursa. However, in Bodrum you can also find the 'devebastı' variety, a sort of donut shaped peach that is firmer and has a unique aromatic flavor - when translated 'devebastı' literally means "a camel stepped on it".
Deveci, a large firm variety, is by far the best tasting pear, while Hamza, a much rarer form, is a treasure find if you come across it. Another wonderful fruit to try are the white nectarines referred to as "Balıkesir beyaz." They are smaller and firmer than a normal nectarine and absolutely delicious. The best watermelons in the country come from Diyarbakir with Adana a close second, while the best honey melon is a variety from Manisa's Kırkağaç and the Aegean's figs, another fruit in which Turkey is the world's top producer, in both white and black varieties, will be widely sought after in the coming months.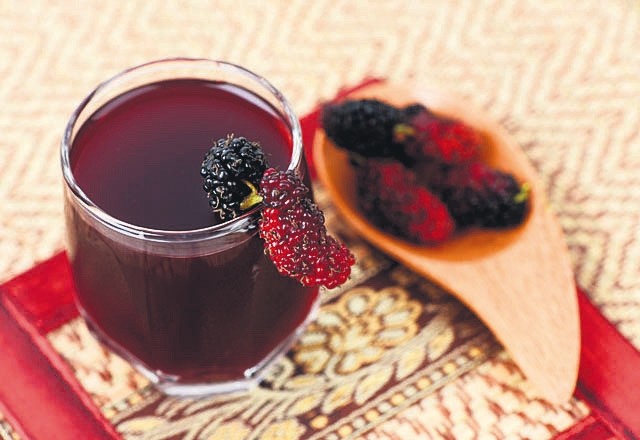 Black mulberry syrup
On the subject of fruits, there are two favored summer time juices, one sweet and one sour, that are known for begin delicious, healthy and refreshing. "Karadut suyu" is a syrupy sweet juice made from black mulberries, and "koruksuyu," in other words verjuice, is a highly acidic drink made from unripe grapes.
Vegetables: For simplicity's sake I will bypass the debate of whether a tomato is a fruit or a veg, because what really matters is the taste. Turkish tomatoes are delicious, and many a Turk considers themselves a connoisseur on the matter. There are breakfast-type tomatoes, tomatoes used to make paste and the increasingly popular 'pink' tomato. Either way, the tomatoes from Çanakkale, and especially a village in the region called Kösedere, are widely revered as having the best quality in the country. Many households and restaurants will buy tomatoes in bulk in August that they will then transform into tomato paste to store for the winter months.
While China may have the monopoly on cucumber production, Turkey is the world's second largest producer and this savory fruit is a summer-time favorite that is even sold from street food stalls with a little salt sprinkled over the top. For fortunate Istanbulites, Çengelköy's cucumbers are widely revered as the best variety available.
Referred to in English as the Armenian cucumber, "acur" is a very interesting and resembles a cucumber or zucchini in taste and preparation but is actually from the muskmelon family. A funny looking oversized ridged cucumber, it is a veg that comes out in summer and is also used for pickling. Meanwhile, all pickling veggies, including cucumbers, green tomatoes, cabbage and such, are regularly purchased from producers of the Black Sea region where they are known for their quality and crispness.
"Semiz otu" - purslane - is a popular refreshing summer green that is simply mixed into yogurt with garlic. But this is just one of the wide variety of wild greens, many of which are indigenous and available at the market in summer. Glasswort, in Turkish "deniz börülcesi," is a seagrass of sorts that is doused in olive oil and adorned with crushed garlic. However with the tedious preparation involved, it's almost worth just ordering it as a meze.
Green beans are a summer favorite and although there are a wide variety available, those in the know only go for the "Ayşe vvvvvvvkadın" green bean as it tends to have little if any of the stringy fibers that run along the sides. 'Soleil Green Beans', the light yellow version of green beans are also a summer favorite. Another rare but wonderful find are fresh garbanzos that can be picked from the branch and chomped on as if they were a nut.