No one really knows how and when it all started but somehow over the past decade or two, the streets of Kuşadası have increasingly resembled more of an Irish town rather than one of Turkey's most popular summer resort destinations. Everywhere you look there are shamrocks and venues are either a "Jimmy" or a "Paddy" dishing up Irish fare. There are even lots of Chinese food restaurants just to accommodate the Irish expats' cravings. So, what is the special tie between these two cultures, I wondered, being part both, I personally know that both sides are quite fond of one another and feel they have a very special bond.
I have always heard Turks render up possible genealogical linkages to Native Americans but it seems there may even be more substantiated findings that connect the Turks to the Irish. Did you know that the Irish are actually sometimes even referred to as Turks? Well, there may actually be scientific evidence as to why.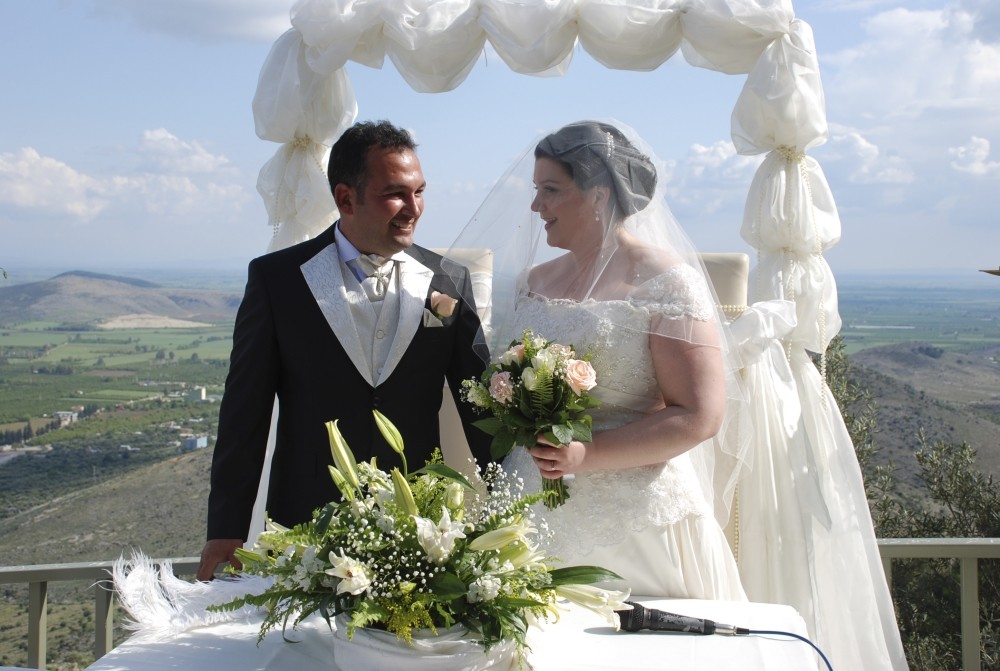 A Turkish-Irish couple who met in Kuşadası and later got married.
A recent study claims that Irishmen are the descendants of Turkish farmers 6,000 years ago. In summary, the study claims that farmers from Anatolia, where the practice originated, beat out hunter-gathers for mates in Ireland. As a result, during the Neolithic era a gene from Anatolia made its way to the western edge of Europe. A DNA analysis of Irish men today showed the gene variance predominated, which in laymen's terms means that Ireland's "Danny Boys" may in fact have descended from Turkish farmers, because the Irish women preferred them. Eighty-five per cent of Irish men are descended from farming people from the Middle East and especially Turkey, according to the research that was conducted by scientists at the University of Leicester, which proposes that most of the original hunter-gatherer male population in Ireland was most likely replaced by incoming agricultural populations.
While this may be true there is actually another connection felt deeply by the Irish that will always endear them to this country many choose to now call home. During the Irish potato famine in the 1840s, the Ottoman Sultan Abdülmecid was one of the only leaders to offer relief aid. As the story goes, the Sultan intended to donate 10,000 pounds but was advised not to exceed the donation made by Queen Victoria at the time, which was 2,000 pounds. So, the Sultan donated 1,000 pounds to famine relief and secretly sent nearly half a dozen ships full of food. The ships arrived secretly at the Drogheda Harbor and were left there by Ottoman sailors. In gratitude, the city of Drogheda has even incorporated the Turkish star and crescent into its municipal crest.
This deed will also be the subject of a new film on the famine directed by Ömer Sarıkaya that will tell a love story between a Turkish sailor and Irish local during the Great Hunger, which is being filmed in Britain, Ireland and Turkey and stars actors from all three nations. Furthermore as a charity production, 85 percent of the film's proceeds will go to United Nations programs that combat hunger as well as the International Red Cross and Red Crescent.
What is now present-day Turkey was in fact one of the only countries to come to the aid of the starving Irish during the Great Hunger and the Irish in return feel indebted to the Turks for this. This great deed was even mentioned by James Joyce in his "Ulysses" in which he penned "Even the Grand Turk sent us his piastres." In today's calculations, had the Sultan been able to pledge what he wished, it would have been the equivalent of nearly 800,000 pounds now. Many an Irishman will recall the tale when asked why they like Turkey.
Whether it be for this good deed, the weather, the lifestyle and its proximity to Europe, the Irish undoubtedly love Kuşadası and they constitute by far to be the largest cluster of expats from any one country in the region. In fact, the Irish influence is so much so that a vast majority of the dining and entertainment venues in the town are owned, operated and frequented by Irish visitors and expats.
Charter flights from Ireland to the nearby İzmir airport began nearly 20 years ago. Since then every summer thousands of Irish tourists visit this seaside resort. Supposedly there can be up to 4,000 Irish in Kuşadası at any given time in the summers. Many have decided to make the town their permanent home, most to either retire or due to marrying a Turk. In addition, it is boasted that Kuşadası sees 300 days of sunshine year-round, a significant draw in itself for the North Atlantic islanders, who experience quite the opposite.
The sun, the geographical proximity and the cultural differences and ties all lend themselves to making this resort town the ideal home away from home for Irish expats who have settled here. There are a few dozen Irish-owned companies selling Turkish properties in the Irish market and a number of Irish-owned businesses in the town, many of them bars and restaurants. Now whether these are specifically owned by the Irish or simply geared towards them, I cannot verify, but these are the official Irish bars on offer in Kuşadası town and lining its Bar Street.
Walking along Bar Street there is, Paddys Irish Bar, Jimmys Irish Bar, Shamrock Bar, Deja Vu and Charlie's Place for Karaoke, while Golden Boys, Murphy's Restaurant, Mamma Mia's and Planet Yucca all serving up international fare.
Ladies Beach, in Turkish "Kadınlar Denizi," which was once gender segregated but is no longer and now has a palm tree-lined promenade lined with shops and cafes of which Rosy's is the most popular and Sherwood is also a close contender, while Somewhere Else is my own personal favorite.
Kuşadası also houses the Mediterranean's fourth biggest cruise port as it just happens to be situated a mere 20 kilometers away from Ephesus, the world's largest excavated archaeological site, as well as the Virgin Mary's House, where she passed on, and the Temple of Artemis, considered one of the Seven Wonders of the Ancient World. Kuşadası is also 30 kilometers from one of Turkey's most biologically diverse national parks, the Dilek Peninsula-Büyük Menderes Delta National Park, which is also the migratory habitat of hundreds of species of birds, mammals, plants, and marine life, some of which are entirely endemic to the park and can't be seen anywhere else in the world. There are also beautiful coves and the Cave of Zeus where visitors can bathe as the God is claimed to once have. A top draw for the kids, Kuşadası also houses two of Turkey's top water parks. Adaland near Pamucak just north of Kuşadası is famed as being one of the world's top 10 water parks while Aqua Fantasy claims to be Europe's largest while also housing a hotel and spa center.