December is a tricky time as winter sets in and the holiday season is abound, which for many expats away from family and friends can lead to homesickness. However, with all of the wonderful events planned for and by expats this month in Istanbul there will be lots of opportunities to get out there, mingle and share in the holiday spirit. The following is a list of what's on in December for the expat crowd:
Friday, Dec. 2
Delight'ful Night Party at The Hall
Party guru Senem Selimi will be hosting a party at The Hall Taksim on Dec. 2 with American-Greek belly dancer Athena Najat performing, a belly dancing contest, DJ Queto warming up the crowd and Italian DJ Valerio Proto playing popular tunes well into the night. Doors will be open from 9 p.m. to 4 a.m. and entrance costs TL 25 and includes one local drink.
An Evening of Improv: The Clap and Ephemerata at Yota
Performing at the Yota Improvisation Theater in Beyoğlu on Dec.2, The Clap and Ephemerata are two crews of primarily expats who stage long-form improv shows in English. Tickets cost TL 20 and will be available at the door.
Maviblau Presents: Keep Calm and Feel Arabesk
On Dec. 2, MAVIBLAU, an online magazine for German-Turkish culture will be hosting a special night of heartache, homesickness and melancholy: in other words Arabes at SUPA Suriye Pasaji Salon off İstiklal Avenue. Doors open at 8 p.m. for this kitschy free event that will also have karaoke.
Saturday, Dec. 3
Mitte Christmas Market with Friends and Music
Mitte, a breakfast restaurant, coffee shop and vintage store in Kadıköy, will be holding a very special Christmas market from 3 p.m. to 9 p.m. on Dec. 3 with stalls selling gift items by local designers and holiday treats including waffles, Bratapfelm cinnamon buns and Glüh-Mate.
InterNations Secret Santa Party
InterNations, the largest global networking community for expats living abroad, will be hosting a Secret Santa and early New Year's Party on Dec. 3 at the chic Anjelique in Ortaköy. The Downstairs Club will be closed off exclusively for the event, which will also include a raffle and a "Secret Santa" exchange so you are advised to bring along a gift of TL 15 value to exchange with a random someone. You need to be a member or register with InterNations to attend and entrance costs TL 10, TL 40 or TL 60 for whether you are an albatross member, regular member or just attending this one-time event.
Sunday, Dec. 4
IWI Christmas Festival
This charity festival held annual by the International Women of Istanbul is one of the most highly anticipated holiday events here in Istanbul. A festive affair of shopping stalls, children's entertainment, an international food court and a raffle with luxurious hotel-stay prizes, the IWI Christmas Festival will take place at the Istanbul Marriot Hotel in Şişli on Dec. 4 from 10 a.m. to 5 p.m. Tickets cost TL 10 and all net proceeds go to the IWI Social Responsibility Fund. Visit www.iwi-tr.org to find out where to buy tickets or you can purchase them at the door.
Quiz Night for Cats
The Cihangir Cool for Cats crew are back an at it hosting a quiz night in English that will start at 8:30 p.m. at Arsen Lupen in Beyoğlu on Dec. 4, which will also include a raffle with proceeds going to help the street animals.
Monday, Dec. 5
Ladies of AD.DAR Knit Sale
The ladies of the AD.DAR Community Center for Syrian and Palestinian-Syrian Refugees in Istanbul will be holding a Hand Knits Sale at their center in Beyoğlu from 6 p.m. to 9 p.m. on Dec. 5, which will be the perfect opportunity to get some holiday shopping done while supporting a good cause.
Wednesday, Dec. 7
Portobello Christmas Bazaar
Circolo Roma Istanbul, an association founded in 1931 to promote and support the Italian community living in Istanbul that is based out of the Italian House located on Meşrutiyet Cad. between the Pera Hotel and Museum, will be hosting a Portobello Christmas Bazaar on Dec. 7 from 10:30 a.m. to 5 p.m. Traditional Italian products will be on sale such as Parmigiano, sauces, Panettone, pasta and jams as well as lots of homemade treats.
Saturday, Dec. 10
Speech Bubbles Presents: Dick Whittington and his Cat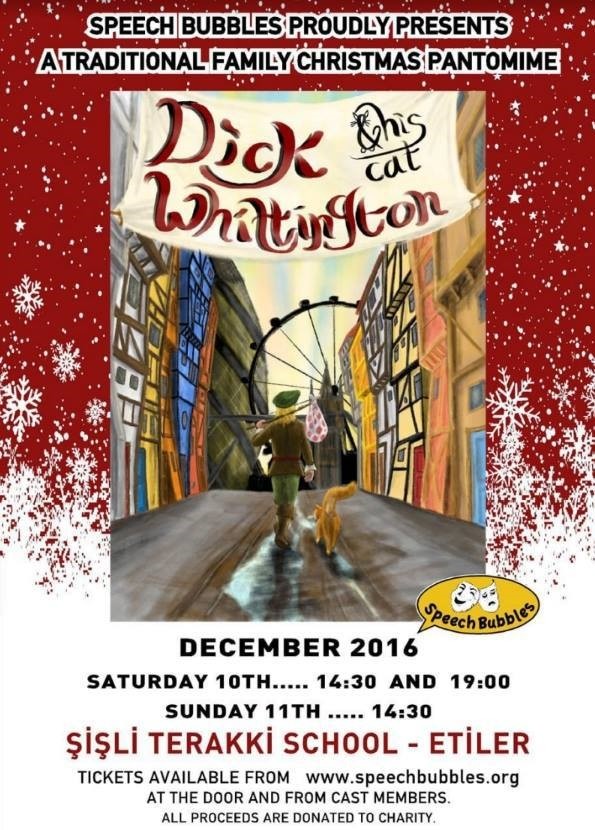 The Speech Bubbles Theater Group returns for another Christmas pantomime in their production of "Dick Whittington and his Cat." Show times are on Dec. 10 at 2:30 p.m. and 7 p.m., and Sunday, Dec. 11 at 2:30 p.m. at Şişli Terakki Theater. Tickets are priced at TL 40 (TL 20 for children) and available via their site or at the door.
Country for Syria at CreAtölye
Country for Syria, a group of international musicians who play American country music with an Arabic twist, with proceeds from concerts going to help Syrian refugees, will be taking the stage on Dec. 10 at CreAtölye - a creative space-slash coffee shop and vintage shop in Cihangir.
Wednesday, Dec. 14
"Tonight I Sleep in Peace" at Yota
Californian expt Kelsey Yuhara, who is a staple in Istanbul's improve comedy scene, will be taking the stage at the Yota Improvisation Theater in Cihangir on Dec. 14 to perform the world premiere of Giuliana Fraglica's "Tonight I Sleep in Peace" in English. Directed by Giancarlo Bella, the show stars Kelsey Yuhara in five different female characters and music is by Khaled Nadim.
Kolektif Jammin at Kolektif House
The creative shared office space Kolektif House will also be hosting a number of events this month starting with Kolektif Jammin on Dec. 10 from 8 p.m. to 12:30 a.m. at their Sanayi location. Then on Dec. 18 enjoy a Kolektif Brunch at their Levent location from 11 a.m. to 3 p.m.
Sunday, Dec. 18
Handmade Istanbul Holiday Market at St. Helena Chapel
A Christmas and New Year market of artisan handcrafts will be held from 11 a.m. to 6 p.m., on Dec. 18 at the St. Helena Chapel in Tepebaşı. This is a merry market of stall after stall of crafts, such as clothes, art, decorations, toys, accessories and specialty food items created by the Handmade Istanbul artisans, many of which also happen to be expats. Entrance is free and proceeds will help to benefit the U.N. registered refugees at the St. George Hostel.
Wednesday, Dec. 21
Wizards' Wednesday at CreAtölye
Once a month this creative space in Cihangir hosts Wizards' Wednesday, which is an evening of magic performances and comedy by young illusionists and magicians held in English and Turkish. The event starts at 9:30 p.m. and tickets cost between TL 25 to TL 45 and are available on Biletix.