The Kaz Dağı mountain range, referred to in English as Mount Ida, spans from Çanakkale to Balıkesir, and it has long been a land of legends. In the ancient times the mountain was dedicated to the worship of Cybele. However, it owes its fame to the legendary poet Homer, who made the Mount Ida region one of the most famous in the world, thanks to his epic Iliad.
It was also on these mountains where Paris, the legendary prince of Troy who would trigger the Trojan War, was abandoned after being born and was later chosen to judge the most beautiful of the Greek Goddesses, of which he chose Aphrodite, who promised him the most beautiful woman in the world Helen, triggering one of the greatest battles of all time.
Today, the mountain range stands, as majestic as ever, with villages overlooking the Gulf of Edremit and one can easily visualize the legend where ancient God Zeus falls in love with Hera there and later watches the war of Troy from its vista.
Adatepe, a village located in the hills above Küçükkuyu on the western slopes of Mount Ida, also houses the Zeus Altar upon its entrance, proof to the region's deep-rooted history. What stand out about Adatepe are the seemingly infinite number of stones and its spectacular views of the Aegean Sea and the Lesvos Island. Almost everything in this village is made out of stone and the architecture spread out about the ancient olive trees, which have a central position in the life of the villagers are protected by strict laws, helping the village for the most part to have successfully sustained its traditional character. Although walking on its pebbly streets is somewhat of a chore, the delightful artisan shops and boutique hotels along the way make it well worth the wander.
A Day in Çamlıbel
Less than a half-hour drive away is Çamlıbel Köyü, a village located on the foothills of the Mount Ida National Park above Altınoluk in Balikesir Province, perhaps more famous for being the home of one of Turkey's most legendary actors, Tuncel Kurtiz.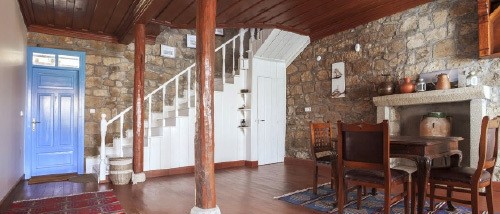 A mountain house in Çamlıbel
Located just two kilometers from the hot spring resort district of Güre, Çamlıbel is bountiful in natural wonders, with forests encapsulating the village which has creeks running through it.
Where to Stay:
Zeytinbağı Hotel can offer great accommodation as a countryside getaway. Once owned by the famous actor, the hotel continues to uphold the utmost in standards with its eight chic yet quaint rooms housed in a traditional complex with a plentitude of reclusive garden space and ubiquitous views.
What is most significant about Zeytinbağı is the current owner's affinity to fine food, a chef in his own right, with a garden with rows after rows of basil to prove it. This venue is just as impressive for an overnight stay as it is for a delicious dinner.
What to do:
The village is a wonderful one to walk through, and has a strong female presence amongst its retirees who will easily converse with you as you wander. Saklı Bahçe is a wonderful restaurant spread out on platforms surrounded by creeks, ducks and swans, a wonderful spot to while your day away, enjoy a meal or to experience nightlife in the village, as on the weekends, the venue transforms into a "Fasil" joint after the sunset.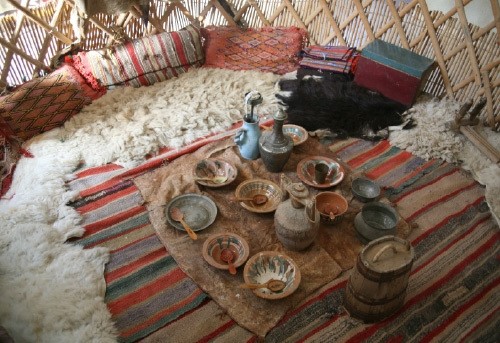 Tahtakuşlar Ethnography Museum
In addition, the neighboring Tahtakuşlar Ethnography Museum sheds light into the nomadic culture that settled in the region. From natural and historical artifacts, local legends to a variety of gift items like local jewelry and essential oils pressed from a wide variety of medicinal herbs that are indigenous to the region are all on offer.
A Day in Adatepe
Hünnap Han is an authentic Ottoman mansion dating back to the 18th century. Beautifully restored, it offers 22 rooms and a restaurant with spectacular views. Adatepe Ida Blue is a newer addition with nine rooms fitted in three renovated antique Greek stone houses. Each equipped with their own living room, the perfect home away from home, except this one offers an amazing breakfast and views of the Aegean Sea and surrounding nature.
Start the day with a lavish breakfast or simply stop for a brewed coffee at Refika Cafe. Visit Adatepe Taşmektep, the village's former elementary school which has been transformed into a workshop and activity space, holding seminars and various courses on subjects such as screenwriting. Then, pay a visit to the Hüseyin Meral Olive Oil and Arts Museum. This well-informed world traveler has a wealth of knowledge on olive oil production and sells his own "Zeytin Sütü" series, an even higher grade olive oil than virgin olive oil as it is obtained by stone ground olives without using any pressure at all. At the showroom, which also houses an art collection, you can see replicas of the traditional presses used over 2,000 years ago as well as more modern versions of presses used in the 19th century.