Innovating to create a better world and a better life is the focus of a number of events where up and coming change makers will be networking and pitching their ideas for juries of professionals and mentors, held in some of the most creative and happening co-working collectives that have sprung up in the city
Social Impact Summit at Habita Sanayi
The Social Impact Summit is a two-day event organized and led by volunteers at Istanbul&I, a youth community dedicated to having a social impact, that will take place at Habita in Kağıthane's Sanayi neighborhood on Friday, Dec. 9 to Saturday, Dec. 10.
The aim of the summit is to empower young people to become change makers in their communities and to nurture and help develop a network of like-minded people, regardless of origin, religion and background. In addition to a number of guest speakers and seminars, a select group of young innovators will have the opportunity to pitch their social impact ideas to a panel of professionals and the winner will receive a financial a prize as well as the opportunity to develop the idea through the network and support of Istanbul&I.
Istanbul&I, which has a diverse and inclusive community of over 175 members from more than 45 different countries, is an organization working to support and empower members of displaced and disfavored communities in Istanbul. The summit will be held in English, with Turkish and Arabic translators on hand for participants who do not speak English.
Hosted by the co-working and event space Habita and funded by the U.S. Embassy, the summit kicks off on Friday, Dec. 9 at 6:30 p.m. with an opening ceremony, meet and greet, a light Turkish meze buffet, guest speakers and ice breakers led by Istanbul&I staff members as well as an interactive storytelling seminar.
On Saturday, the day starts off early with breakfast at 8:30 a.m. followed at 9:15 a.m. with a seminar on "Design Thinking and Technology for Social good." The next talk, at 10:45 a.m. will be "Social Impact on a Budget and Communication" followed by a lunch break and then a discussion and activity at 1 p.m. on "Mental Health and Peer to Peer." The talks are being given by a series of professionals and academics that are change makers themselves and at 2:30 p.m., guests will have a chance to mingle with the mentors and give feedback.
At 4 p.m., previously selected applicants with social impact ideas, selected based on their demonstration of key leadership skills, previous volunteering activities and commitment to social impact, will have the opportunity to pitch their ideas to a panel of mentors. At 5:30 p.m., there will be a Syrian dinner and at 6:45 the announcement of the winner followed by live music by an East African band and an after party for the participants.
On the sidelines, there will also be a "ChangeMakers in Turkey" exhibition, organized with the support of Sabancı Foundation to shed light on some projects that are positively affecting people's daily life, as models for participants.
Pitching Contest and Networking Night at Impact Hub Istanbul
Impact Hub Istanbul is Turkey's branch of a global network of impact driven individuals, from entrepreneurs to freelancers, consultants to investors, techies to artists that are members of a co-working space and event venue also located in Kağıthane. This global community aimed at innovating positive changes for society and the future has "hubs" in over 85 locations all over the world and over 13,000 members.
Impact Hub Istanbul is a co-working space that aims to provide an environment where impact-driven individuals feel inspired to co-create under the same roof. In short, their mission is to empower entrepreneurs and innovators that move society forward. To do so they provide the three elements they say combined will bring your ideas and passions to life: A strongly connected community of passionate and entrepreneurial people sharing an underlying intention to bring about positive change, a source of inspiration through catalytic and thought-provoking content, events, programs, and workshops and a physical space that offers an inspiring, flexible and highly functional infrastructure to work, meet, learn, and connect.
This weekend, Impact Hub will be hosting the Ye! Boostcamp, sponsored by The Development Facility of the European Fund for Southeast Europe, in which previously selected applicants with social impact-driven entrepreneurial ideas, will attend workshops and receive training throughout this weekend culminating in the Ye! Boostcamp Pitching Contest & Networking Night. Taking place on Sunday, Dec. 11 from 6 p.m. to 9 p.m. for the pitching contest, participants will present their fine-tuned project proposals to a jury of professionals spanning from social entrepreneurs to finance experts and an open audience at Impact Hub Istanbul's stage. A winner will be determined in an awards ceremony after which, the evening will turn into a networking event.
Bic101 Pitch & Party at Kolektif House Levent
Kolektif House Levent, another popular and innovative co-working and event space, will be holding a Bic101 Pitch & Party event in which entrepreneurs will have the chance to present their innovative project ideas for a group of Angel investors on Tuesday, Dec. 20 from 6 p.m. to 9 p.m. You can still apply to present your own idea at Bic101, an acceleration program run by BIC Angels and Mentors Network Turkey for projects not yet ready to be taken on by angel investors or just come to watch others present their ideas and then enjoy the party that will follow the awards ceremony at 7:30 p.m.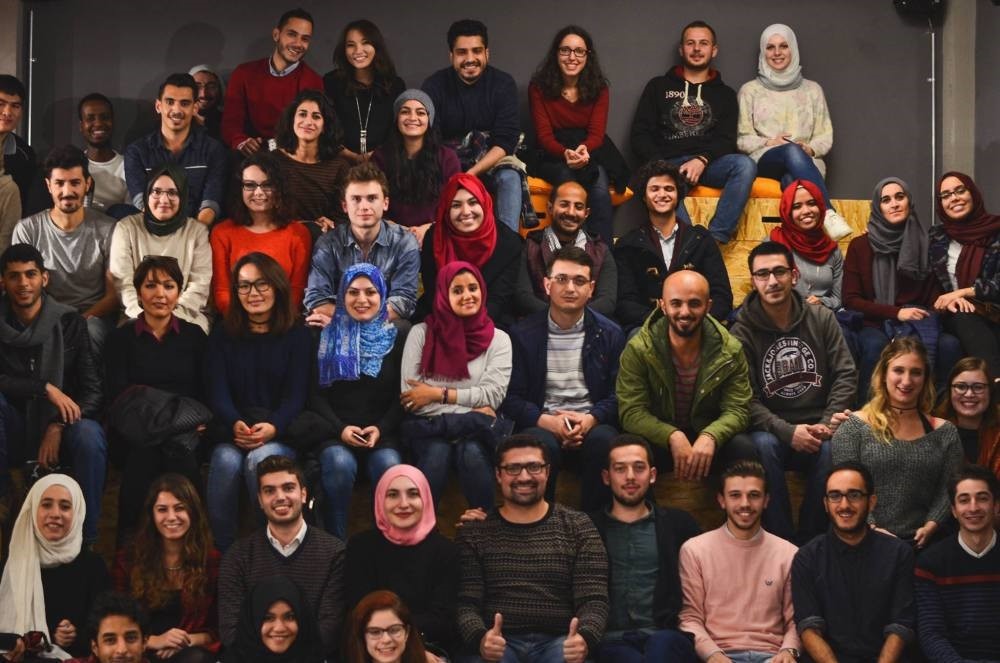 Slow Food on the mind… Celebrating Terra Madre in Istanbul
Every year on Dec. 10, the global Slow Food community celebrates Terra Madre Day; an annual day devoted to promoting the diversity of food traditions and production and to demonstrate how the network is using its creativity and knowledge to build a better food future. Turkey, which has certainly jumped on the Slow Food bandwagon, will also have a number of events held throughout the country to commemorate the day. The following are a number of Slow Food events happening this weekend in Istanbul:
On Dec. 10, Kolektif Chefs, a community of creative chefs of varying disciplines that support the development of new gastronomy communities to perpetuate Anatolian gastronomy by offering free training and panels, will be hosting a Terra Madre event titled "Hikayeler,"or "Stories," which will take place between 3 p.m. and 6 p.m., on İstiklal's Gazeteci Erol Dernek Street. The Kars Konvivium, Şile Konvivium and the Gelişim University Gastronomy Department as well as Ninda Bakery will be on hand to discuss bread making, heritage tastes and local products in this free event open to the public.
On Sunday, Dec. 11, from 1 p.m. to 3 p.m., SALT Galata will be hosting "İstanbul'un turşusunu kuralım!," a special Terra Madre event devoted to the art of pickling and led by pickling expert, academic and author Begüm Atakan that will also be free and open to the public.
SALT Galata will also be hosting a discursive "Urban Bakers" program held on the terrace of Neolokal on Saturday, Dec. 17 from 2 p.m. to 5 p.m. in which three bakers: Sungur Altınöz (Manuel Bakery), Erkut Abda (Glutensiz Ürünler Atölyesi) and Umut Sonat Güner (KAPTA) will introduce and discuss their relationship with sourdough and their own bread making techniques in the city. Everyone is welcome to participate in the conversation and taste the finished products.
Both this event and the upcoming Kök Summit, are products of the Kök Projekt, a social innovation network that focuses on where we get our food. Taking place on Saturday, Dec. 24 from 10 a.m. to 4 p.m. at Impact Hub Istanbul, the Kök Summit is a seasonal series in which the winter topic will be "Terra Nova" and the future of food will be discussed by food entrepreneurs and food innovators in a series of talks aiming to find new ways to create a sustainable and healthy food ecosystem.