Living for the last six years in Istanbul and having walked countless times down the streets of Beyoğlu, the birthplace of modern Istanbul, I did not know that there was much left to be discovered here. I happened to meet a courteous Greek woman, Katia Kiracı, at the Passage Hazzopulo - another historic arcade where one can dig deep into the past. After a one-minute walk, I realized I had to ring the bell to enter her modest shop, which left me baffled for a second as a person used to walking through automatic doors every day.
"In the past, I always said Beyoğlu was a smaller Paris," said Madame Katia, busy sewing an accessory for handmade hats she makes in her shop. She places the dozens of chic hats she makes in different colors in the display windows next to an old, dark green sofa recalling those in black-and-white photos.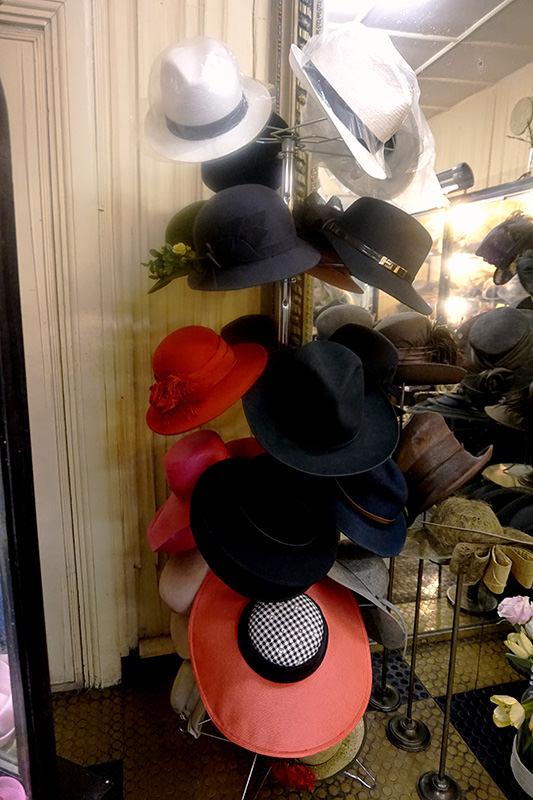 There is something about a hat that transforms the everyday appearance to an elevated look, and her hats introduce a nostalgic glimmer for women. For Madame Katia, who was born into a Greek family and lived in Beyoğlu until last year, designing hats is a lifetime passion. Her mother, Madame Eva, was a respected fashion designer during Beyoğlu's golden age and learned the art of hat making by a French woman, Madame Cartier. "My mother was highly enthusiastic about designing hats, although she was very young. She went to France with Madame Cartier and when she returned, she opened a shop on the top floor of [Beyoğlu's] Anzavur Arcade. She hired many people and luckily moved to this shop later," Madame Katia said in her broken Turkish accent. "My mother taught me how to design and make hats. After school, I used to come to the shop. You know, I grew up seeing textiles, hats and accessories all the time," she added. As a young girl, she obviously had other dreams, something understood from her serene voice, but she never regretted it. "I like what I am doing right now ... I have been in this field for 30 years," she said.
Recalling the bulk of the Levantine community over the years, Madame Katia shared how life in Beyoğlu looked 50 years ago. "Back then you could see a hat shop on every corner," she said. "Wearing a hat was very fashionable in those days. You were expected to look elegant when walking in Beyoğlu. Especially on Sundays, passers-by would wear different attire in the mornings and afternoons." For Passage Hazzopulo, a 19th-century arcade said to be built by a Greek merchant or broker, the scene was also the same. The venue was Beyoğlu's most beautiful arcade, where the heart of fashion used to beat, Madam Katia said. "If you were looking for fashion designers, you could find them here or button makers, lacework sellers and children's clothing designers - they were all based here. It was more peaceful then," she said, pointing out a loud noise coming from a cafe across from her shop. "I miss those days," she said, her voice filled with nostalgia.
The 58-year-old shop's walls are adorned with press coverage, each praising the success of Madame Katia and her handmade hats worn by Turkey's famous figures from TV actors to singers like Bülent Ersoy - popular for her statement dresses and hats. When Madame Katia's mother was alive, they used to design stylish hats for Yeşilçam movies and Istanbul's minority groups like Christians and Jews. "My Armenian customers are very detailed people. They live for fashion and never go to church or weddings without hats. They come to my shop with the dress that they are going to wear and we choose a hat together," she said. Madame Katia cannot help herself but criticizes some women wearing a hat that does not go well with the dress. "Some are not aware how to wear a hat properly. You cannot wear a hat for any dress," she stressed.
Female diplomats, tourists, students from Istanbul's foreign schools such as Notre Dame de Sion and bride-to-be's planning to have a nostalgic wedding still knock on Madam Katia's door. "You must see some young girls that are crazy about wearing hats. I like seeing them around," she said. These days, she is making a crimson-color hat for Turkish singer Serhat Kılıç, who will represent San Marino at Eurovision 2016.
Madame Katia deals with all orders by herself and makes all hats on her own as, one-by-one, her staff has left the shop. "I bring all the materials from Europe and [closely] follow hat fashion. These are all my designs," she said, adding that it can take two or three days or even a month to make a hat, according to her schedule. To choose a hat's fabric, she always wants to see the dress. "If my customer will wear a satin dress, then I suggest an appropriate fabric. If it is Chanel fabric or crepe, I recommend another one," she said. She also said some customers may insist on a certain style. She suggests wide-brim hats and caps for tall and thin women. For women who are overweight, tall hats make them look leaner. And for short and young women, smaller hats and caps are ideal.
Madame Katia is wise enough to understand why young people do not pursue such careers. "Young people do not consider what I do as a career. That time was different. Now it is also different," she said. She hopes her daughter will keep the shop alive in the future. If you happen to go Passage Hazzopulo, make sure to visit Madame Katia, who will be sitting behind her desk with a sewing needle in-hand.