Two sisters in Ghana are creating Islamic-friendly fashion from the locally-produced fabrics that are wildly popular across West Africa.
Sekina Abam, 27, said it can be difficult for women in Ghana to avoid discrimination when wearing the Islamic headscarf. Muslims make up 18 percent of the population.
She and her 32-year-old sister Nefisa found that many headscarf options sold in the markets of the capital, Accra, came from outside the country. None came in the vibrant print fabrics for which Ghana is internationally known.
"I said to myself, 'Why not come up with something from myself that will meet the hijab rules while using African prints?'" she recalled, using another term for headscarf.
Now she and her sister share a workshop where they turn out colorful headscarves and flowing, conservative dresses. Sekina is in charge of the clothing line known as Libaas Hilaan that includes everything from casual wear to special occasion apparel, while Nefisa directs the Nefeesah Hijab brand.
Headscarves sell between 30 ($6.50) and 100 ($22) Ghana cedis, while dresses and abayas can sell for as much as 850 cedis. To meet the steady demand for their product after five years, the sisters are now helped by their mother and two other workers.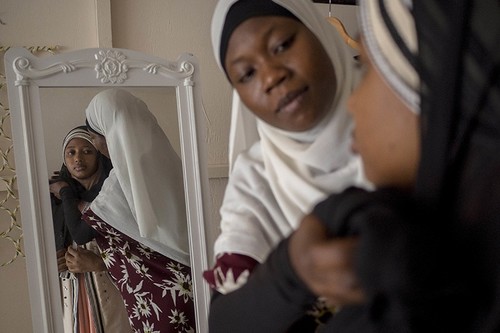 In recent years, Muslim women in Ghana have been able to wear headscarves more freely at school and in the workplace. In 2015, former President John Mahama proclaimed freedom of faith, opening the way for more displays of religion in the secular country.
For the Abam sisters, the struggle is to find the right balance between fashion and Islam, being mindful of tradition while making something that younger women will feel comfortable wearing on the streets of Accra.
"A woman naturally wants to look beautiful, and coming from an African setting where Islam is minimal like in Ghana here, it's difficult for her to wear black or something that is print-less, design-less," Sekina said. "She wants to fit in but she also wants to try to obey God a bit. So I decided to come up with these designs that would meet such needs.
"The idea is to make it easy for our Muslim sisters and mothers to wear their hijab so that they will be always motivated to wear the hijab," Nefisa added.