In third-century Rome, a saint named Valentine was persecuted for the crime of helping young Christians in love marry despite Emperor Claudius II's decree that all men of fighting age had to remain single. However, before his persecution, he performed a miracle and healed his judge's blind daughter's eyes. Later, he wrote a letter to her with a farewell signature that made him one of the most popular saints of all time: "Your Valentine."
Little did he know that his work, signature and name would turn into one of the most successful products of modern day capitalism and a wasteful materialistic day for lovers celebrated worldwide every year. Despite being overrun with over-priced gifts and fancy restaurants, Feb. 14 is a great excuse to have a simple but intimate date night. You can express your love to your valentine and spend quality time together - let's be honest, often postpone when the hustle and bustle of everyday life gets in the way. Normally, whether it is Feb.14 or not, the only requirement of an intimate date is that two people love each other. The fun of Valentine's Day is that it gives us an excuse to go above and beyond for our makeup and outfit.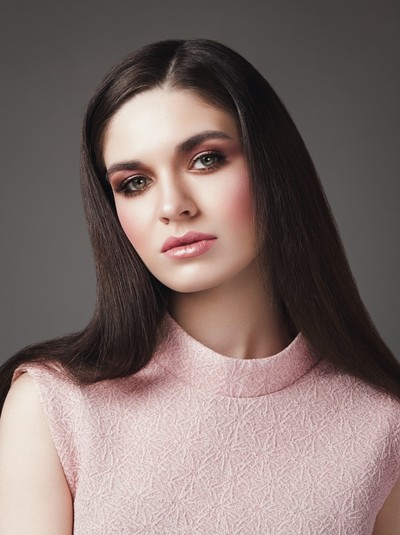 Having a look that centers on pink tones is the smartest choice for a special date.
A symbol of passion and love, red is the first color that to mind for Valentine's Day. However, although being overlooked by red-fans for years, pink tones are also perfect for the day of love as they symbolize innocence and loyalty, elements as important as passion and love in a relationship. Thus, having a look that centers around pink tones would be the smartest choice for your special date. The key to a great Valentine's Day look is to emphasize your innocence while not wiping out your feminine appeal. To achieve this, your eye makeup should start with warm pink tones in the crease to create a good, soft canvas. Then, follow up with a cool pinkish purple in your outer corner to both darken and shape the outer lid, adding a pretty winged liner to help frame your eye. The darker purple and liner will help to showcase your femininity while establishing a nice contrast to the pink, innocent crease. To finish off the lids, add some shimmer — since every special occasion needs a little sparkle — by using a liquid, shimmery color as a base and go over it with a powder. To take it a step further, a shimmery shadow as a final touch would both amp up the sparkle while ensuring everything will stay put all night. To romanticize your look even more, add trimmed fake eyelashes to the outer parts of your natural lashes to make your eyes look bigger. Finally, do not forget to go over your lower lash line with a darker pink shadow to round out the look.
The pink theme should continue for the rest of your face. Like the eyes, mixing cool and warm pinks for both your blush and highlighter would work best. For your blush, you can go first with a cool matte pink and then go over it lightly with a shimmery or satin warmer tone by slightly applying the former toward the highest point of your cheekbones, creating a middle point between your highlight and blush. This technique not only blends the products but also creates a flawless effect, making your face glow and appear more youthful at the same time. A skin with a balanced but soft glow will create the perfect Valentine's Day look. To achieve this, applying a cream highlighter before going with a powder to create a bright but not overly shiny glow. Do not forget to highlight your brow bone, the tip of your nose and cupid's bow. When it comes to lips, go with a creamy, warm pink lipstick and highlight the middle with a slightly lighter shade to make them look both romantic and plump.
Now, what to wear? The only rule is to go with your own style without trying to coordinate with your makeup — one of the most overdone trends today. For instance, if your make up is based on the guideline above, try not to wear a blouse matching your lipstick with purple pants that match your eyes, which would not only make you look old-fashioned but seem like you tried too hard to achieve this look as a hopeless perfectionist. The most important thing is to not stress. Be free, relax and try to create an overall look rather than perfecting tiny details that no one will even notice. For example, if your makeup or skin tone is on the cooler side, then greys, smoky colors and even navy blues might complete your look the best, or vice versa, peach tones, reds and oranges may be the way to go.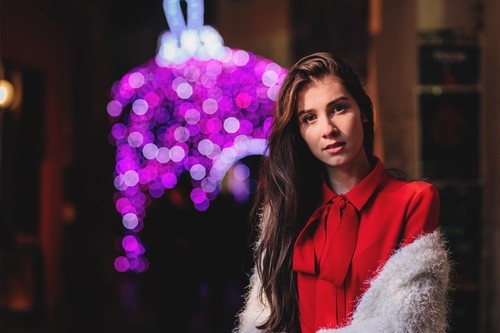 If your makeup or skin tone is on the warmer side, peach tones, reds and oranges are the best colors to go with.
For a perfect date night on Valentine's Day, going to a fancy restaurant, exchanging expensive gifts and sweet words often work to overshadow the real purpose of the day, which is meant to simply celebrate the beauty of love. Spending an extra few minutes to create a beautiful makeup look or choosing an outfit you know he will love are only two of the thousands of ways to show your affection to that special someone. The key is to find your own way of expressing your love rather than following everyone else, whether it is for Valentine's Day or not.