History repeats itself. This is one rule of the universe that is true for nearly every aspect of the life, including fashion. In recent years, the fashion industry has witnessed the return of iconic fashion trends, bringing back the nostalgia to our closets while making vintage shopping more popular than ever.
Once an elite way of shopping, the vintage world has opened its doors to us, middle-class fashion lovers and is quite widespread now. That is to say, we have other options than our mother's closet and imitation products to follow the nostalgic trend, as vintage stores become more accessible to the public.
Yet, although fashionable, stylish and definitely classy, in 2018, incorporating vintage pieces into your everyday life can be a lot trickier than it looks. With a few wrong moves, you can easily go from being a fashionista to demode. So, what are the specifics of incorporating vintage products into a modern closet?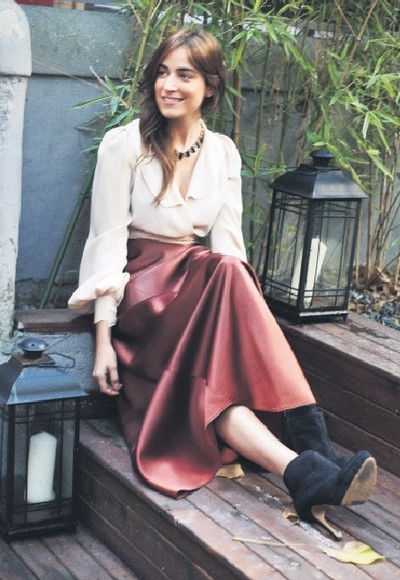 Matching a white shirt with a vintage ankle-length skirt gives a touch of history.
Before anything, be brave! Do not be afraid to try out different items with each other. Mix and match different styles, which is the essential way to incorporate vintage items with more modern ones. In order to be successful at this, first, look at the fashion combination of iconic figures like Twiggy, Audrey Hepburn, Jacqueline Kennedy and even Madonna. See how they created their own fashion style with classy items and think how you can add a twist to those styles and come up with your own, modern version.
mıx and matchSince vintage items generally tend to be classic pieces, combining them with similar items is usually the first choice that comes to mind. And, to be frank, it may work sometimes as well, especially with more dressy looks. However, for the everyday life, what we want to achieve is a modern look with a small nostalgic touch that would amp up our outfit. Thus, going with the opposite end of the spectrum, like grungy or even sportive items, would make your vintage item pop up even more and instantly make you the most stylish person in the room.
Another important factor is to not exaggerate the usage of vintage items in your outfit, especially if you are a beginner. Sometimes, we get too carried away with a trend and want to wrap ourselves in it from top to bottom. However, it may always not provide you a good appearance. One of the oldest fashion rules is the less is more, which cannot be more valid when it comes to the vintage fashion trend. Pick one or two vintage pieces. Use them either to level up your outfit or as the main piece. For the first one, accessories are the best and easiest way to go for. There is no accessory better than a vintage, classy clutch, belt or hat that would instantly change the way everything looks in your outfit, in a positive way. For the latter, you can choose nearly any piece as the star of your outfit and then choose the others as the complementary items. An oversized '80s jacket with huge shoulder padding or a '70s colorful high-heel platforms may be a good way to start to your combination.
Divide and conquer
Even if you get, for instance, a suit or a set of vintage outfits, instead of using it as a combination as it is, you can divide the items and conquer the fashion world with your style. Let's say you have a '50s suit that consists of a crop top jacket with wide collars and a bell, ankle-length skirt. When you combine the two together and put a thick belt on it, there is no doubt that you would look fabulous, just like an iconic figure or a secretary girl from the hit series Mad Men. Yet, it also a means that, other than being fabulous, you would also look like someone out of this world: Too classy, too nostalgic. Good for a masquerade ball, photoshoot or a '50s themed wedding maybe, but not for the everyday modern girl.
However, when you use these items separately, suddenly you may become the fashionista who knows how to combine past with current trends. You can combine the crop top jacket with high-waist jeans, a turtleneck tight blouse inside and ankle-length booties. For the skirt, keep the turtleneck tight blouse and the thick belt that we initially used for the suit. The booties may stay as well. Pick a leather jacket and put a bun on top of your head and hoop earrings. Now, look at yourself in the mirror, you've successfully managed to bring vintage together with the modern. You are good to go!