Though everyone has their own sense of style, it is impossible to deny the influence of trends and friends on our personal look. In fact, the way others dress, talk and act are bound to sway our sense of self in one way or another. This phenomenon leads to habits in our daily lives, such as dress codes in certain situations or natural, less-dramatic makeup for day-to-day wear.
Luckily, the occasional concert, party or night out gives us a chance to really shine and to cast off our mundane daily routines for livelier looks. Though fun events are held throughout the year, they generally fall during the vibrant months of summer. This lively time of year calls for colorful makeup, and my mind immediately wanders toward one of the craziest and most vibrant decades for makeup, the '80s. Let's get started. Always remember to start your eye makeup before your face to save yourself touch-ups later, especially since the bright colors I am suggesting tend to cause excessive fallout. Primer is a must to keep your pretty shadow in place and looking vibrant. Remember, you can always use concealer as a primer if you are feeling frugal since it will work just as well as any primer on the market to preserve your look. Next, pick a color that suits your personality, the event your attending and the overall atmosphere of the locale. For me, this color is usually pink because parties always remind me of the '80s, the decade of daring, bright, in-your-face colors.
Once you pick your main color and a range of shades that compliment it, start to build up your crease to define your look. If your color is pink, for instance, use a fluffy crease brush and a light pink to go over your crease, being careful not to overload the brush - too much product will make blending difficult later. Though it may seem tedious, keep adding color with light strokes and blend until you achieve a perfectly integrated, seamless look. Then take a darker pink on a smaller brush and go over the area right below your crease. Doing this will create a beautiful ombre that will help define the shape of your eyes.
Once you are done with your crease, select a darker color for the outer corners of your eyes. For this look, I used a pink-purple because it really complimented the lighter shades on my crease. Careful blending is crucial at this stage as you want the edges of your outer corner shadow to meld perfectly with your other shades. Use the same darker color for your inner corner to create a halo effect. To define your look even more, take an even darker color - for my pink look, purple or pink would work - and apply it to the very corners of both the outer and inner parts of your eyes.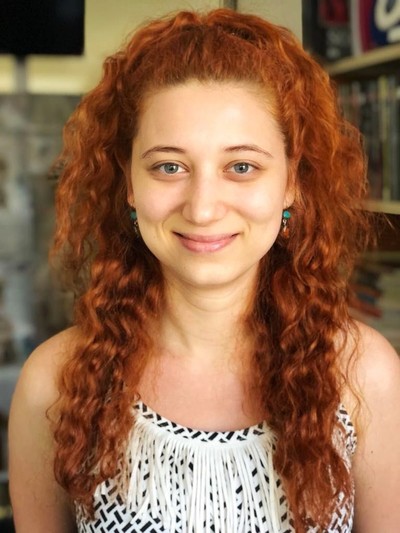 Our model before and after the makeup application.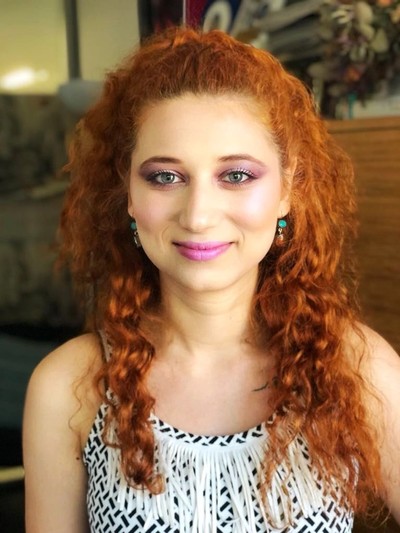 To emphasize the halo look even more, use the cut-crease technique. For this, apply concealer on the middle of your lid to create a base for your new color. Set your cut-crease with a powder and go over it with a pink or purple shadow, which will be the dark base for the next step: The shimmery shadow that will reflect the base color. With its glam shine, the shimmer will ensure that you are the star of the event. Though any shimmery shadow would work, one with pink or purple tones would compliment this look the best.
For your lower lash line, create a shadow with the same colors as your crease. To make your eyes pop even more, go over your inner lash line with a dark purple or pink liner. Don't forget to highlight your very inner corner and your brow bone with an icy or purple-tinted highlighter.Now for your face. There are two vital parts to this look: Highlighter and blush.
The blush is easy since your going for a vibrant '80s look to begin with. A light pink blush will do the trick. Proper highlighting is the key to this look, so applying it requires a few steps. First, use a liquid highlighter with a pink undertone as a base. Then, go over that with the same highlighter you used on your inner corners and brow bone. Next, take the shimmery shadow from the middle of your lid and put it on the very center of your cheeks. Use a similar technique for your lips as well. Normally we would pair our heavy eye look with nude lips, but for our vibrant look stick to pink. Choose a lipstick that compliments the pinks and purples of your shadow and after applying it, put the shimmery shadow on the middle of your lips to complete your look. Congratulations! You now sport what is guaranteed to be the most reflective and vibrant makeup in the room and one that could possibly be spotted from outer space.