London-based Turkish designer Zeynep Kartal presented her 2019 spring/summer collection inspired by the wreath-shaped diamond piece given by Ottoman Sultan Selim III to the British Vice Admiral Horatio Nelson on the catwalk Saturday at London Fashion Week.
Held at London's Goldsmith's Hall, the show presented Kartal's work inspired by the era of Sultan Selim III – a reform-minded sultan who reined from 1789 to 1807 – and also displayed many historical artifacts from the Ottoman Empire in an exhibit.
A replica of the wreath-shaped jewelry, consisting of 300 diamonds, was one of the highlights of the show and was the main inspiration for her collection, Kartal said.


A special exhibit featured a mosque-shaped clock over 220 years old that was designed by Sultan Selim III but could not be delivered to Admiral Nelson. It also included pictures of the two and correspondence between them.
The exhibit also featured jewelry belonging to Queen Elizabeth II, arranged for the show through a first-ever special permit.
"Until today, I have always strived to incorporate elements that introduce my country into all of my collections. The inspiration for this collection was the friendship between Sultan Selim III and Admiral Nelson. I used the diamond wreath that consolidated the friendship between the Admiral Nelson and Sultan Selim III as inspiration to prepare my collection," Kartal said.
After my show, I hope that this wreath can remain as a token of the friendship between the two countries," she added.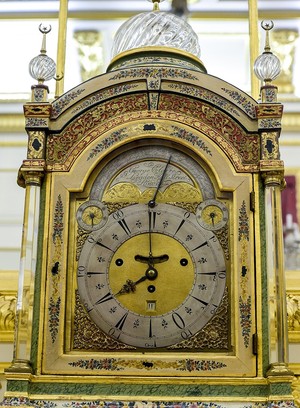 Fecir Alptekin, one of the Turkish president's principal consultants, Turkey's London Ambassador Abdurrahman Bilgiç and Members of Parliament E. Sare Aydın Yılmaz and Ömer Faruk-Züleyha Özgül were some of the special guests who attended the show.
England's star actors Candine Brown, Victoria Ekanoye, Montana Brown, Hayley Hughes, Samira Mighty, Zara Mcdermont, Kimberly Garner, Olivia, Arben Gemma Oaten and Bhavna Limbachia also attended.
Zeynep Kartal introduced her brand to the fashion world in 2013, following more than 20 years of experience in the fashion industry in a variety of areas including textile, design, production and marketing. Mesmerizing her followers with modern lines and elegant silhouettes, Kartal's designs are sought after by American and British celebrities including Whitney Port, Coleen Rooney, Pixie Lott, Amanda Holden, Marina and The Diamonds, Michelle Keegan, Cheryl Cole and Lady Gaga. The designer also created the costumes for historic Turkish TV series "Direniş Karatay."