The world's luxury brands from many different countries continue to invest in Turkey. Luxury hotel chains, foreign restaurants and textile brands have opened new locations. Brands that believe in the Turkish economy and Turkish purchasing power are increasing their investments.
One of these brands is Eleventy. The Milan-originated brand Eleventy opened its first store at İstinye Park shopping mall in Turkey. Eleventy means rising. In the textile world it represents quality, luxury and loyalty with designs for both men and women. The creator of the brand Marco Baldassari founded the brand 11 years ago. He's a real Italian gentleman. A businessman who combined experience with vision. He learned fashion not in school but on the streets. Having worked previously as a sales representative in the textile industry, he has a very good analysis of what upper segment consumers expect from the fashion world.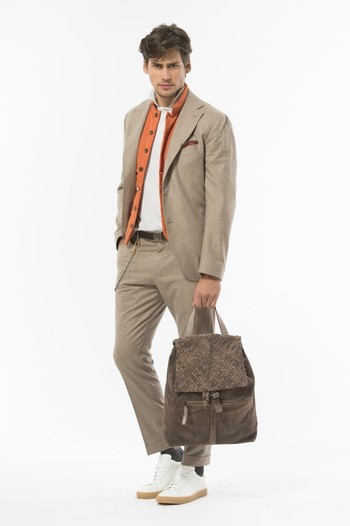 In addition to dominant colors such as navy, coffee and gray, there are also ambitious colors like orange.
Baldassari stated that when he was forming the brand, he preferred the "responsible luxury" concept rather than the "affordable luxury" slogan with the aim of sustaining the balance of best price, best product. Aiming to offer the highest quality rather than making a very high profit, he invested in the product.
Baldassari claims that fashion actually means being new plus staying new and adds, "Men are different now than they were 10 years ago. Our target group is 25-to-70 year olds. Among them there are men who want to look younger. It is important not to look funny when trying to look younger. That's where our expertise comes in. I especially love doing research on innovations and meeting new demands."
Baldassini says that they use all natural products and have a sustainable environmental policy and through this sensitivity their aim is to make people feel better. He stresses that a person who comes to Eleventy could change his entire look, meaning his style from head to toe. Baldassari says, "If you can express your lifestyle, you will be understood better. The outfit is one of the best tools to tell about yourself. For that reason our brand is constantly developing and changing to meet the way of your self-expression."
Indicating that he is quite happy to invest in Turkey, Baldassari notes, "We have adopted the style that we call casual-luxury with plain lines. For that reason, we do not use our logo in our designs. Consumers in the Middle East like the super brands that place the logo on the forefront. Our targeted customers like to be exclusive but they do not like to show off. Turkish people are the same. They are more simplicity lovers and really sophisticated. They are following the world trends, an updated crowd. Thus Turkey is the only country we could come and open in, in the Euro-Asia and Middle East area. I trust the taste of Turkish men. They understand quality and they really know how to make the right combinations. Plus, Turkey is reassuring economically. We really want to open more shops in Istanbul. After a while, our designs for women will be found in stores soon. I think that none of the negative rhetoric about Turkey that you hear abroad is true. When you walk around Istanbul, you realize that the negative talk is not real."
Emphasizing that Turkey is quite good in the service sector, Marco Baldassari says, "Turkish hospitality is really impressive. You can feel the perfectionism of Turkish people from the service sectors such as hotels and restaurants. It is such a joy to spend time in Istanbul. Everyone is stylish, dressy and friendly. Tasting Turkish cuisine is also a great pleasure for me."
When we take a look at Eleventy's design for men, we see leather goods, cashmere fabrics and fine details. The brand's iconic models include laser cut jackets and polo collar products. In addition to colors such as navy, coffee and gray, this season there are also ambitious colors like orange. The personal tailoring service is quite impressive. Fabric variety is rich. Leather bags and cashmere scarves are excellent. We wish good luck to the brand that recently organized its first fashion show in Turkey. I recommend that you go discover Eleventy's store in Istanbul as soon as possible.

TIPS OF THE WEEK

TOP 3 RESTAURANT OF THE WEEK
- Galvin / Nişantaşı
- Mitte / Karaköy
- Alaf / Kuruçeşme
TOP 3 HOTELS OF THE WEEK
- The St. Regis / Nişantaşı
- Richmond Nua / Sapanca
- Nişanyan / Şirince
TOP 3 PEOPLE TO FOLLOW
- Marco Baldassari / Businessman
- Yağız İzgül / Chef
- Atilla Mutlu / Stylist