After putting on a spectacular display at the Turkish Fashion Fabrics (TFF) Show in Bursa, Daily Sabah sat down with Atıl Kutoğlu, just one of Turkey's many home-grown and internationally-acclaimed fashion talents, to see what fashion trends we should look out for this season.
Offering insight into the hottest trends and must-have looks for the fall/winter 2018-19 season, the Turkish designer said last year's oversized trend is being dialed up a notch this season, with items four-to-five sizes bigger becoming the norm.
"Think bigger is better," Kutoğlu said, adding that this season was all about voluminous and dramatic shapes, exaggerated and "supersized" shoulder pads from the 80's and comfy fits.
Let's not forget about all the shine and glitter though. Sequins which have been dominating the fashion world for some time now are here to stay, especially as the holiday season is right around the corner. According to Kutoğlu, high-shine and glitz will be one of the biggest trends of the year. "Mixing prints will also be popular. For example think of a tartan skirt with flowers," he said.
Find your own fashion voice
Kutoğlu also touched upon the changing trends and dynamics in the fashion world. The designer said fashion is always changing and has become more liberal these days. However, just because someone favors wearing skin-tight jeans when oversized clothes are in fashion doesn't necessarily mean they are outdated: Fashion trends' lifespan might be short but some key looks will never change.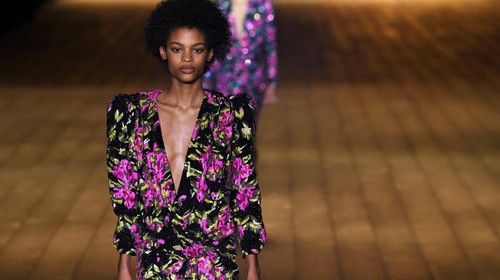 A model presents the Saint Laurent collection during the 2018-2019 fall / winter fashion show.
Known for his designs featuring feminine silhouettes, dreamy fabrics and simple lines with sophisticated twists, Kutoğlu said the important thing is not to be a slave to the trends and to find your own voice, but mix it up from time to time.
Collaborations with brands
Fashion collaborations are the big thing in the design world. Everywhere you look, it's possible to come across a new collaboration between a designer and internationally-acclaimed fashion brands.
Acknowledging that for fashion designers of any origin being invited to partner with a bigger, international brand can be a huge turning point and opportunity to grow, Kutoğlu said that he is open to co-branding partnerships with Turkish brands who are trying to launch their label onto the global map; however, the Turkish designer said a collaboration is currently not on his agenda.
Turkish textiles for luxury brands
Underscoring that Turkey not only produces fabrics for high-street brands like H&M but also for luxury and high-end brands such as Max Mara, Hugo Boss and Armani, the designer said Turkey was becoming a more prominent name in the industry with each passing day.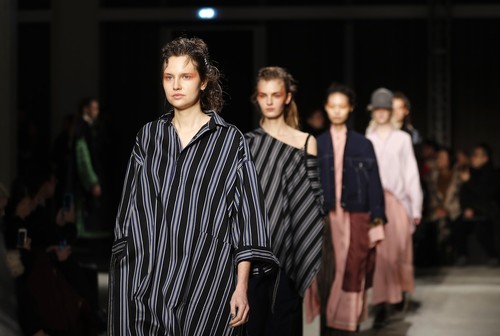 Models wear creations part of Ujoh women's Fall/Winter 2018-2019 collection, presented during Milan Fashion Week
On the topic of branding and exposure, Kutoğlu said Turkey's only shortfall in the industry was in making a name for itself and building its brand.
"Not many Turkish brands are branching out to reach international audiences," Kutoğlu said, adding that most Turkish retailers had achieved this by chasing exhibitions and fashion shows across the globe, whereas the ready-to-wear industry still lagged a bit behind.
"There still isn't a prominent awareness about Turkey in the ready-made garment industry. All I have to say on the topic is advertise and promote. Our apparel industry doesn't reflect our power and prominence in textiles," he said.
Ideas for a new collection
Kutoğlu also gave Daily Sabah hints about a new collection in the making.
"I designed costumes for 300-350 performers of the Ankara State Opera and Ballet (ADOB)'s production of 'Troy.' Doing that really inspired me. I am now thinking of creating new collections by drawing inspiration from the ancient civilizations of Anatolia," he said.
Reminding readers of the time he used the "Gypsy Girl" mosaic from the Zeugma Museum in southeastern Turkey in one of his designs, Kutoğlu said such projects incorporating elements of national history and pride were key in promoting Turkey and its design capabilities.
On the topic of government funding, Kutoğlu said he expected more incentives from the state for up-and-coming designers.
"I found a chance to display my collections at New York Fashion Week for many years thanks to Turquality, a program which includes support for the marketing of products with potential for branding abroad," he added.