Istanbul presents many opportunities for chocolate lovers to satisfy their cravings with an abundance of chocolate shops and patisseries. From purist-pleasing dark chocolate to inventive, artistic creations that (almost) look too good to eat, Istanbul's chocolatiers really do raise the bar when it comes to sweets. Take a look at our mouth-watering list of the best chocolatiers in Istanbul!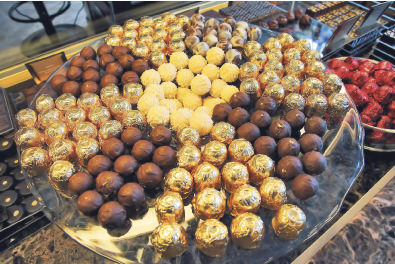 Baylan Patisserie in Bebek
One of the oldest patisseries in Istanbul, Baylan is now a modern branch in Bebek that includes a triple-story restaurant, a patisserie and bar. Founded by Albanian immigrant Filip Lenas in 1923, Baylan first started out under the name Loryan, which was later changed to Baylan in 1934. Baylan's menu includes a variety of desserts, such as mille-feuille, tiramisu, macaroons, and mousse au chocolate, as well as pastry products like quiche lorraine and croissants. But what is really legendary about Baylan is their chocolate. Baylans delicious chocolates come in bitter, milk and white and are filled with a variety of flavors including marzipan, bergamot, mastic, Baileys and cinnamon and Amaretto. Their Moncheri chocolate with raspberry and liqueur is a must try as well. If you prefer something extraordinary, go for the famous Kup Griye dessert which is made from ice cream, caramel sauce and brittle. Whatever it is you choose, you're sure to be looking for some more!
Fact: During the 1950s and 1960s, Baylan was frequented by many poets, painters, writers and actors, such as Atilla İlhan, Behçet Necatigil, Haldun Taner, Cemal Süreya and Orhan Kemal.
Address: Cevdet Paşa Caddesi No.52-54/ Bebek / www.baylangida.com / 0212 358 07 60
Divan Patisserie in Bebek
If you're looking to enjoy some savory chocolate while overlooking one of the most scenic stretches of the Bosporus, you're in luck! Divan Patisserie has been serving chocolate-crazy customers since the late '90s and has gained a loyal following for their excellent cakes, pastries and chocolates. Divan's product range includes chocolates with pistachios, almonds, coffee, coconut, truffles and chocolate-covered dragees. Prepared with the finest cocoa beans from Ghana, Madagascar, Equator and the Dominican Republic, Divan's chocolates are to die for. Besides their chocolate, another signature product is their Rococo Ice Cream Cake, which is an indulgent ice cream cake topped with warm chocolate sauce, perfect for the hot months ahead of us. After a wonderful treat, buy a box of Maron Disguises (chocolate covered chestnuts) or a box of Divan's signature Turkish delight for the ride home.
Fact: During Ramadan, the classic Güllaç, a special Turkish dessert made from a thin sheet of filo dough, milk and pomegranate, is a popular choice among customers. Give it a go!
Address: Cevdet Paşa Caddesi No.28/A / Bebek / www.divanpastaneleri.com.tr / 0212 257 72 70
Valonia Chocolate in Beşiktaş
When walking through Beşiktaş's narrow streets you might just get a whiff of yummy chocolate and that's when you know you've arrived at Valonia. Valonia, an originally Belgium brand, offers high quality chocolate that ranges from pralines, dragees, exclusive tablets, handmade specialties, couvertures, ice cream sauces and patisserie products for consumers. Its most famous treat is definitely the Valonia Chocolate Islak Kek which is like a mixture of a brownie and a soufflé, covered in your choice of either white or milk chocolate and topped with strawberries, bananas and kiwis. Other delicious treats are the waffles, tiramisu cakes, profiteroles, cheesecakes and brownies. After enjoying your slice of heaven, head down to the Valonia Chocolate shop, which is right below the Valonia Cafe, to purchase some yummy treats for your friends or family.
Address: Ihlamurdere Caddesi No.40/B / Beşiktaş / www.valonia.com.tr / 0212 259 18 50
J'adore Chocolatier and
Cafe in Beyoğlu
As you can tell from the name, this tiny yet intimate chocolatier and cafe in the heart of İstiklal Avenue is the perfect place for chocolate lovers. Once you've decided to pay a visit to this amazing cafe, be aware that you might have to wait in line for a couple of minutes, as the shop is quite small and is always packed with chocolate-crazy people like yourself. Due to their small shop, J'adore also shares the next door pizza shop – La Fontana Restorante & Pizzeria – for extra space.
The most requested and loved item on their menu is their "Oh la la Beatrice" sweet. Consisting of J'adore's home made chocolate, strawberries, bananas and Italian whipped cream, this dessert is an all-time favorite for their loyal customers. After eating your dessert, ask for some Turkish tea for the perfect ending to a flavorsome treat.
Address: İstiklal Cd. Emir Nevruz Sk. No. 22 / Beyoğlu / www.jadorecikolata.com / 0212 249 03 33
Meşhur Beyoğlu Çİkolatıcısı
in Beyoğlu
As you're walking along İstiklal Avenue in Beyoğlu you will see a little stand selling chocolate bars in plain tin foil paper. This little shop is the Meşhur Beyoğlu Çikolatıcısı (Famous Beyoğlu Chocolatier). The manufacturer behind these nostalgic grab-and-go chocolates is Elit, a chocolate company that has been around since 1924.
Famous for their milk and dark chocolate bars filled with enormous hazelnuts, pistachios and almonds, this tiny stand is both inviting and intimate. While walking to work or just roaming the stores on İstiklal Avenue, make sure you stop by and get some chocolate to go.
Address: İstiklal Caddesi No. 69/ Beyoğlu / www.elit-chocolate.com / 0212 249 53 64