In the last few years, the Islamic holy month of Ramadan has fallen in the long and hot summer months. Without a shadow of a doubt, fasting during such long days takes effort, yet everyone can enjoy summer nights, especially the time between iftars – the evening meal to break the fast – and sahurs – the meal eaten before fasting. This year, Ramadan, which is seen as the most fruitful time of year by Muslims around the world, will pass more delightfully as students are on their summer holidays, the time between iftars and sahurs has shortened and cool summer nights are ahead of us. Here is the to-do list of Lacivert Magazine for Ramadan with 10 recommendations.
1 Tarawih prayers outside:
During the summer months, joint prayers like the Tarawih prayer are done in mosque gardens. We recommend you perform Tarawih prayer at least once outside. You will have a spiritual experience under the stars while a warm wind is blowing,. Bear in mind that during Ramadan you will see more children around as people will be enjoying summer evenings with their children outside. Instead of children's cheer, you may concentrate on listening to the sermons of the imams at mosques.
2 Have an iftar meal at Sultanahmet and sahur in the Eyüp district:
After breaking your fast anywhere around the famous Sultanahmet neighborhood – please do not have large picnic on the historic avenue as we are strictly against it – you can perform the Tarawih prayer at Sultanahmet Mosque and attend an open-air Ramadan program there.Following the Tarawih prayer, you can also join the crowd heading to Sultanahmet Square. Alternatively, you can go to the Eyüp district where you can wait until sahur on the street and the morning adhan. Again, we kindly remind you not to have large picnics there, but have small meals.
3 Have an iftar with your neighbors:
We recommend you participate in an iftar in your neighborhood or nearby large housing sites. It is an opportunity to become familiar with your neighbors and have a meal with them at least once in a year.
4 Have a street iftar:
Generally during every Ramadan, metropolitan and district municipalities organize large iftars. Enjoy a Ramadan evening at one such event. It might be crowded, but you can join the crowd and when dusk descends and street lights switch on, you will be sharing mercy and grace with others at the same table.
5 Break your fast with a picnic:
If the sun is shining and there is some space available for a picnic, then you should break your fast with your friends while having a picnic at least a couple of times during Ramadan. By the way, do not forget a ball, barbecue and jump rope.
6 Invite guests to three iftars at home:
We have an iftar menu recommendation for you. The best iftar menu should include watermelon and white cheese. If you invite guests to summer iftars, there must be some ways to make it easy.
7 Have iftar as a guest three times:
You probably want to have more meals at your friends' houses, but three iftars would be ideal. The weather is fine, but you do not have go out every day. We remind you that Ramadan is a month of prayers, not a time for socializing. Why not stay at home for some time then?
8 Have at least three iftars with family:
You know families are not guests. Have iftar meals at relatives' houses or invite them to your house. It does not matter whether they are close or distant.
9 Enjoy open-air cinema after the Tarawih prayer:
As we said before, Ramadan is not a month for entertainment and we should keep this in mind. This list does not mention the cheerful activities of municipalities running in parallel with Tarawih prayer times.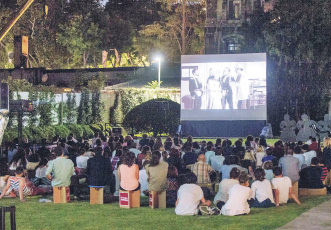 This is because we do not have a subtitle like "Jazz in Ramadan." However, after the prayer you can watch a film in an open-air space and stay awake until sahur. Enjoy a film sitting on a cushion and eating sunflower seeds.
10 Staying awake until sahur following the Tarawih prayer:
As Ramadan currently comes in the summer months, Islamic faith guides have a new question to answer: Does sleeping break fasting? There is a common saying in Turkey that if you sleep a lot while fasting, especially on hot summer days, it is described as a "student-style fast." However, the most beautiful part of Ramadan in summer is staying awake until sahur. If you are not a student or work an overtime job, you are advised to have a long chat with your friends while waiting for sahur.