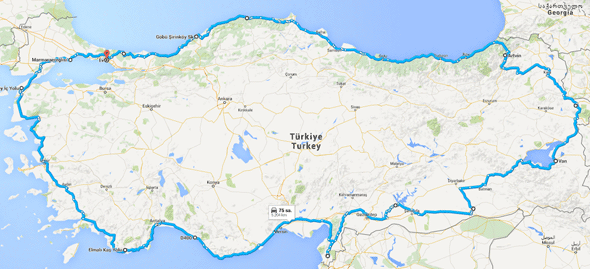 Gülşah Merve Yüksel is a third year student at the Maltepe University's Mentally Handicapped Teaching Department. She is a brave and sensitive woman who is in love with her profession and motorcycle. Yüksel's life is shaped by her passion for motorcycles, a passion she learned from her father at an early age. She received her motorcycle driver's license at the age of 17 and the more she travels on her motorcycle, the more she feels free and encouraged. This time she has set off on a journey for Turkish women and her country. Yüksel is planning to tour 28 cities in Turkey on her own. She has a travel route following alternative roads instead of main highways. Yüksel will discover Turkey's untouched beauties. With her Yamaha MT-07 Moto Cage, she started her trip from Istanbul. She has decided her own travel destinations and is sure that local people will embrace her wherever she goes.
Yüksel is dedicating her journey to Turkish women because she is greatly influenced by the difficulties and abuses suffered by women around the country. She thinks many girls are under constant oppression and grow up with fear and pressure. "Women start to earn their freedom and become self-confident people from childhood. The more self-confident people are raised, the more societies will be free. Courage is when someone can stand on their feet. I owe my family very much in this regard," she said. Yüksel said she wants to show that she can be successful in many fields, even in motorcycling, which is seen as male pastime. "Women do not deserve to stay at home or do certain jobs. It will be an important step for women to have courage like I have," she continued.
Yüksel said women can achieve many things and become much freer. Her journey is a show to encourage Turkish women. She was also triggered by the experiences of tourists who tour around the world on two wheels. "I want to create something that will contribute to Turkey's positive image abroad. Turkish people are hospitable and like helping other people. I know they will embrace me and the whole world will see this. In newspapers we always see unfavorable news about Turkey. I wanted to do something to show most of the people in Turkey are good," she said. Yüksel's tour will not end after 36 days. She has different aims and routes as she is planning to tour around the world on her motorcycle. "The world will know my name one day," she said.
Yamaha Motor Turkey will be the transportation sponsor of Yüksel who plans to visit 28 cities in 36 days. Yüksel has been taking private lessons at the Yamaha Riding Academy and she first opened up to Yamaha about her project. "Turkish women need a little push and support," Yüksel said. "There are many women in Turkey who can take bold steps like I do and have power to achieve great successes. With a little support, they will have the courage to use their power." She said it is important for companies to be sensitive about these women and support them. "My second chance was Yamaha. As soon as I shared the idea of my project, they trusted in me and wanted to be a part of this thrill," she added. Aside from transportation sponsorship, Yamaha Motor Turkey will provide maintenance and service support at its certain service points. Yüksel will be welcomed by its staff at 17 service points. Yamaha is carrying out many projects and events to encourage women to start motorcycling. The company distributes free helmets and organizes free mobile Yamaha Riding Academy training, roadshows, test drives, university seminars and social competitions. Yamaha also introduces creative designs to attract more women to its showrooms.