'A seed of doubt along with hard trials,' are the reasons 23-year-old United States based Filipino student Charizz Legaspi gives for why she stopped going to church and eventually turned to Islam.
Charizz is one of thousands of people worldwide who become Muslim every year. But, like many new converts in the Western world, she has struggled due to a lack of support for her new faith.
Research suggests that Islam will be the world's largest religious group in the second half of this century: "The number of Muslims is expected to increase by 73 percent - from 1.6 billion in 2010 to 2.8 billion in 2050," U.S.-based Pew Research Center said in April this year. In North America, the research company claims Muslims and unaffiliated are the fastest-growing religious groups.
For Charizz, there was a point in her mid-teens when she said she "really started to doubt the belief I was taught at church." "If you do not come into that particular church and accept Jesus as the son of God and a savior, then you would not go to heaven. It really hurt me to think that my Daddy who passed away would not go to heaven because he was Catholic and not part of the Church of Christ," she says.
Charizz moved away from religion despite still believing in a higher being. Later she started to study Islam and the Prophet Muhammad. Working as a customer service representative in the U.S., she "slowly but surely" embraced Islam just before the important post-Ramadan Eid al-Fitr celebration in 2013 by saying her Shahada. Shahada is the short public testimony to declare that a person accepts that there is no god but Allah and Muhammad is the messenger of Allah.
After this, Charizz turned to online resources in her quest to learn more about her new religion: "I could not sleep without reading about or watching videos on what Islam was and what it meant to be a Muslim," she says.
The difficulty lied in finding 'certified' information. For that, she turned to her Muslim friends and wider community to answer her questions and clear her doubts. "Watching videos, reading translations of the Quran and Hadith [sayings attributed to the Prophet Muhammad], and asking Muslim friends helped when I needed clarification," she says. However, unlike Charizz, many people do not have the opportunity to reach out to fellow Muslims directly. To meet this need, some groups have stepped up efforts to stream reliable information to new Muslims.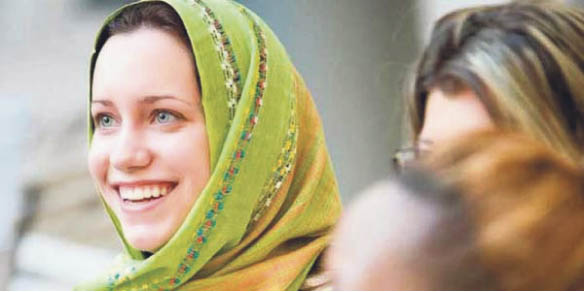 According to the Pew Research, Muslims and unaffiliated are the fastest-growing religious groups in North America.
One of them is New Muslim Care, or NMC. Originally founded in Canada by Muslim converts, the group is now active in five countries, including the Philippines and Australia. Charizz says these sorts of initiatives are helpful for new converts "especially in the beginning when you are learning how to pray and all the basics of being a Muslim."
Speaking to Anadolu Agency during a recent visit to Istanbul was NMC general-manager Julien Drolon. The 33-year-old French convert said Canadian newcomers to the religion founded the initiative in 2012 after noticing that some new Muslims were drifting away from Islam. This was blamed on confusion, a lack of social support and the absence of reliable, easily accessible information.
The NMC group now provides handbooks, courses and social gatherings for new Muslims. "When you buy a product, you get support, right?" Drolon says, adding that: "New Muslims need support."
As a convert himself, Drolon said he had a hard time after embracing Islam because he cut off old relationships. "I stopped partying and music. I lost my friends. For six months, I felt alone," he says. The NMC's social gatherings helped him to smooth his transition to the new religion. This is not a problem unique to Drolon, rather a common challenge for many converts. Drolon estimates that about a quarter of new Muslims have problems with family and the community.
Ahmet Yukleyen, associate professor of international relations at Istanbul Commerce University, says that converts often face the following dilemma; being abandoned by their community but not yet being fully integrated in their new community. "In general, the converts' relationship with their family and friends is troubled. Also, even if the Muslim community takes care of them in the early phase of conversion, they leave them alone later on," he adds. Charizz says her relatives in the Philippines - a mostly Catholic country - did not approve wholeheartedly of her decision and her family in the U.S. directed many questions to her like: "'do you worship Mohammed?'"
"I also faced some taunting from family members and co-workers telling me that I was now a 'terrorist', and that I turned to the 'other side'. Of course there were also the stares I would get when I started wearing the hijab," she recalls. She eventually became a member of an Islamic community in Washington State and regularly receives guidance and support from them as well as from the imam at her mosque.
For outreach groups, a lot of effort is put into producing supportive literature. The NMC publishes books for converts to learn more about Islam. Drolon says the group has prepared an introductory book with the help of Muslim scholars.
He said the book helps the converts to prioritize the religion. "Islam is so big. For example, many new Muslims do not know that they have to pray after becoming a Muslim," Drolon says. "In terms of downloads, [people in] 80 countries around the world have already downloaded it," he claims, adding that they have been working on a curriculum for converts. They have also started a YouTube channel.
Regardless of those efforts, embracing the new religion and learning its basics depends on one's will, Charizz thinks: "It is a personal responsibility to go out and seek that knowledge on being a Muslim. The first revelation of the prophet was to read, and so I think, if anything, the Quran and Sunnah [teachings and deeds of the prophet] is the perfect place to start."