To the surprise of many, there are articles and columns swirling in the Turkish media about a restaurant chain and its owners. We say "to the surprise of many" because a vast majority of people in Turkish society had no idea about the restaurant's owners until recently.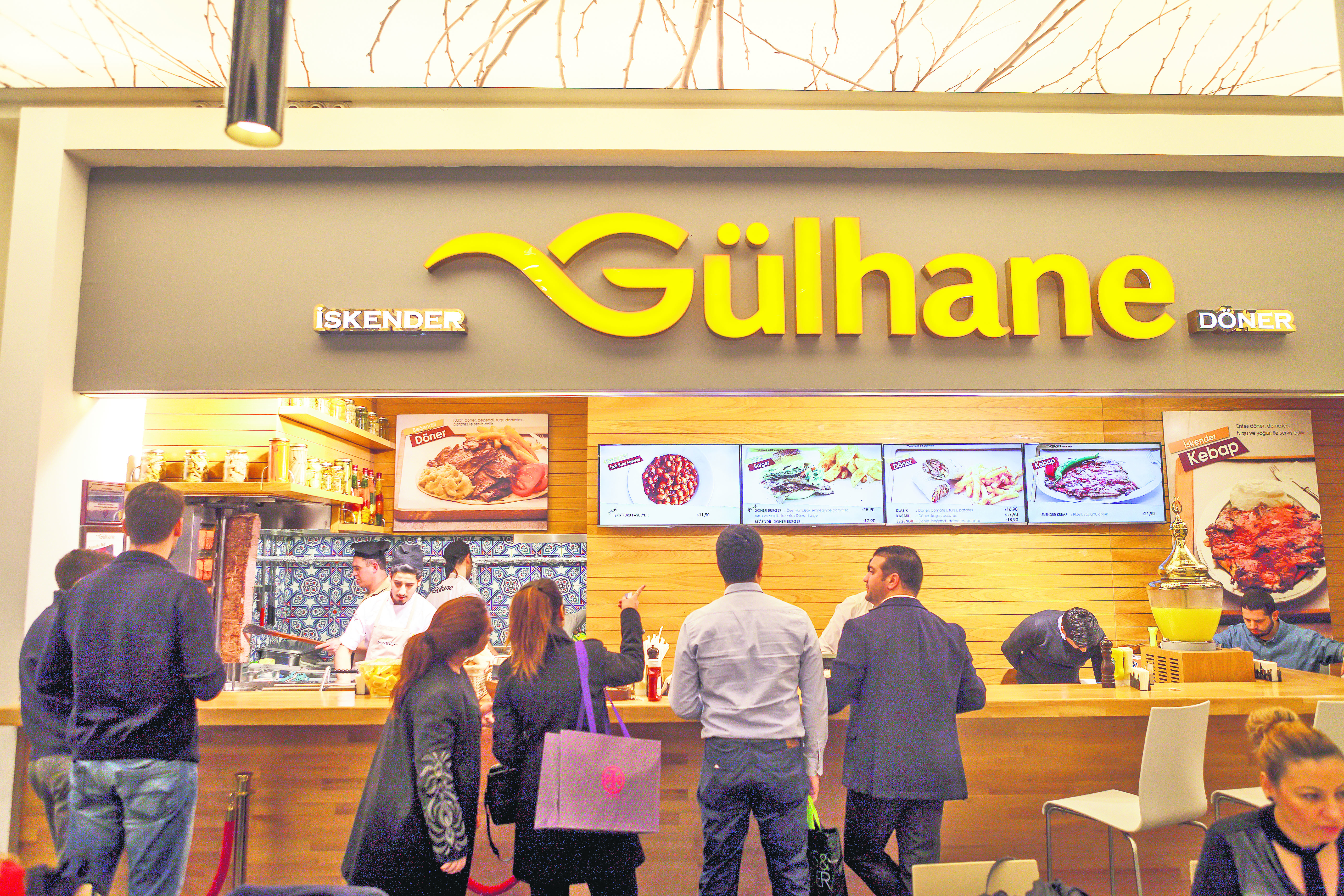 We made our way to the highly talked about restaurant on a chilly Istanbul afternoon. Gülhane Döner, one of five restaurants under the Doruk Izgara company, has a relatively modest location at Zorlu Center mall. We were quite astonished to learn that two of the owners of this restaurant are Bilal Erdoğan and Sümeyye Erdoğan. Bilal and Sümeyye Erdoğan, yes, as in President Recep Tayyip Erdoğan's son and daughter. We figured, at first glance, that people hurriedly racing to order meals did not know anything about the speculation surrounding the change.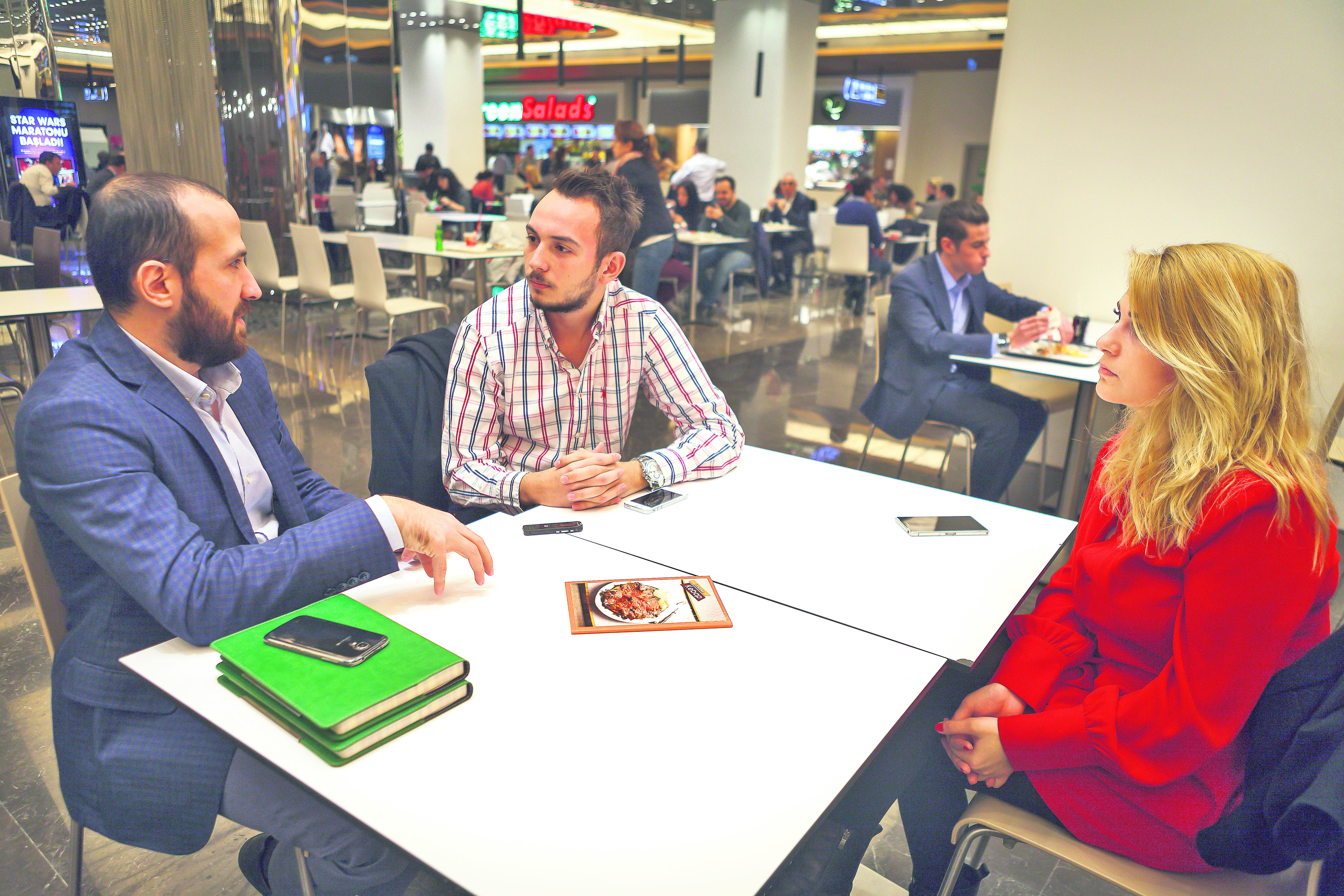 Ali Bahadır Yeşil (L) speaks with Daily Sabah's Yunus Paksoy (C) and Seda Dolgun

As we breathe in the delicious smell of fresh döner, Ali Bahadır Yeşil, one of the four owners, gives us a warm welcome. Before we get down to talking about business and the rumors in the media, Yeşil presents us with the wide range of specialties that Gülhane Döner has to offer. Apart from İskender Kebab, Döner and Ali Nazik Kebab with döner, one can try local tastes such as mantı or İspir kuru fasulye (white beans).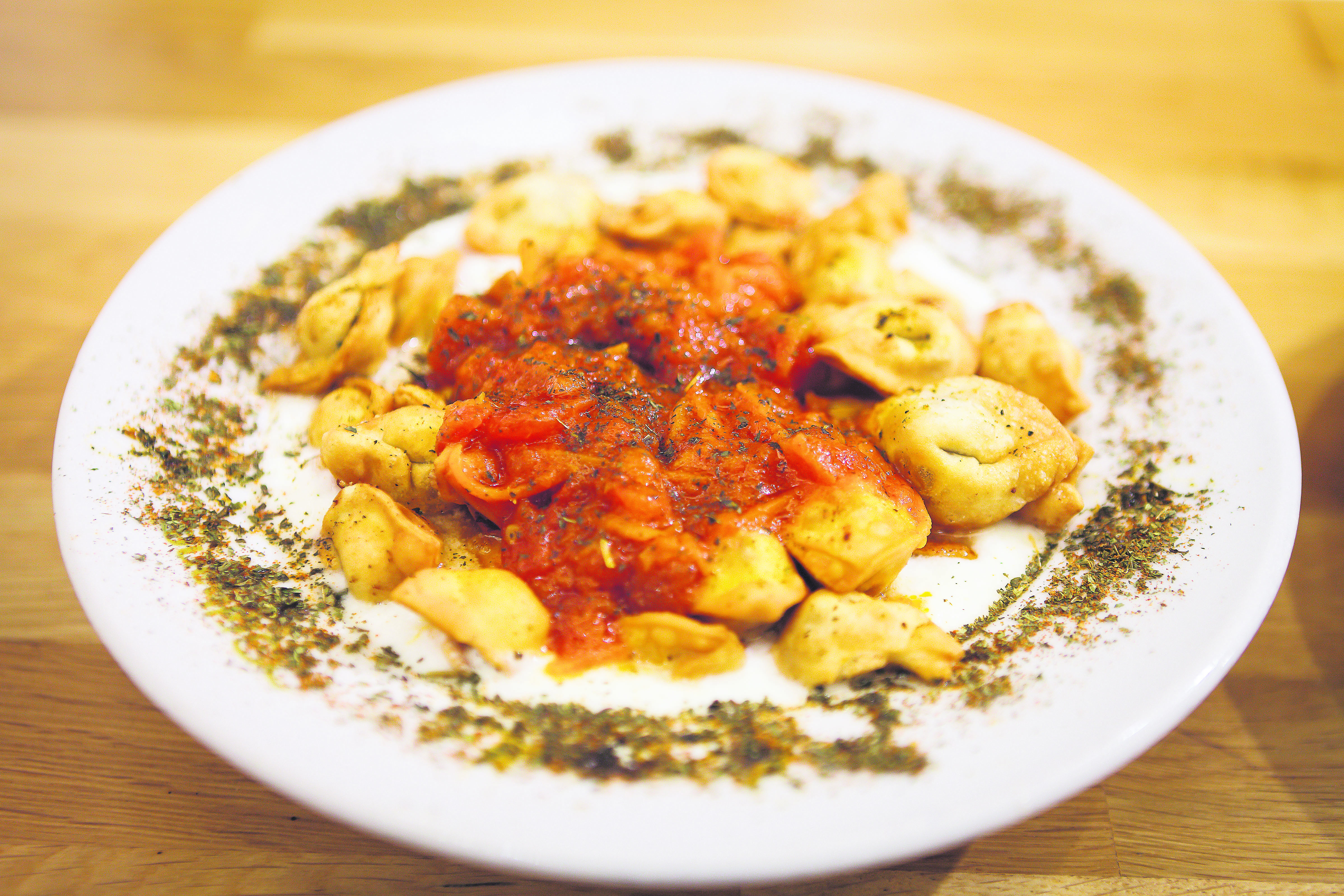 Having shared the details of the company, Yeşil also addressed recent rumors. He said that he and his partners just shrug off claims and even defamation vendetta against the company and still have aims to expand their branches. Despite that, he denounced the endless allegations about his partners, arguing that such "politically motived" claims are targeting Bilal Erdoğan, himself and his family.
DS: Can you talk about your products and Gülhane Döner?
Ali Bahadır Yeşil:
Gülhane Döner was launched with the opening of the Zorlu Center. The meat we use in our döner only comes from the most distinguished butcher shops. We prefer animals from the Thrace region. We create very appetizing döner. We offer a wide range of choices, including traditional Turkish meals such as kuru fasulye, çıtır mantı and İskender. We also serve a special döner burger and "Ali Nazik" kebab with döner, which are quite popular. We are very selective in choosing our chefs. We are trying to pay attention to every aspect of the process; from supply to presentation, doing our job completely. We want our service to be perfect.
DS: Can you introduce your firm and your partnership?
ABY:
Mustafa Esenkal, Bilal Erdoğan, Sümeyye Erdoğan and I are four partners in the Doruk Izgara Company. We have five branches in total. One of them is our own brand, Gülhane Döner, working with Günaydın Cafe and Döner Restaurant in Zorlu Center, as a franchise. Istinye Tavukçusu, located in Istinye Park, is also our own brand. Çiçek Izgara in two major shopping malls: Cevahir and Forum Istanbul, are also franchises. The first location we launched was Çiçek Izgara in Forum Istanbul, which was opened in November 2009. We used to import cosmetics and make retail sales to shopping malls before. Then, we started to engage in the food sector. We opened our first branch at Forum Istanbul as a franchise since we did not have much experience in the field. We thought that we could get a better grasp of the details of the job later. The owner of the main franchise of Çiçek Izgara brand was just an acquaintance, and we started this business thanks to his guidance and advice.
DS: So, how did you meet?
Esenkal and Bilal Erdoğan are friends from high school. Mustafa and I are friends from university. We studied business administration at Sakarya University. We also reunited in the U.S. later. We have been together in our business lives, as well. In the U.S., Esenkal and I opened various stands in the forms of shops and kiosks.
DS: How did Bilal Erdoğan join the partnership?
He joined shortly after we began cosmetics retail. I am not sure which year he joined but it is probably 2008. We have been partners since then. Sümeyye Erdoğan joined us after starting the food business in 2011.
DS: You started with a small amount of capital and ended up growing your business. But why is the partnership of Bilal and Sümeyye Erdoğan under the spotlight?
Nothing was obtained immediately and the claim of owning 15 restaurants, which is currently on the agenda, is not true. I think critics are pursuing their political interests. First of all, it must be considered that the restaurant business is the last job that could be done by state officials. We did not rent any foundation place or bid in a state tender. Anyone who wishes can rent a place here. The restaurant business requires effort. You only have success if you please your customers. No state or statesman can save you if you cannot achieve customer satisfaction.
DS: Some media outlets indicate that your capital has grown a lot since the beginning. What do you think about those allegations?
We did not open dozens of places by investing millions of dollars all of a sudden. We have been in business since 2007, and we have been partners with Bilal Erdoğan since 2008. We started with one branch, and then opened the second one. We made our investments thanks to our earnings and equity capital. And these figures are not so high for the restaurant business.
DS: Do you think such stories would still be brought to agenda if Bilal Erdoğan and Sümeyye Erdoğan were not your partners?
Of course not. They are the direct target. It has been claimed that we own a total of 15 branches; we can prove that we have only five. These claims are on the agenda only because of mudslinging journalists. What if we really had 15 branches? We neither bid in a state tender nor rented a founding place. This is only a commercial success. These journalists are confusing the owners of Ciğeristan with DAESH leaders.
DS: You are in contact with Bilal Erdoğan. What was his reaction to the latest stories?
Yes, we are in contact. When he was asked the sources of his income, he had to explain that he had five restaurants and a share in a company. He did not have to come up with an explanation. We only laugh at these baseless stories being fabricated about him and our business. They are really nonsensical and baseless stories. We want to clarify the issue since some groups pursue their political interests through those claims.
DS: What are the share proportions in your company?
This question will be helpful in clarifying some facts. Oda TV also did a story about this. It released the screenshots of Doruk Izgara taken from the website of the Istanbul Chamber of Commerce (İTO) and published them with captions claiming that Bilal Erdoğan has restaurants, as if it was a special news story. This data is available to everyone. I do not remember the exact figures but, as far as I remember, my share is 11.25 percent, Esenkal's is 22.5 percent, Sümeyye Erdoğan's is 30 percent and the rest is Bilal Erdoğan's. But you can always check the exact figures on the İTO's website.
DS: Has any journalist asked you anything about the claims after those stories?
No. Ahmet Hakan wrote a piece a few days ago, in which he claimed that although many stories were covered regarding the nephews of late Presidents Süleyman Demirel as well as the children of former President Turgut Özal, children, no one moves his pen regarding Bilal Erdoğan. Please be fair. Only recently have media stories highlighted that Bilal Erdoğan had 15 restaurants. They should go to the trouble of observing the facts.
DS: I assume that you would not turn down Ahmet Hakan if he wanted to interview you?
Of course, I would not turn him down. We would give him the required data. This business is not and cannot be done clandestinely. We are open, and the data of what we do is available. We are a business hosting thousands of people from all age groups.
DS: You will be under the spotlight after the latest news. What are your plans for the following period?
As a matter of fact, we do not want to be under the spotlight. We only want to do our job in the best possible way and attract attention only with our products, quality and services. We want to come to the forefront through our business.