One of the last tough guys ("külhanbeyi" in Turkish) of Istanbul, Çakır Ahmet, has been selling home-made pastries and cookies for the last 15 years, rain or shine. He can be seen shouting, "They are home-made, guys! ("Ev yapımı abiler!") as he sells his pastries along the streets of Üsküdar on the Anatolian side where tea and coffee houses are located. His valor is apparent in his voice.
Nobody passes by Çakır Ahmet without saying hello to him and he welcomes the greetings each time. It is clear that there is no one in the district who does not know him. Çakır Ahmet of Karacaahmet is the oldest and the last tough guy of Üsküdar. His shoulders stand upright. He has a formidable appearance, looking rather efficient. His blue eyes show the traces of the past and the depths of the years. His story is like an epic tough-guy tale. He begins to tell his story as the oldest and bravest tough guy of Üsküdar. We sat around a table and found ourselves in the middle of a deep conversation accompanied with a cup of strong tea.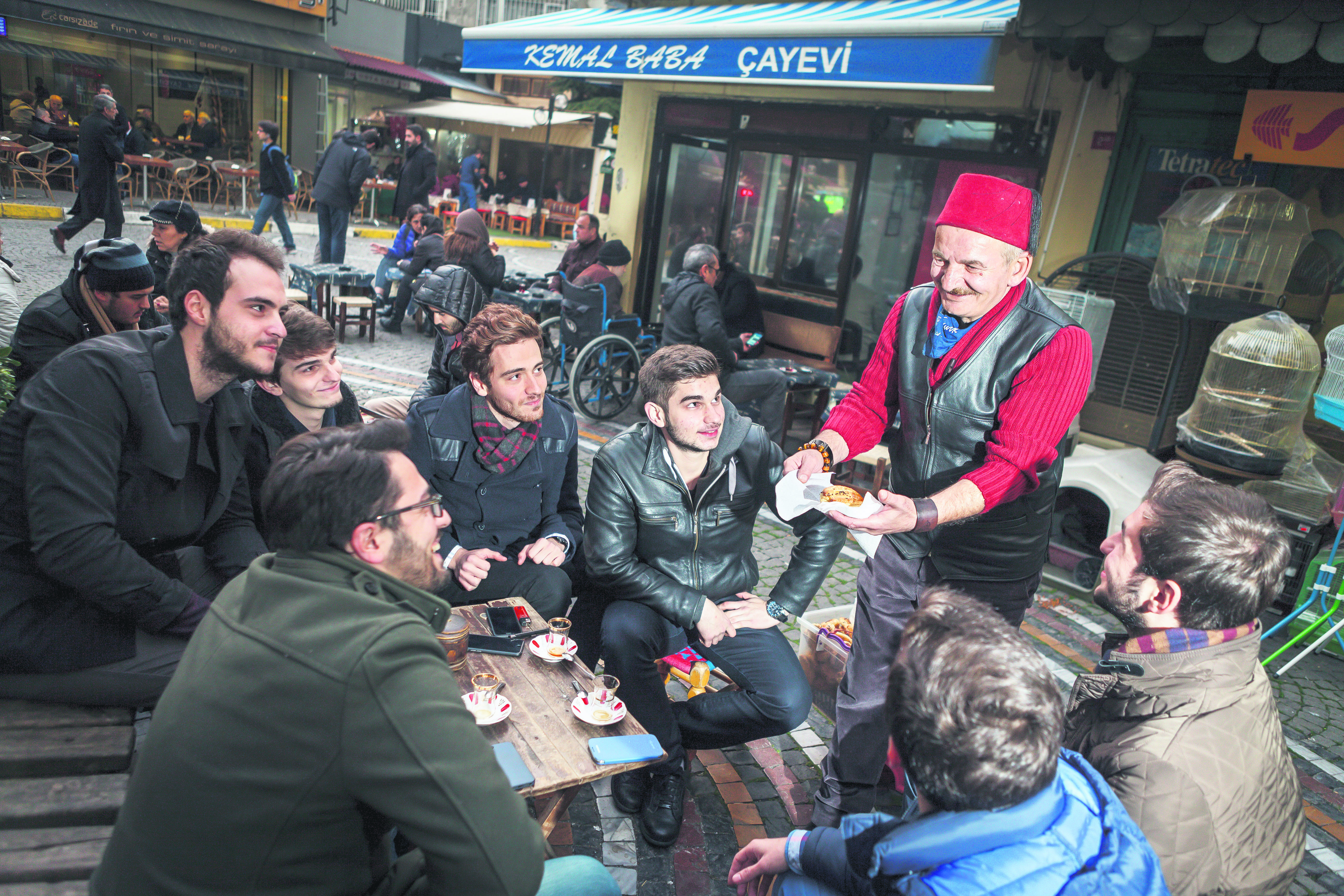 Çakır Ahmet has become a favorite for the youth in Üsküdar.

Everybody has heard about Çakır Ahmet's fame. "Nobody knows me only as 'Ahmet' but if you say 'Çakır Ahmet' everybody in Üsküdar knows me. They show love and respect," he continued. He then sighed and said, "We have experienced and seen a lot." Çakır Ahmet was born and raised in Üsküdar. His ancestors migrated to the Black Sea region from the Caucasus about 600 years ago. His parents came to Istanbul from Giresun many years ago. When his father left Turkey to work in Germany, the responsibility of his mother and siblings fell upon the shoulders of 9-year-old Ahmet and he suddenly found himself as "the man of the house." As his financial status was not very bright, he worked in various jobs. He painted walls, sold simit (bagels) and newspapers at the Üsküdar Pier. However, he could not continue his education after elementary school. As he grew up, he became famous for his valor and his resilience in Üsküdar. He stood up in the face of bullying and nobody ever tried to challenge this tough young man. "There used to be roughnecks in every neighborhood. However, I was no less than them; both my fists and my heart are strong. I did not tolerate any bullying. When three people beat one man, it was our duty to stand up against those bullies. We look after and take care of people when someone has abused someone else's wife and daughter or something happened in our neighborhood," said Çakır Ahmet.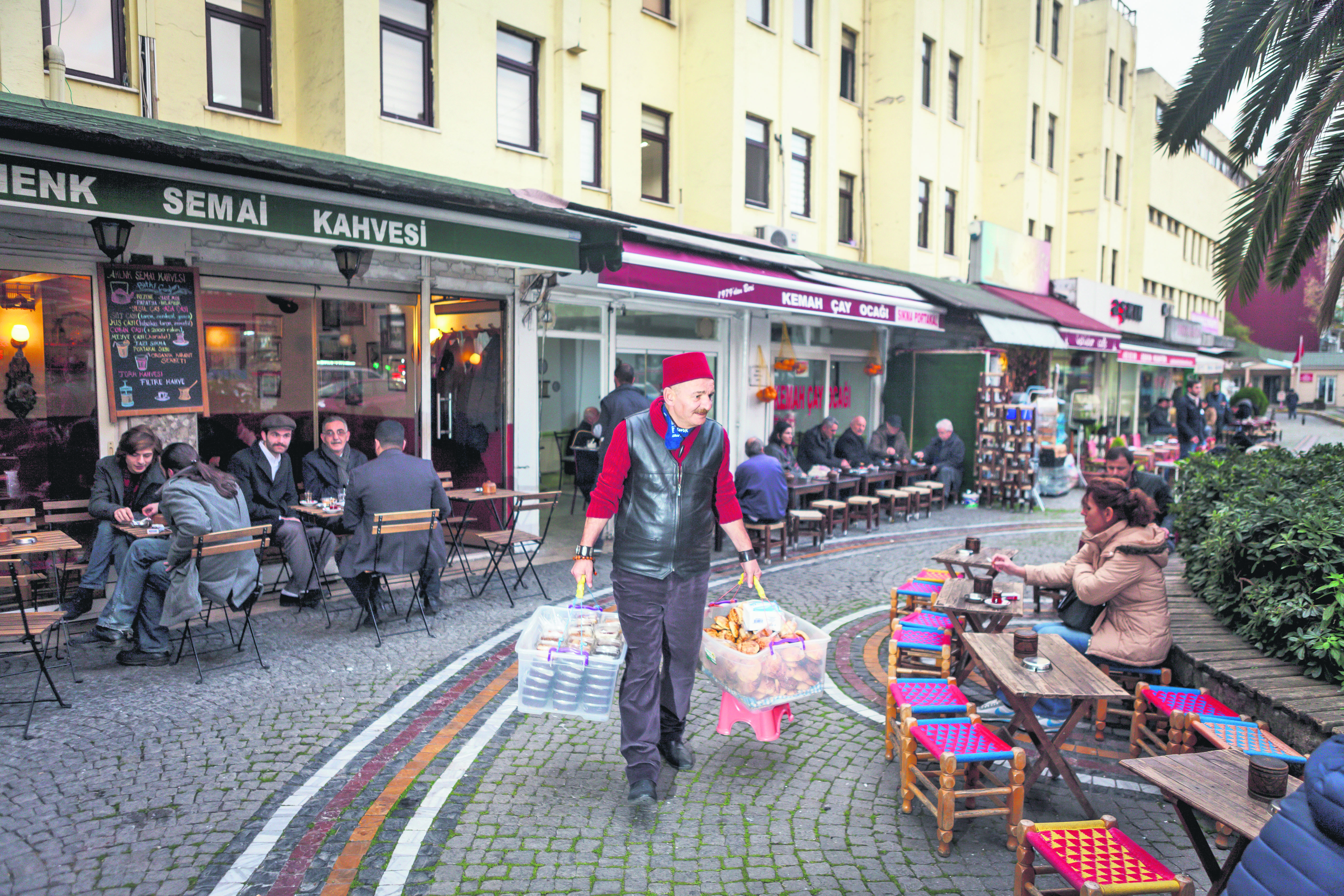 Years ago, Çakır Ahmet was "the headman" of the Üsküdar streets. If he saw a stranger walking around his neighborhood, he asked what he was doing there. "Let's say, when I see a young man wondering around my neighborhood twice, I used to ask him what he was doing or who he was looking for. If he needed to be beaten up, we would beat him," he went on to say. He helped young people to keep away from bad habits; he did not allow drugs in his neighborhood. "I would strike them with the Ottoman slap. If I were to punch them in the face like that, they would probably be hospitalized," he added.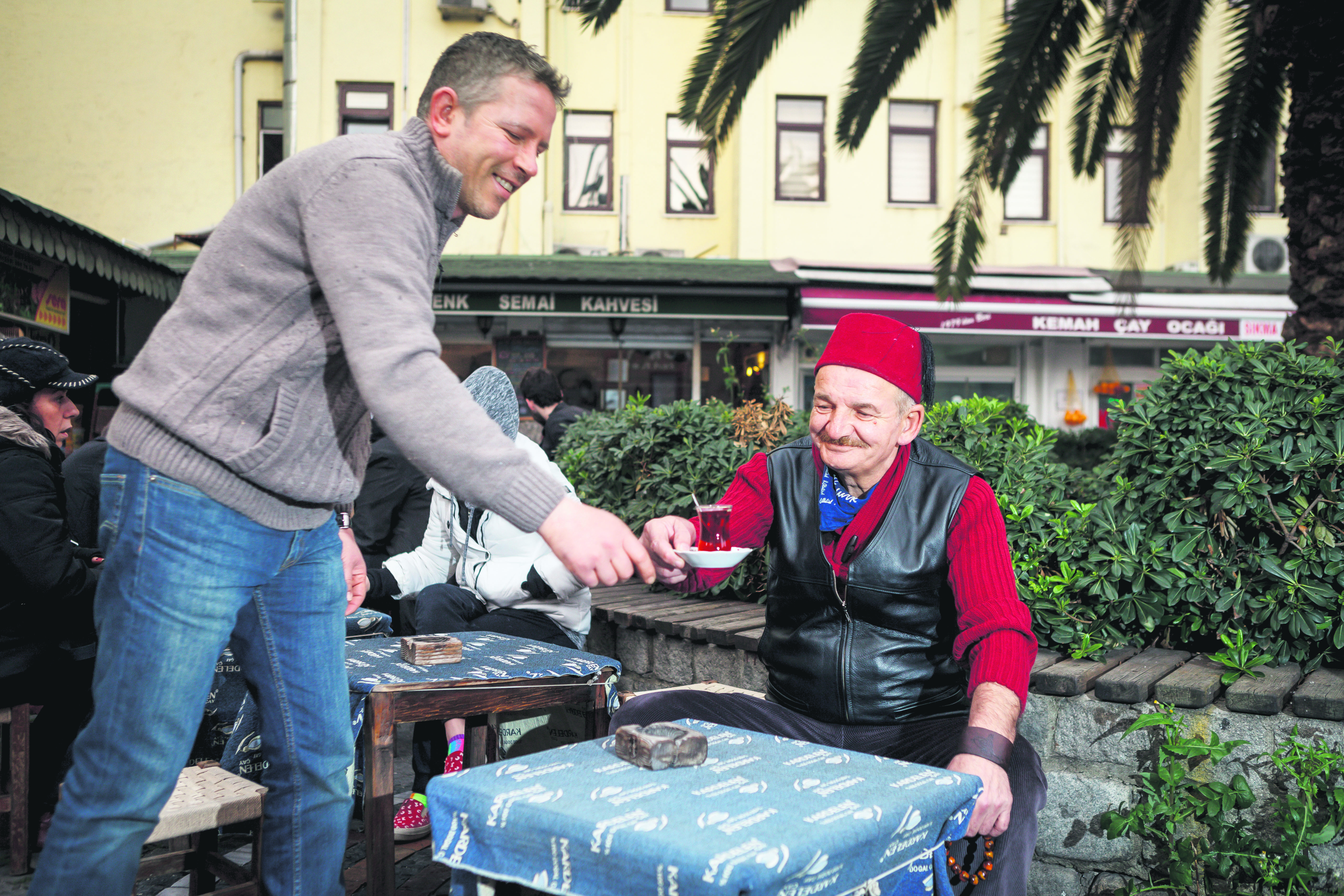 The real adventure of his life started when he opened a grocery shop without even knowing that his life would turn upside down. He fell in love with a girl who visited his shop. "I was infatuated with her," said Çakır Ahmet in a soft voice, pausing for a while as he got lost in his memories. He then continued, "I looked at her and she looked at me. Five months passed but I could not keep my mind off her. I missed her when I did not see her but we never spoke; it was against the rules of being a tough guy." Without holding his beloved's hand, his love grew with furtive glances. He was able to open up to her with the help of a mutual friend. They wrote to each other secretly and sent their messages using a match box. Unfortunately, the girl's father did not allow them to get married. Çakır Ahmet was able to do anything but he was not strong enough to persuade the girl's father. He did not give up and asked the girl's father seven times. He waited for a light at the end of the tunnel for a long time. As the people in the neighborhood loved and respected him, they tried to talk to her father when Çakır Ahmet was away on military duty. The girl's father stood by his word and said "I have no daughter to give to him." Ahmet said that "As I have the spirit of a fighter, her father thought that I was a bad guy," adding, "I only fought to look after my neighborhood and stand against bullying." When I asked what happened next, he said, "I did not elope with the girl, it did not suit us. I cannot upset the girl's family," he said. Çakır Ahmet cannot forget his lover but her memory is enshrined in his heart. He wrote dozens of poems for her. "I will never change any of it for the entire world," he said, adding that he keeps his treasure in the most special part of his house, in a locked chest. While talking, Çakır Ahmet shared some lines from his poem describing love like a poisoned needle. In his own tough guy jargon, Çakır Ahmet continued to tell more about his rambler life. "I have never prioritized money. I shared what I have and helped people. I have never been unfair to anyone or treated someone to a kick in the teeth," he continued.
For years, Çakır Ahmet never loved anyone else. When his mother was diagnosed with breast cancer, he was forced to marry someone else. He has children, but got divorced. After a while, he met a Romanian woman, who became Muslim and changed her name to Zeynep, and got married again. "My wife knows about my first love, yet does not get jealous over it," he said. Stressing modern-day love, Çakır Ahmet continued, "You like someone but it passes. You feel affection but it also passes. When you love, it never goes away. Love stays like a pain in heart. True love does not exist anymore."
Çakır Ahmet has always pursued his bread and butter. "I went bankrupt when shopping malls became popular 15 years ago. I am also a well-intentioned man this is why customers used to buy things on credit from my small shop. But it brought my end," he said. As he had to look after his family and children, Çakır Ahmet found himself selling home-made pastry on streets. At first, he was embarrassed to be doing this job because he used to have a steady job. "I now think it was nonsense. I earn a living and am proud of it," he said.
He knows that there are not tough guys anymore. "Their period has ended. After the 1985s, everyone began to struggle solely for their lives. I have also left that path," he said. After our talk, he took his basket and headed to sell his pastries. Passers-by asked how he is doing and have a pastry before leaving him. Everyone in Üsküdar more or less knows about him. "The youth respect me and show their love. I also show them the same attitude," he said, while counting his beads and calling on people walking nearby to buy his pastries.