Denmark, known for its long history of high human rights standards, tolerance and openness, is now in competition with other European countries to become the least attractive country in Europe for refugees and asylum seekers.
Denmark has not only reinstated border controls to stem the flow of refugees into the country, those who are already in the country have been slapped with a new refugee law which aims to make the country an unwanted destination for migrants, scaring them away by imposing harsh policies; stripping refugees of jewelry to pay for their aid and potentially sending them to state-backed refugee villages with extended waiting periods for family reunification of up to three years. The controversial bill was approved by the Danish parliament on Jan. 26.
"In essence, we are witnessing a downward spiral, away from Denmark's traditional image as a tolerant society, vanguard for human rights in areas [of immigration and integration]," said Ulrik Pram Gad, an associate professor at the University of Copenhagen.
He also considers the ongoing trend in the country as "depressing" while stressing that, despite some "counter-reactions" coming from some politicians and civil society groups, the right wing Danish People's Party's (DDP) harsh stance on immigration prevails on the country's political scene.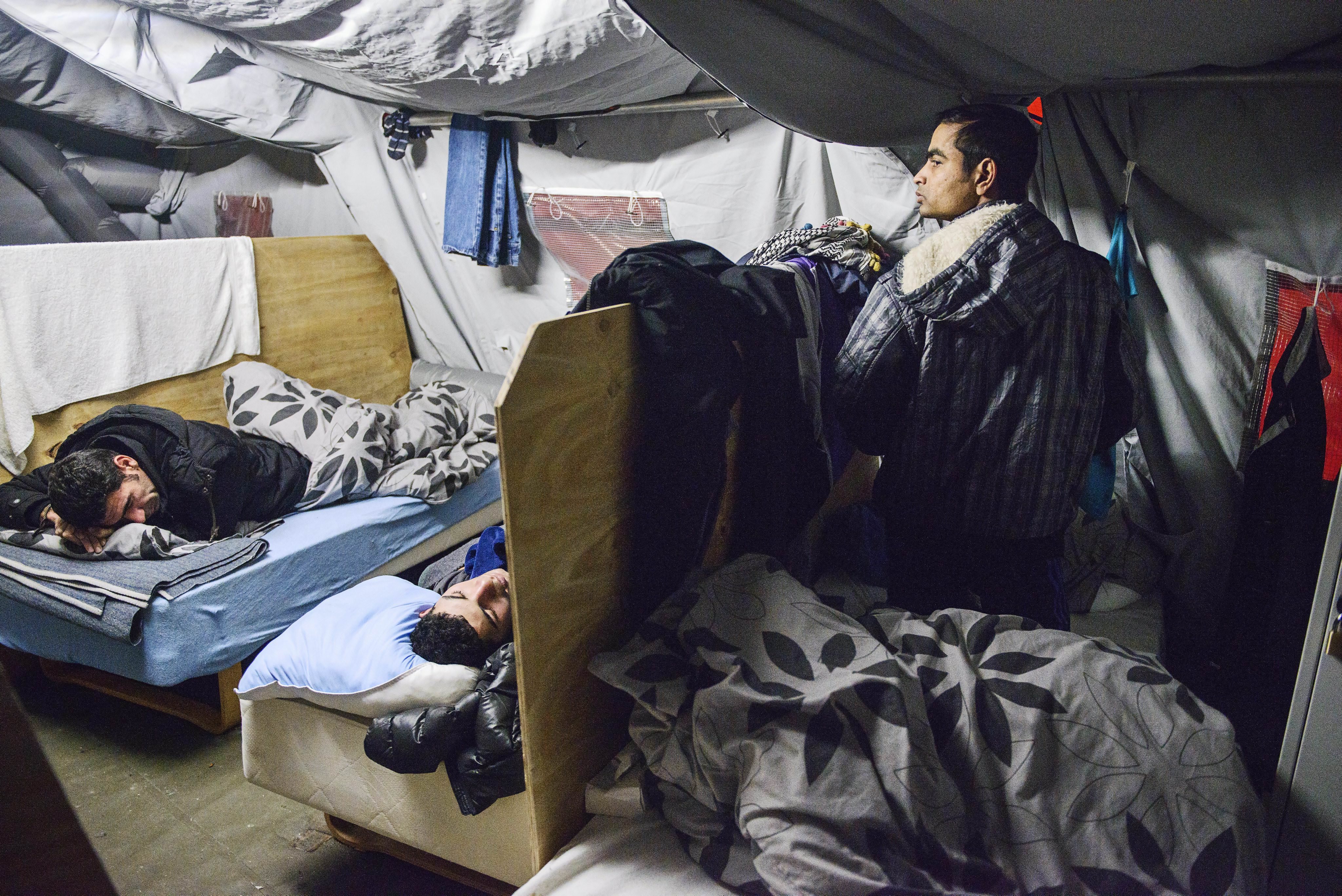 Refugees in their beds at the refugee tent camp in Thisted, northern Jutland, Denmark. The camp contains small apartment areas in a gym, bunkbeds and tents.

"Over the last couple of decades, Danish political debates have been more and more focused on immigration and integration, particularly of Muslim migrants and refugees... [A]s the two traditionally leading parties - the liberal party and the social democrats - have moved closer to the DPP's position, this party has come up with more harsh policy proposals," he noted.
"[T]he less attractive policy" will of course hamper the integration processes, as the refugees cannot afford to take part in normal life in Denmark," said Andreas Kamm, general secretary of the Danish Refugee Council.

Denmark:
Home to 5.6 million people
Expected refugee arrival in 2016: 25,000
Registered asylum applications in 2015: 21,000
'Isolation is not integration'

In part of a controversial bill passed last month, the Danish government plans to expel refugees from cities and towns and send them to the refugee villages backed by the state. There has been no political agreement between political parties as to how this plan would work and be implemented. However, one thing for sure is that placing refugees in camps and removing them from society would lead more problems with regard to integration.
"The motives are divided. The Danish People's Party wants to isolate the refugees in 'refugee villages' because it makes it easier to return them later on - regardless of the duration of their stay in our country. The Social Democrats supports the idea because they want to take the pressure away from the municipalities by letting the state taking on its shoulders some of the expenses in the beginning," said Andreas Kamm.
"Whatever the motive, I think that it is an indisputable fact that isolation will lead to more difficulties with regard to integration. Isolation is not integration. Most municipalities agree and simply want more resources from the government - not 'refugee villages.' They are - for good reason - afraid of establishing ghettoes and isolation.
"'Three-year period for reunification'

As part of the Danish government proposal for the refugee law, refugees with temporary protection status must wait three years before being reunited with their families. The bill also tightens rules for gaining permanent residency.
"The most serious restriction, in my view, concerns the three year waiting period for family reunification - but even that only concerns people who are not granted refugee status according to the treaties but are only allowed temporary residence because they cannot be returned," Gad said.
"We...believe that we have a very safe basis for saying that it is a violation of the European Convention on Human Rights to defer family reunification for three years," says Jonas Christoffersen, executive director of the Danish Institute of Human Rights.
Regarding the controversial jewelry bill, the Danish police has had the authority to confiscate refugees' valuables and cash valued above 10,000 kroner ($1,450). However, the report released by the National Police indicates that since Feb. 5, the Danish police has not confiscated a single item from refugees.
"The jewelry law is purely symbolic and makes no sense at all as the refugees have no valuables. Everybody knows fairly well that the Syrians already exhausted their resources a long time ago. If they were rich people they would not have taken the risk of crossing the Mediterranean Sea. Instead they would have lived in Cairo, Beirut, Amman and other places," Kamm stated.
According to the report released by Danish Ministry of Immigration on a weekly basis, only 37 Syrians were registered as asylum seekers from Feb. 5-11. The total number of registered asylum seekers for this period is 183. Since the beginning of this year, there has been an ongoing, downward trend in the number of registered asylum seekers. Namely, the number of registered people for the first week of January was 641 while this number went down to 269 in the first week of February.
Some 25,000 refugees are expected to arrive in Denmark in 2016. According to a press release by the Danish Ministry of employment, 17,000 of them could be transferred to municipality integration programs.