It was the last days of our vacation in our motherland, Turkey. As soon as we heard of "Dialogue in the Dark," my better half and I thought we had to try it while we had the chance. Unaware of what awaited us, we were intrigued with the idea of the opportunity to experience the world around us without the aid of our sight. We would be blind for the course of the exhibition.
First thing first, we clicked to Biletix and purchased our tickets online at the very affordable price of TL 30 (approximately $9) a piece. We were required to be at the venue 15 minutes before the scheduled time of our session. The next day we headed to Gayrettepe Metro Station's Exhibition Hall in Istanbul, not knowing what was in store.
As the exhibition would take place in an entirely dark environment, we were not allowed to take in any illuminate electronical devices like watches, cellphones, cameras as well as any jewelry that might sparkle and fluorescent clothing items. We were provided with a locked locker free-of-charge to leave any such items along with our other belongings which we did not want to have to carry during the experience.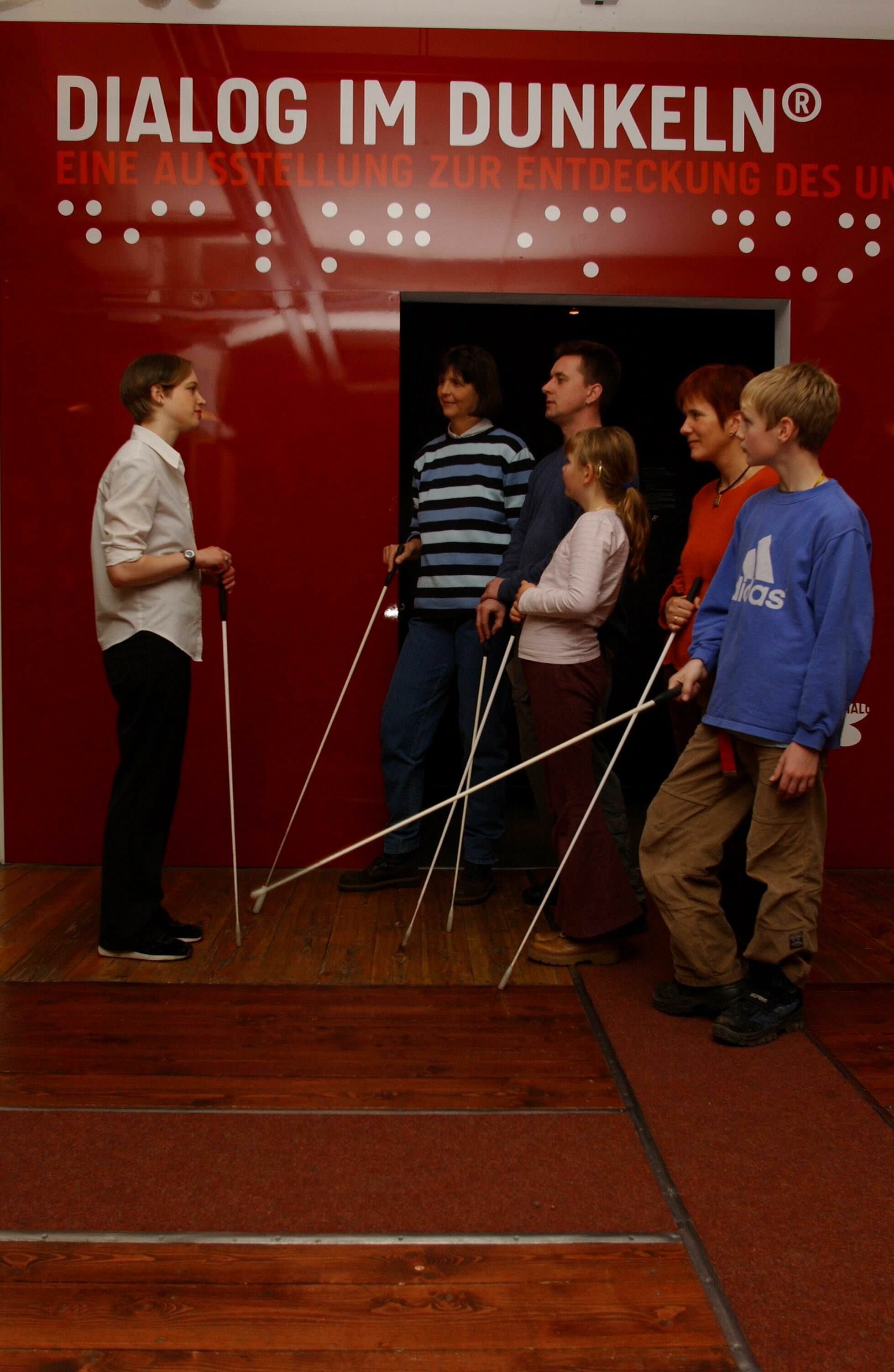 A group of people being informed about Dialogue in the Dark before entering the workshop area.

Before embarking on the journey we were given a white cane each to help us find orientation in the dark and serve as a kind of protection while moving around. Then we were greeted and aided by an experienced and "real-life" blind guide. He was there to usher us through our experience in exploring the unseen and learning to "see" in darkness.
It was pitch black with lots of surrounding noise. With the "loss of sight" your hearing suddenly becomes more sensitive and hence the noise more amplified and louder than what you are normally used to. Standing with only a walking cane, I was relieved to hear that our blind guide would be with us throughout the entire journey and, although not recommended, we could end the experience if and whenever we wanted.
Despite the dark, I opened my eyes wide, staring into the darkness around me, trying to see, even though I knew it would not be possible. I was stunned when our guide noticed what I was doing and asked, "Julide, why are you looking in that direction? Please face me." How could he sense this without sight? Then and there I realized our roles were reversed and our security was in the hands of our blind guide; in the dark, he was the one who was strong and able while we had become weak and disabled.
Initially you are dumbfounded without a speck of light in the abyss of darkness, yet sooner than later your sense of smell, touch and hearing kicks in and is heightened to make up for the total absence of any visual information. Thus, you adapt to the circumstance and atmosphere.
Dialogue in the Dark, which has been presented in more than 30 countries and 130 cities throughout the world in the last 20 years, offers a slightly different experience in Istanbul.
The tour of specially constructed dark rooms recreating environments such as a park, a city, became a discovery of Istanbul in complete darkness, turning everyday routines into a new experience.
With all our senses activated - excluding sight - we toured the mega city's symbolic urban sights, finding new ways to "see" Istanbul through the unique sounds, scents, textures and temperatures specific to Istanbul alone. Holding our white cane in hand, we hopped on the ferry and traveled from the European side to the Asian side, took a ride on the deafening metro, navigated through the streets, tried to cross from one side of the road to the other at Taksim Square, played soccer and concluded the phenomenal experience with a hot beverage at a café - also in darkness.
It was incredible. It is one thing to empathize with someone and try to understand, but a complete other thing when you are actually in their boots for 90 minutes. The message was clear: Blind people do not need pity simply because they are unable to see the world "through our eyes." They are not missing out and life does not stop as the lack of sight only causes other senses to be heightened and gives one a new sense of communication. Hence, the experience changes one's perspective, providing a better understanding of the real life situation of blind people and, ignorance and prejudices are replaced with respect and empathy, regardless of age, gender, education and cultural or social background. Dialogue in the Dark provides both social and emotional learning with effects that can last a lifetime.
The tours in Istanbul are organized in both Turkish and English, with sessions for English speakers held Monday to Friday at 7:00 p.m. and on the weekends at 2:00 p.m., 4:00 p.m. and 6:00 p.m. Each session is limited to 10 people.
If you happen to be Istanbul and interested in a mindful experience, you must not miss out on the chance to an unconventional tour of the city in addition to the traditional one you will most likely be taking. However, make sure you are dressed comfortably and avoid wearing heels!
Leave your conditioning and prejudices at the door and "see" Istanbul beyond seeing Istanbul.
Welcome to darkness...
The internationally acclaimed "Dialogue in the Dark" exhibition and workshop is the brainchild of Andreas Heinecke. His work encounter with a blind young journalist changed his life. Clueless about disability, Heinecke had no idea how life without eyesight could be of value. The optimism of the blind journalist who coped perfectly well with his condition opened a whole new world for him, breaking any prejudices he had about blindness. After witnessing the lack of equal access to education and the labor market for blind people he decided to continue to work in the field of disability. He thought, "Why not turn off the light, darken a room, and invite blind and sighted people to meet under reverse conditions?" Hence, with the motive to explore the unseen and help others empathize with blind people, "Dialogue in the Dark" was born. The first exhibition was launched in Germany in 1989 and in Istanbul on Dec. 20, 2013 by Istanbul Social Enterprise.
* We thank Jülide Türker from Melbourne, Australia for her contribution.