A Parisian look purely manifests itself on architecture, style, art and even in the choice of a decorative wall carpet or a blue porcelain coffee set. Set in a garden embellished with antiquities and an İznik-tiled fountain, Palais de France, an awe-inspiring palace right in the heart of Beyoğlu, is where one can understand the motivation behind why the word "chic" is famously associated with French lifestyle: The harmony of elegance and grace. So does Muriel Domenach, France's consul-general to Istanbul, an active woman married with three children. Since the end of 2013, Domenach and her family have lived in the palace, which is also the residence of France's Turkey ambassador during his Istanbul visits, and some consulate staff.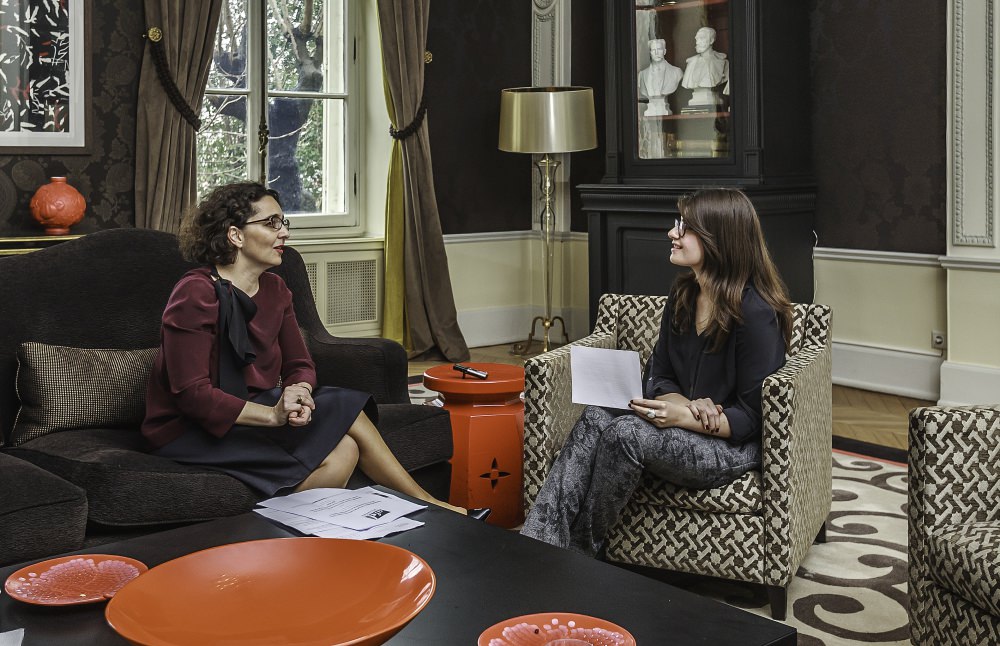 Muriel Domenach, France's consul-general to Istanbul (L) and Daily Sabah's Gülşah Dark

Designed by French architect Pierre-Leonard Laurescisque, Palais de France was rebuilt in 1846 at the site of the former embassy building which was destroyed after a big fire in the late 1830s. The grand palace, painted a pastel yellow color, is one of the very few places that one can observe the Franco-Ottoman alliance between Sultan Süleyman I and Francis I as well as taste a traditional style with a modern French twist. It also might be why the contrasting beauty of a contemporary abstract painting on the reception room with a Roman sculpture on its right side caught my eye first as I waited for the consul-general.
Born into a very intellectual family, Domenach pursued a traditional path on her journey to diplomacy. With parents actively engaging in politics and social issues, Domenach wanted to be involved in European affairs at the same time as the Kosovo War. Domenach's dynamic nature is clearly understood from her enthusiasm while talking about her previous assignments at NATO, the foreign affairs and defense ministries along with a policy-planning center. "I've done a lot in political and military affairs and really liked it.
I have enjoyed [working] for NATO negotiations," she said, stressing that she has established very good relations with NATO's Turkish delegates. Domenach is also quite interested in military affairs although it is not in her traditional background.
When it comes to her journey to Istanbul, her husband, Olivier Bouquet, a professor in Ottoman history, has a certain place. "Because my husband is very much into Turkish and Ottoman history, we decided to come to Turkey and raise our kids here," she said. "Olivier had lived in [Istanbul] for five years before we came. He learned Ottoman Turkish here and in order to speak Ottoman Turkish, he had to learn Persian, Turkish and Arabic. He is so happy to be here," she said. Her husband's special interests have left an influence on Domenach, as she said, smiling, that he taught her some Ottoman Turkish words like "adab," which means manners.
'Everything is part of history at Palais de France'
Living in a historic place means you take on more responsibility than just the house itself - you have to preserve it. For Domenach, Palais de France "is a place of history, mystery and constraint." Her children, on the other hand, have already fallen under the spell of this historic attraction. "The children have mixed feelings, actually. The boys - one of them 10 and the other 8 - are both happy [because there are] a lot of playgrounds," Domenach said. She also told me how her little daughter feels like a princess. "The little one, our daughter, is more of our princess and calls herself as such. She has also decided to be a 'kraliçe' [queen]," she reiterated, saying that her daughter has spent the majority of her life in Istanbul and can speak Turkish, even pronouncing some French words in a Turkish manner. "My daughter says the palace is her place and it is her garden, but I keep reminding them the residence is a property of France and everything is part of history," Domenach said, noting that the children should behave carefully and be aware of certain restrictions. Although the palace compound including a church and the Institute for Anatolian Research (IFEA) seems very quiet at first glance, it regularly hosts receptions and events, welcoming guests and consulate staff every day.
'Beyoğlu resembles Paris the most'
As a foreign diplomat, Domenach and her family have gotten used to living in Istanbul and enjoy spending their time at spots along the Bosporus. They choose a different place each time, such as Çengelköy, trying various restaurants and cafes. "The kids love the Bosporus. In the beginning, Olivier used to bring us to tombs and cemeteries. Now, we have escaped from this and [our travel itinerary] is more Bosporus-oriented places," she said. Responding to the question regarding which place in Istanbul reminds her of Paris, Domenach said, "Beyoğlu resembles it the most. I was in Paris last week. Every time I visit Paris, I find it so specific. As a Parisian, I would choose Beyoğlu for its streets, cinemas, special atmosphere and walking distance. Paris is a city where you can walk. Istanbul is more challenging in terms of transportation," stressing that traffic is the city's only dark spot for her. Domenach, however, spends her time tweeting in Turkish or listening to the radio when she is on the way. "My husband loves late Ottoman music by Director Emre Aracı," she said. "In contemporary Turkish music, I like Jehan Barbur. I find her dynamic and creative. Her music is specific," she went on to say. Domenach can also speak Turkish. "I do work on my Turkish. I read newspapers in Turkish, tweet in Turkish and can have discussions in Turkish," she further stated. She also shared a memory with us, saying that her husband sometimes prefers Ottoman Turkish words; pointing to an instance one day when he asked her daughter to say "kefaret etmek" instead of "özür dilerim" (I apologize).
'Women have a multi-dimensional life'
"As a mother, friend, wife and diplomat, I try my best as much as possible. We can never be perfect," Domenach said ahead of the International Women's Day tomorrow. Well-aware of her priorities, she believes women are still like central computers. "One of my kids wants to go to a birthday party. I know my priority is to find a gift ... He says, 'Mom, there is carnival tomorrow.' He does not have a costume, so you know what your priority is. Or, it is a child's birthday. And you want to bring a cake to school. What will you do? You will have to cook," she continued, highlighting modern-day women's responsibilities. Domenach believes that men can do a lot regarding childcare, reiterating, "Modern men are our future." "It is a multi-dimensional life. You cannot be good enough," she added.
France is one of the European countries with the highest female employment rate - around 80 percent - which Domenach attributes to the French model based on high activity of women and birth rates. "People are surprised when I say I have three kids. Look at Segolene Royal. She has four. Or look at our minister for digital affairs. She is having her third child. It is very common in France among educated women to have two or three children, as it is for women from the middle class and the less privileged social class. "We have the highest birth rate and very high rate of female activity, showing that the two can go hand-in-hand," she further stated, while stating that each country follows their own way and France adopts a welfare-oriented system with both good and less good sides and prioritizes generous childcare.
French Consulate marks International Women's Day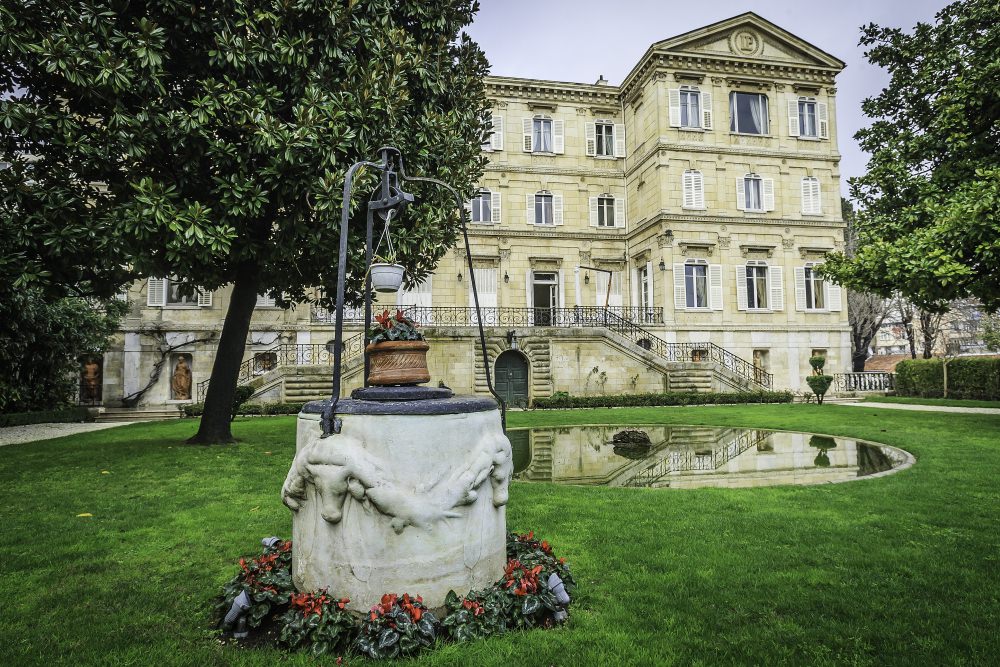 Palais de France

On March 15-16, female actors from different backgrounds will gather for a seminar on women's success - specifically, employment and childcare -- under the auspices of the French development agency and the consulate general. "We will also focus on female violence as these [subjects] go together," Domenach said. France's Consulate General in Istanbul will also organize a reception to mark the International Women's Day tomorrow. The winners of the project "Toprağın Kadınları" (The Women of Soil) by Yves Rocher Foundation will also be announced at the evening reception and an international award ceremony will take place in Paris on April 5. Also, the French Culture Center in Beyoğlu will organize a special film and exhibition program on women and women's rights. The exhibition "Actrices" featuring portraits of 25 female artists will open on March 9 at the French Culture Center. In tandem with the exhibition, a series of movies will be screened from March 14 to March 18. Other events will include concerts "La Dame Blanche," "La Nuit d'Antigone" and "Vanessa Wagner" which will take place on March 11, March 10 and March 19, respectively.
The French Consulate focuses on different themes around the year and organizes specific programs like Amour Lab that celebrated the Valentine's Day last month and a "Love Dictionary" released last year. "We try to reach people who know us and those who do not know us. We are reaching out to new areas. For example, we are developing French classes with İSMEK [whose trainees] are not our traditional audience. I want to reach out to more conservative groups," Domenach said. The Jazz in Ramadan Festival that hosted local and international performers along with an iftar dinner (fast-breaking meal) came to the surprise of many people. "There will also be many other events in summer," Domenach said.