On cold and gloomy winter days I would take a seat in front of the window and watch the life as if it was stuck in time while sipping my coffee and immersing myself in thoughts. No matter if the weather brings a depressive mood accompanied with endless melancholy, I tried to console myself by repeating: "Nothing can keep away the arrival of spring."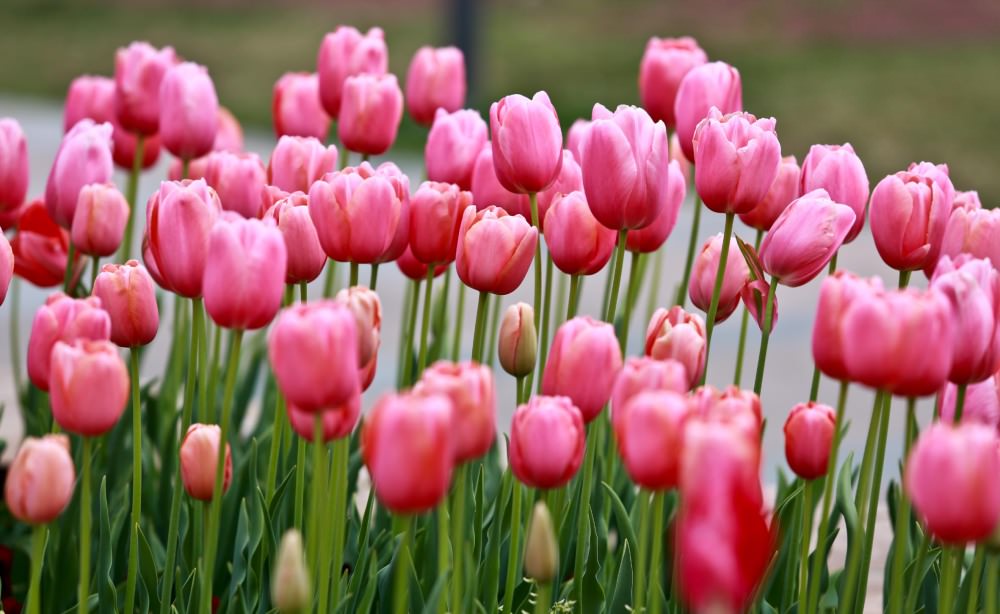 And now spring is finally in the air. Mother Earth has just woken up and the weather is becoming warmer. My dark thoughts have gone and are now replaced by the desire to stay outdoors. I am not staring out the window anymore, I enjoy seeing singing birds coming back from the south and hearing the laughter of children playing in the park next to my home. Everything is blooming and full of color today, and a time of sunshine and cheer is ahead of us. Not only nature, but also all living things awake in springtime. We feel happier and more energetic after boring and lazy winter days. Because we begin to expose ourselves to more sunlight with the arrival of the vernal equinox, when the Earth's angle tilts toward the sun, more of the hormone serotonin is released, making us happier.

The vernal equinox occurs around March 20 in the northern hemisphere and on around Sept. 22 in the southern hemisphere. Spring returns to our lives both scientifically and culturally on this day. Many cultures celebrate the return of spring, the blossoming of nature with the rise of the vernal equinox. This is why we call spring the season of celebrations. In the U.S, the arrival of spring is marked by St. Patrick's Day and in India they celebrate the Holi Festival. Japanese culture cherishes spring by having traditional picnics under blooming "sakura," cherry trees. Some Christians welcome spring by honoring saints like St. Joseph in Spain during the Las Fallas celebration and St. Patrick in Ireland with a traditional green parade. Easter and Passover also mark the arrival of spring with some other similar festivals.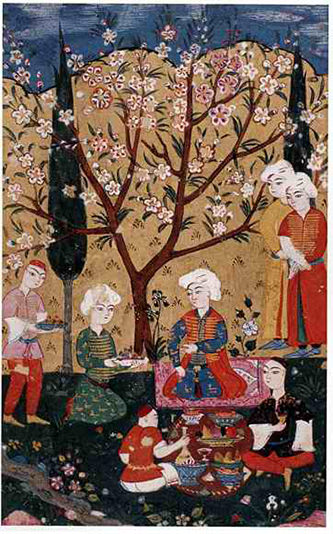 Turkey, Iran, Balkan countries and Central Asia celebrate the arrival of spring with the Nevruz festival. It is called Nowruz in Persian, Novruz in Azerbaijani language and Newroze in the Kurdish language. The word comes from the Persian words meaning "new day," symbolizing the new year.

Nevruz has its origin in Zoroastrianism, the religion of pre-Islamic Persian empires. For Zoroastrians, March 21 (Nevruz) is considered the day of the earth's creation and the first day of the new year. Historian Fuat Köprülü also stresses that Nevruz dates back to pre-Islamic Persia. However, after adopting Islam, Iranians kept on celebrating Nevruz as a national day. Köprülü also says that influenced by Shiite Islam, some Shiite Turks used to celebrate Nevruz as well. Another historian, Süheyl Ünver, claims Nevruz was first celebrated by Central Asian Turkic peoples as the first day of the year and the day of creation of the earth and must have reached Iran from there.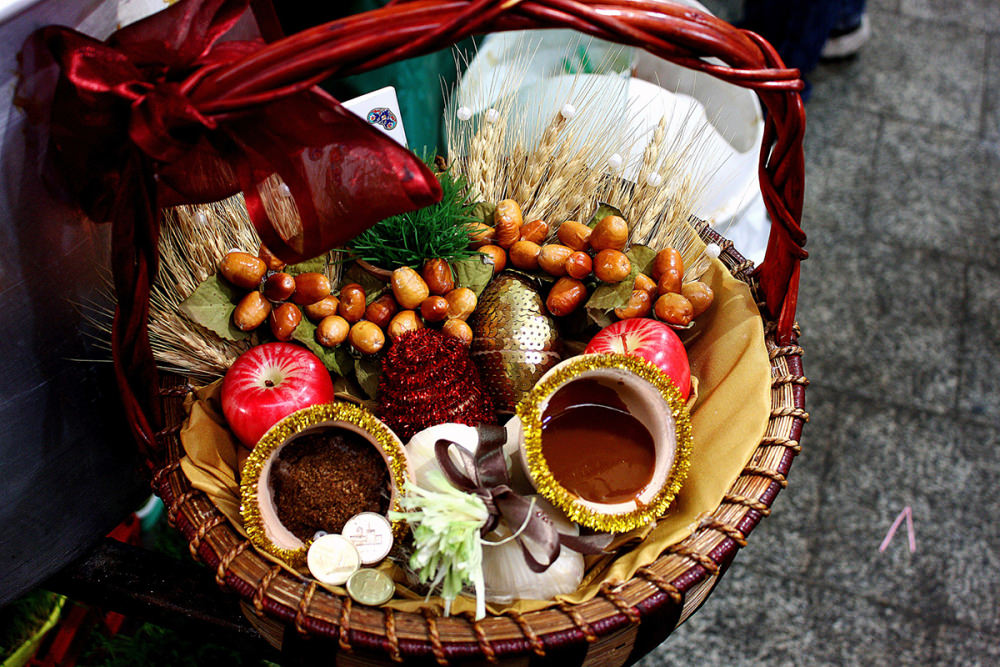 A tabletop arrangement of seven symbolic items traditionally displayed at Nevruz in Persian culture.

Nevruz has been celebrated in many cultures without Zoroastrian connotations for thousands of years in the region. With the arrival of Islam, it embraced some features of the new religion and began to be seen as a holy day for Bektashis, Ismailis, Alevis, Babis and Baha'is.

Nevruz is important in pre-Islamic Turkic history as well as in the Seljuk and Ottoman periods. During the reign of Seljuk Sultan Melikşah, a new calendar called "celali takvimi" was introduced and March 21 was assigned as the first day of the new year. The date was called "Nevruz-ı Sultani" and considered the beginning of fiscal year. This system was applied until 1980.

When it comes to cultural life in the Ottoman era, Nevruz also influenced the poetry. There were many poets such as Pir Sultan Abdal, Baki, Fenni, Nadiri and Nef'i, who are well-known for their odes to the day called "Nevruziyye." Aside from poetry, Nevruz had an important place in music. There were 20 different maqams in Ottoman music dating back to the 14th century associated with Nevruz, including Nevruz-i Acem, Nevruz-i Arab and Nevruz-i Sultani, Nevruz-i Hicaz. Unfortunately, none of them exist today.

Nevruz celebrations used to take place at the imperial palace and among the public. Poets presented their odes to the sultan at Topkapı Palace for "caize" (a gift for a poem) in return. The "münneccim başı" (chief astrologer) also used to present the new year's calendar to the sultan and receive a gift. There was no special menu for celebration, but a special sweet was unique to Nevruz.

"In the palace, a special sweet called "nevruziye macunu" used to be served in glass bowls covered with a muslin cloth as a gift for the elderly." Professor Haluk Dursun says in his book "Art of Living in Istanbul."

This sweet is a kind of paste including 40 spices made by palace pharmacists. In Istanbul, people bought the same paste from the pharmacies during the celebration week and gathering at the table featuring the paste and seven other foods whose name start with the letter "S," called "haft-sin" (haft seen) from the Persian for "seven esses." These are "süt" (milk), "simit" (bagel), "sirke" (vinegar), "sucker" (sugar), "salep" (a drink), "soğan" (onion), "semek" (balık) and "sefercil" (quince). In certain accounts, garlic and vegetable are also listed as heft-sin. The father used to serve the food to each family member with a long prayer wishing a better year. Serving "mesir macunu" (a traditional paste made from fresh herbs and spices) is another tradition that began with Nevruz celebrations in Manisa. Today, how many of us have any idea about all these traditions? Not many of us, I guess.

Today, Nevruz is celebrated ideologically and traditionally. While some people consider Nevruz a Turkish festival symbolizing the legend of Ergenekon, others celebrate it as a Kurdish victory day, based on mythological stories. (For more details you can read Professor Mustafa Aksoy). Nevruz was celebrated by Ottoman subjects to welcome the spring. They most likely did not know the Zoroastrian meanings or ideology of Nevruz.

Apart from ideological approaches, if we can understand the background and social process of Nevruz, all the conflicts can come to an end. I believe Nevruz celebration means embracing the beautiful spring peacefully and traditionally instead of using it as a tool of hatred against others. We can make a new beginning like the way spring does. As Robert Orden said: "Spring is God's way of saying, One more time!"