Take a look around the objects in your kitchen: Do you have oranges, coffee beans or fancy Japanese flowers in your kitchen? If you do, you will be surprised to know that these are just some of the edible materials that are now being used in the textile industry, making Egyptian cotton a thing of the past.
The textile industry has been around for thousands of years, providing us with comfortable clothing we have grown to love - our favorite wool jumpers, silk blouses and spandex workout clothes. The Futurotextiles MIX exhibition at CerModern is changing the status quo in the textile industry, taking us away from traditional fabrics and introducing us to an entirely different side of the fabric industry - one that is practical, useful and sustainable in the long term. "The Futurotextiles MIX exhibition allows us to discover the unknown aspects of the textile world. It is an exhibit of prototypes, and its goal is to show that textiles are becoming technical materials that are innovative and smart," said Caroline David, the curator of the exhibition. "The aim is to reveal that different textiles can be made from unthinkable materials and also demonstrate how textiles can be found anywhere."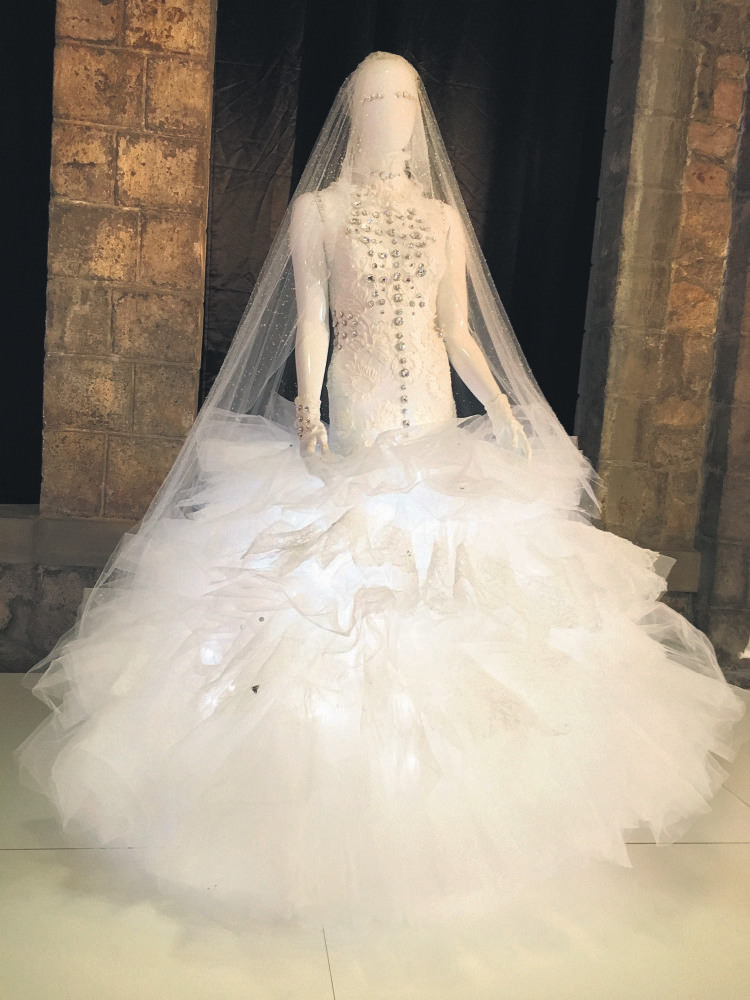 It starts with the small stuff; the beauty is in the details. Futurotextiles MIX uses surprisingly unexpected items in their fabrics, giving new meaning to the term "multi-purpose." Bamboo is ground into a fine powder and then formed into a paste that is used to produce fibers - and the fascinating process doesn't stop there. Fish scales, the exoskeleton of a crab, basalt rock, coffee and even milk are all used to make fibers that produce textiles that are luxuriously soft to the touch. The process is interesting, providing innovative ideas and invaluable knowledge to the textile industry, with an outcome that is just as surprising. Bungee jump cords are used to create sturdy hangers and the aforementioned basalt rock creates strong wires. Flower stems are used to create fibrous material, as well.
This exhibit is only the beginning for Futurotextiles MIX, which has much more to offer. "There are two parts to the exhibition, with the first being didactic," Caroline explained. Indeed it is, with a glimpse into how products have been up-cycled to create cloth. The second part of Futurotextiles MIX puts these textiles into use in the field in a way that is both technologically innovative and creative. "It presents industrial and artistic objects that show an innovative aspect of the textile sector to the world," said Caroline. For example, the use of textiles in medicine. Standard water resistant material is already being used in the medical field, but so are antibacterial scrubs available for those who work in fields without constant access to sanitary supplies. What takes it steps forward are heat sensitive patches on clothing that detect whether a child is ill, the heart monitors sewn into clothes that automatically dial for help - should anyone suffer from a heart attack - and the synthetic aortas. Although these products sound cutting edge, Caroline pointed out, "These have been used by medical professionals for many years."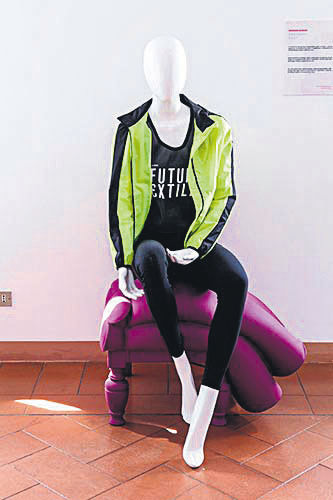 This is not the only way that technology has woven its way into the textile industry. In one of the exhibition's more exciting segments, LED fiber-optic technology has been incorporated into textiles to light up works of art. This has made its presence known more popularly in Daniel Buren's work and in high fashion. While it has a pleasing effect as a result, light is not solely used to illuminate craftsmanship but also used for its original purpose: light conversion. The conversion of light into energy is found in prototypes that use solar powered patches in clothes that allow users to charge their phones via their attire. Light is just as vital when it comes to cultivating vineyards. Metallic sheets spread over the ground, reflect light off into grape vines, which effectively assists in growing higher quality grapes. The influence of the technology displayed in Futurotextiles MIX is felt all the way to the dinner table.
The incorporation of technology into textiles extends its grip not only to medicine and art but also to sportswear. The material used to make this apparel ranges from shock absorbing padding fitted inside clothing to sports attire that assists in fat burning and inflatable helmets that puff up whenever there is any sudden contact with a foreign object. Inflatable technology doesn't just stop there, though, with inflatable surfboards and sofas on display. These are objects that possess the sturdiness of a coffee table as opposed to the expected sturdiness of a waterbed.
The innovation displayed so efficaciously at Futurotextiles MIX points to a developing and constantly evolving textile industry, but could they also offer a potential solution to present issues? "These textiles can resolve some problems like the economy of energy and environmental issues. They are lighter and more resistant, and they remove the burden of heavy materials when it comes to transport. A lot of textiles can also be made by recycling materials and plant waste," Caroline said. If, for example, foods such as milk, coffee and oranges, were repurposed and used to create textiles, there would be less waste overcrowding landfills. Add this to the practice of using recyclable products to make textiles, and you will have a viable environmental solution to waste.Futurotextiles MIX is on at the CerModern from April 2 to May 12, open from Tuesday to Sunday.