The Istanbul Moda Academy (IMA) in Nişantaşı has now opened its "İzler" (Traces) exhibition in cooperation with Dice Kayek and is showcasing 15 handcrafted dresses designed using traditional techniques. Students worked day and night for two months researching, designing and manufacturing the couture dresses. With traditional crafts exhibited in contemporary design, the exhibition is breathtaking. A total of 9,000 units of thread crushing were used in the mesh jacket and a total of 5,200 meters of wire were used in its production. To create the "Çeşm-i bülbül" design, 4,800 glass-blown beads and 1,000 Swarovski crystals were used. A dress was decorated with 410 pearls, 900 meters of tulle and 1,200 needle lace flowers were made to decorate the dress, which was inspired by the architecture of the Trabzon Haghia Sophia Mosque. The designers of these exquisite dresses include undergraduate and graduate students from the Istanbul Moda Academy Şebnem Günay, Tayfun Kaba, Neslihan Çömez, Tuğçe Demiran and Asude Şenoğlu. Visitors can enjoy the exhibition throughout May.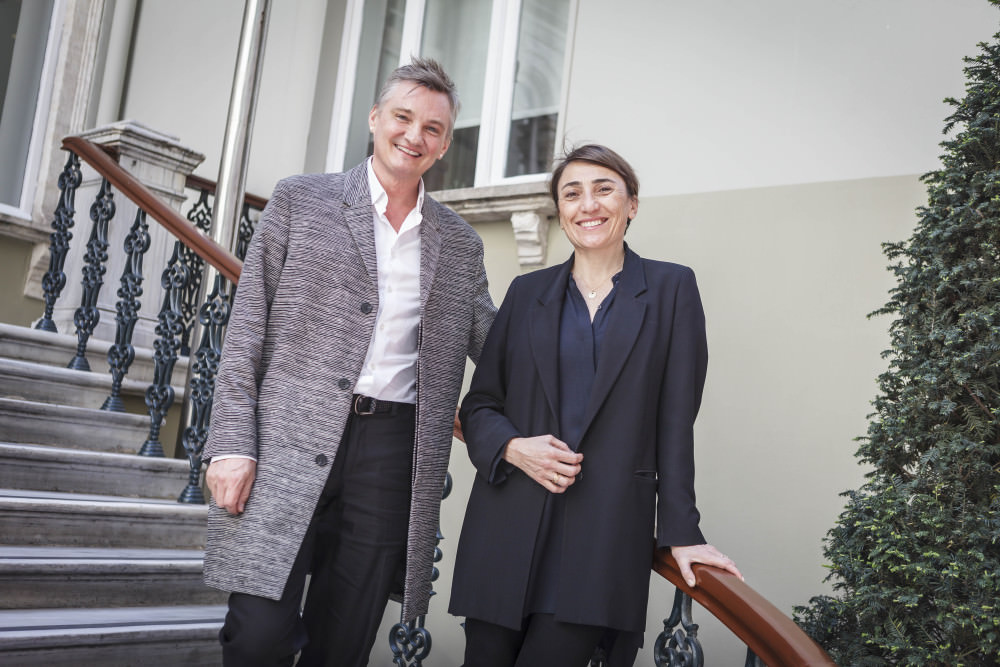 We had the chance to speak with the director of IMA, Seda Lafçı and fashion design instructor Raf Stesmans about the collection, the brainchild of the project, traditional Turkish handcrafts and the students' journey throughout the project.
Daily Sabah: How did the idea of combining traditional handcrafts with fashion come about? Are each of the designs creations of individual students or was the whole collection created by team work?
Seda Lafçı:
We've been working with Dice Kayek for a long time and we've been coming up with lots of interesting ideas. One of these ideas was to use traditional Turkish handcraft in modern couture. I believe that we have a very big opportunity to utilize our region and traditional handcrafts that have been around for centuries. We thought that if we were able to adapt the handcrafts to modern couture, we would be able to create a difference in fashion within our country. After the idea came about, we started the project in cooperation with Dice Kayek. As a team, we first determined the five students from our undergraduate and graduate programs who will be a part of the project. All dress designs belong to the students themselves. They did their research and chose a concept on their own.
Raf Stesmans:
We are working with haute couture and the difficult part about this is that all the dresses are handmade. We needed five students who were disciplined, hardworking and brave. I know about the students because I've worked with them many times in different projects as I'm their fashion design instructor, so I know their predispositions. So we choose five talented students to work on the project and we are very impressed with the results. The students worked day and night to finish their designs and they showed all the qualities that fashion designers must have while creating their designs.
DS: Especially making sure that the designs are wearable today, how did your students adapt traditional handcrafts to modern couture?
Stesmans:
This was the most important part of the project actually, the fact that the designs are wearable today. We tried everything while designing and I believe that these dresses are wearable, especially on events like the red carpet. There are some exaggerated designs within the whole collection but yet again, the designs are not costumes but they are in fact very wearable. With slight changes these designs can be worn on special occasions. For example we have our student Tayfun Kaba's design of the long black dress, if this dress where changed to white it can easily be used as a wedding dress.
Lafçı:
All of the dresses have a great deal of workmanship and the production of only one dress took a very long time because they were hand crafted with the couture technique. Whatever you see on the outside of the dresses resemble the inside as well. The fabrics used in the dresses actually had to go through more than one procedure to get to the form that we wanted. Like Raf said, some of the dresses are exaggerated but they still have a wearable aspect about them. If the embroidery on the dresses were lightened just a bit, they could be prepared for ready wear instantly. The students did two things actually when designing, first they learned and applied the hand craft techniques and secondly they did research on forms as well. For example, our student Neslihan Çömez worked to give the flow of glass objects from the Ottoman Empire while using glass blown beads and Swarovski crystals.
DS: Before starting the project your students had a very intensive research process. How did the research, design and manufacturing process evolve? What are some things they had difficulty with while designing the dresses?
The students are very professional when it comes to research, they know how to gather information on a specific topic. The hardest part for them was to find the people who still do traditional hand craft. Once they find these people, the students have to convince them to make as many of the crafts as they want, and in this case it was a lot. Outside of this project, this is something that is constantly in the life of a designer, convincing to get the work done. For example our student Şebnem Günay used 1,210 needle laces on her dress. When she was having these made, she was anxious that they were not going to finish on time and she had to frequently go and check the woman hand crafting them. They experienced in first hand all that they had learned and came up with beautiful dresses.
DS: What handcrafts, fabrics and patterns were used when using the Anatolian hand craft techniques? What kind of a process was it to include these in the designs?
Many techniques were used in the designs for example, thread wrapping, thread crushing, needlework, pearling and glass blown beads. Ödemiş linen was used in some of the dresses. An interesting thing that we came across while working with Dice Kayek was that they actually didn't know about Ödemiş linen before this project. We are happy to introduce a fabric that has been widely used in our geography for many years to them.
DS: What will happen with the dresses once the exhibition is over? Are any of the dresses going to be put up for sale?
Actually, once the sector saw these designs they wanted to produce them instantly; this is great news. They saw two things in the designs, they are different and they are marketable because of the fact that they are wearable. We want the exhibition to be shown in other parts of Turkey where the traditional handcrafts are still being made. Either we will attempt to bring them here for workshops or the collection will go there and be exhibited for them to see. The woman, for example, who do the needle laces aren't aware of how valuable their work is and how greatly it can change a design. We want to show them this and show our appreciation for what they do.
We really do believe in the young people of Turkey. When placed in the right hands, their creativity can lead to major projects like this one, and I congratulate all of the students and thank them for their hard work and dedication.