The PKK terror attacks that have intensified since last summer have left hundreds of civilians dead and displaced thousands of Kurds, making many of Turkey's predominantly Kurdish cities uninhabitable. The PKK claims to be fighting for the Kurdish people, as deputies from the Peoples' Democratic Party (HDP), their primary political sympathizers, claiming that they are fighting to liberate the Kurdish people and raise the standard of living for Kurds in the region. However, the local residents of Van, a city near the border with Iran in eastern Turkey, say that such claims are baseless. Residents of Van believe that the PKK is killing the city's tourism industry. Van is known for beautiful mountains and as a popular skiing destination, as well as Lake Van, where tourists can enjoy sailing and swimming and explore the history of the Ottoman and Seljuk empires as well as Armenian, Urartian and Arabic history.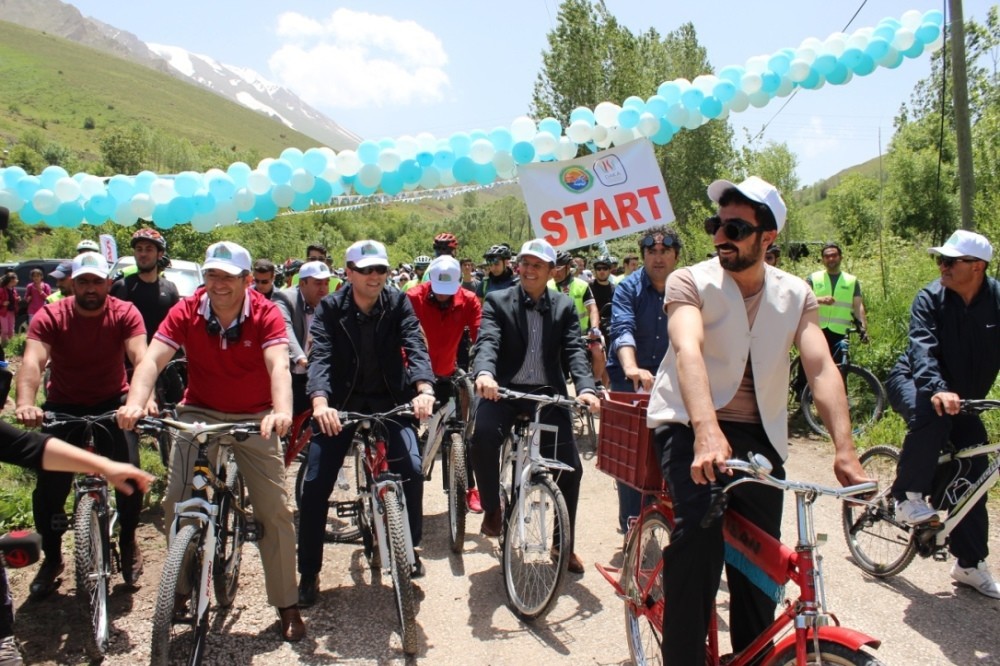 The Gevaş municipality, near to the historic Akdamar Church beside Lake Van, organized a cycling festival over the weekend, which brought hundreds of professional and amateur cyclists together. Cyclists pedaled from the outskirts of Gevaş to the banks of a river which carries icy waters to the lake. On the shores of the lake, hundreds of people were dancing with traditional figures as a group of young musicians were singing songs in Turkish and Kurdish.
Women wearing hijabs as well as uncovered women were cycling, some accompanied by conservative men from the town. The scene brought together locals from different walks of life with differing religious and political views. Residents enjoyed traditional foods provided by the municipality, with some residents eagerly speaking to journalists.One Gevaş resident, a retired employee of the State Water Supply Administration, said: "You see what a beautiful town we have. The nature, food and water are great. We are fed up with terrorism. We don't want the PKK." Another elderly man said, "The PKK's fight is not for the Kurds. The terrorists have been harming us for decades."
Another man criticized state policies, saying: "We have been oppressed for decades by the state. It is not easy to recover everything suddenly." The retired man interrupted and said, "We can speak Kurdish in public, we have schools, hospitals et cetera. What more do you want?"
A lawyer who wished to remain anonymous said: "The PKK demands taxes from villagers and threatens stability, scaring investors and operating by illegitimate rules governed by a baseless court of injustice. If you live in a remote village, you are alone and have to pay taxes. Therefore, people leave their homeland and go to bigger cities. During the reconciliation process, thousands of people returned. So if the PKK can be stopped from interjecting itself with the Kurdish issue, everything will be better."
After the hot debate between residents, Gevaş Municipality chief Sinan Hakan, a construction engineer, historian and writer of Kurdish history, said: "Van is one of the most important cities in the east, in terms of economy as well as social issues. It attracts thousands of people from neighboring cities that has led to an increase in consumption and in economic activities. The developments in the last decade have increased the economic and political potential. The investments generally focus on nourishment and construction." Asked about Gevaş, Hakan said, "the town is populated by people from different backgrounds and political views. It has a liberal atmosphere. People here want the town to develop and consider tourism a key for this." To questions about the cycling festival, he said: "First we want to show the town's potential for tourism. Second we want people to see that despite the problems, we don't give in to conflict. Third and most importantly, we showed that we will not surrender to terror. We believe that we can maintain our lives without fighting and conflict." When asked whether terrorism continues to affect the city, he said terrorism will not and cannot continue, and for the sake of Kurdish people, the terror has to stop. If there was no fighting, he said, Van would be a destination for both foreigners as well as locals.
After the cycling festival ended with folk dances joined in by women, men, children, strangers, residents, Kurds, Turks; we headed to Akdamar Church, located on an island, four kilometers away from the coast. Besides offering an unparalleled landscape, Van has another significant feature: It has several historic and significant Armenian churches, as it was home to hundreds of thousands of Armenians prior to 1915. Akdamar Church has recently been restored by the government and opened to visitors as well as Armenians for religious ceremonies every September, and carries significance for Christianity. The church was built in the 9th century and the frescoes on its walls shed light on history and early interpretations of the Bible. Until last year, 1.5 million tourists were visiting the church annually, yet this number decreased to 700,000 after the PKK started launching attacks. Although Van and Gevaş, where the church is located, are safe, tourists prefer not to visit. Besides Akdamar Island, there are three more islands on which there are three more churches that are waiting to be restored, which officials say is an ongoing process which has been slowed down by terrorist activity.
The city is important for Iranians as well, with Van only one hour drive away from the Iranian border. Since there is no visa required for Iranian citizens, every year thousands of people visit the city, especially for shopping. The terror incidents near the border have decreased trade during the last year. Approximately 30,000 Iranians who came to Van for trade now live in the city permanently. Van also has an international airport with the potential to attract the attention of Arab businessmen as well. As long as the terror incidents continue to occur, however, investors will remain reluctant to invest in the province.