In 2000, I attended an almost all-white school in a suburb of Dallas, Texas. We were part of a cohort of mostly white students, with the exception of a few African-American and Latin American students who sat together in our fifth grade classroom at Mendenhall Elementary School. I first directly witnessed police brutality that year when a student named Tony was arrested, supposedly for "acting up" in front of the class. Mrs. Jackson, our teacher, sternly warned him to get his act together and behave responsibly; otherwise a police officer on duty at the elementary school would take disciplinary action.
What happened next was baffling. A strong white male police officer in a navy blue uniform abruptly walked into our classroom and commanded the entire class to sit still. He pointed at Tony and ordered him to stand up from his desk. He refused, sensing the anger and fear that was being instilled in us all. The domineering white police officer shouted at and threatened Tony, saying that if he did not follow orders, he would be forcefully removed from the school. Tony did not want to leave the rest of his classmates, and we all watched in shock and horror as the police officer called in his partner and they together picked up Tony's desk (while he was sitting in it) and carried him outside, while the 10-year-old child desperately cried out for help.Tony came from a low socio-economic background - a lower-class family - and he had difficulty concentrating in class. I remember him as a harmless, kind and overly-energetic child. He was punished for his unique personality, and was stigmatized by the rest of the teachers in school for having what I now assume was Attention Deficit Disorder (ADD). Tony's case was not exceptional.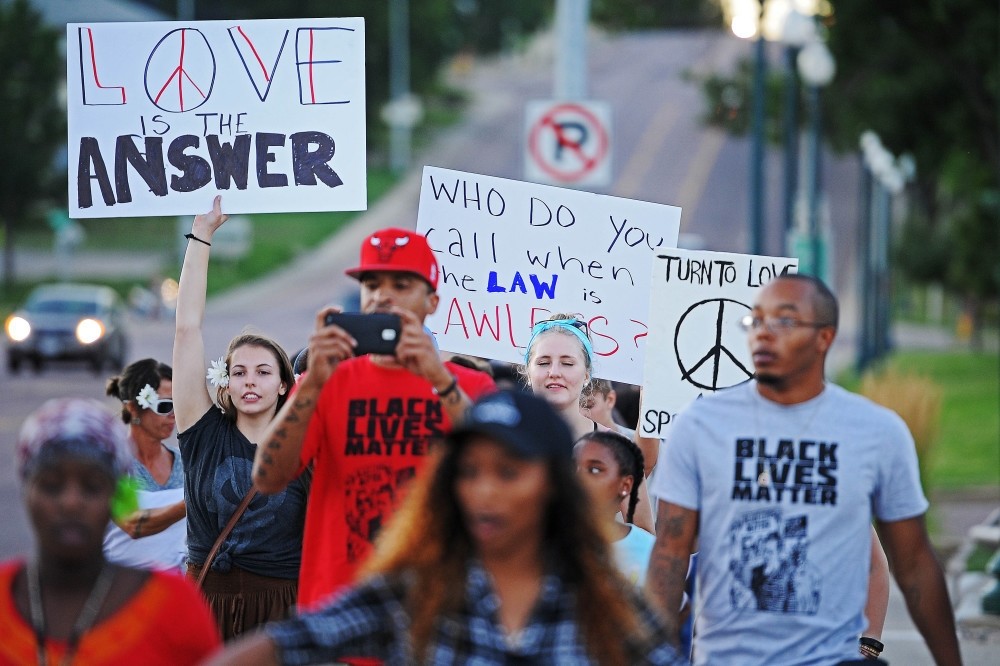 People march along Minnesota Avenue after a gathering in response to recent shootings across the county in Sioux Falls.
American teachers struggle to relate with students who come from very different backgrounds. If they cannot deal with a student in the classroom, they immediately resort to police intervention, which has become a form of bullying. This is the norm in schools in the Dallas metropolitan area and for the lack of better description, it is unethical and psychologically traumatizing.
From Mendenhall to Heights Elementary and Burnett Junior High to Richardson Junior High and L.V. Berkner to Richland Collegiate High School, chauvinist male and female police officers regardless of their race have one thing in common at all these elementary and secondary schools I attended in Texas: they patrol the school, wearing handcuffs and guns in a domineering manner.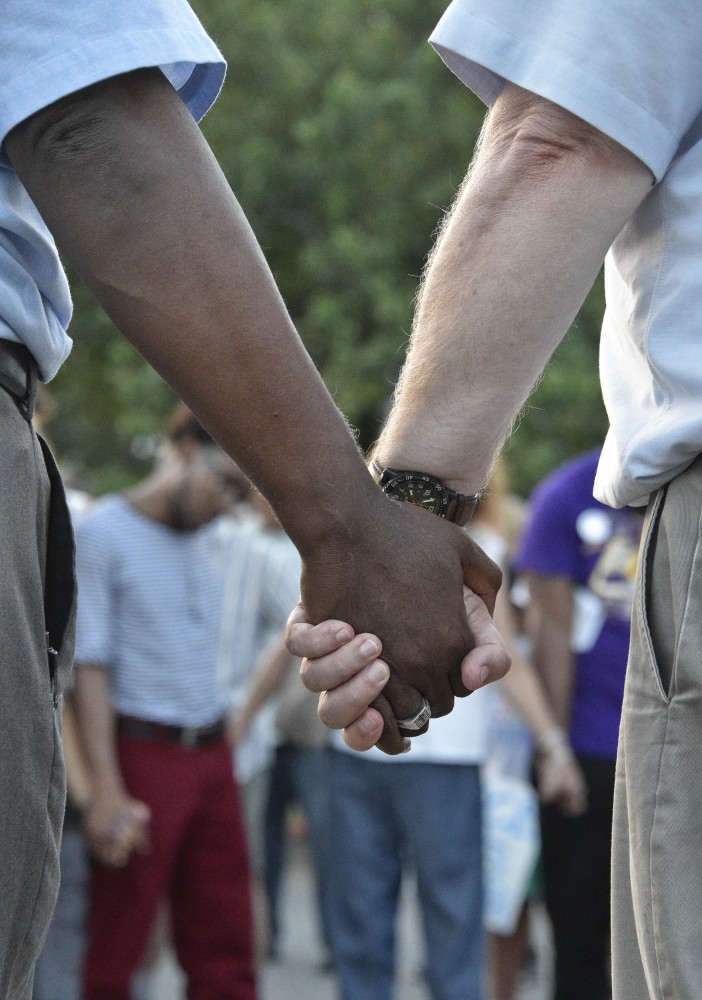 People hold hands at a vigil and march to the Fallen Officer Memorial in Huntsville, Alabama.
The big picture of what we are now seeing unfold in the U.S. is indeed about race, and there is much more to this story. In the same way that being black is a catapult for police brutality, the police overpresence in the U.S. is a tradition that is equally important. There is a notably higher police presence in areas with a lower socioeconomic demographic. And certainly black Americans are the most disadvantaged in an American context. Since the days of slavery, black Americans have faced institutionalized racism which has victimized those such as Rodney King, Trayvon Martin and Michael Brown. O.J. Simpson was spared the sword because he was not socioeconomically disadvantaged.
In today's context, grievances over social disparity are growing: A white fifth-grader named Tony, a young black Trayvon Martin or a Latin American teen. That America's youth face discrimination based on their socio-economic status and the color of their skin, and are not given an equal opportunity to pursue "life, liberty and the pursuit of happiness" - this is creating a major backlash.
American politicians had better address this issue soon, before society's bottled-up frustrations breeds even more animosity than what we saw in Dallas.
*Fatima Abushanab is a specialist in international relations.